When was the last time you jumped in the car to go shopping or meet someone at a cafe? For those with a physical disability or for families who have a child with autism, spontaneous experiences like these are more difficult. But with an assistance dog, they become possible.
Training an assistance dog takes a couple of years, but right at the start of their lives puppies need an appropriate introduction to our society. They must be able to cope with the many places they'll visit as a working dog.
Dogs for Good volunteer, Sue Randell, has worked with a number of our puppies to help with this. Introducing a pup to a variety of different environments increases the dog's confidence, but what about our volunteers? They then need to build up an armoury of strategies to help train; from a pup that plonks itself down in the aisle of a shop, refusing to move, to barking, toilet training, and unwanted treats from strangers, Sue shares the secrets of her success.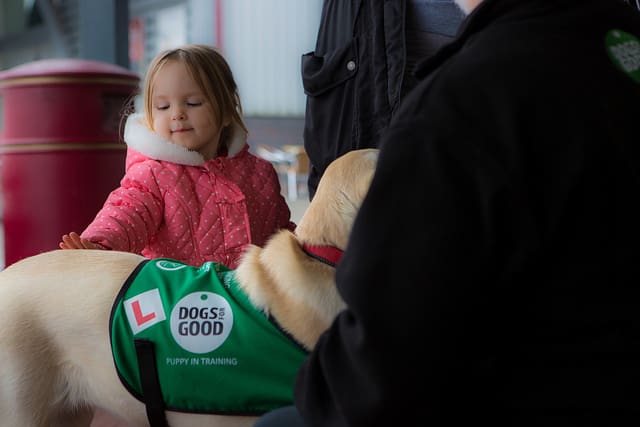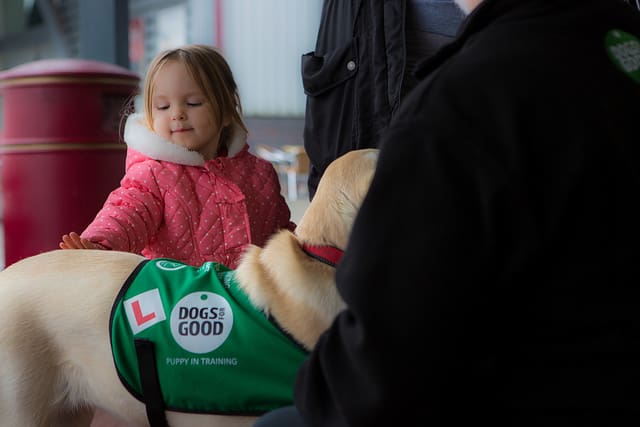 How intensive can puppy training be?
If you break down every activity involved in a trip to the shopping centre, it's more complex than most people ever stop to consider. Assistance dogs help people with things like picking up dropped car keys, opening doors, helping to pay for things, and calming anxiety in busy places.
Before training can begin, puppies first need to get out into the big, wide world to see how they fare: This is socialisation. Dogs for Good has many active volunteers working as puppy socialisers who help to train puppies for the first year of their life.
Become a volunteer
We are always in need of more socialisers, but if you've not done anything like this before, it's natural to feel apprehensive. Sue talks us through what it's really like to take a puppy out in public for training and demonstrates that there's very little to worry about.
Her first bit of advice for anyone considering the role is to give it your all, right from the off:
"Go to as many different places as you can as soon as you have the puppy. Before the puppy can be put on the ground I carry them around quiet shops, go along busy roads, walk on and off a bus, etc. The more experiences they have at the beginning of their life, the easier it is for you to socialise them.'
Shops
Sue was nervous the first time she took a Dogs for Good puppy into a shop — would they wee on the floor or take something off the shelf? Self-conscious and out of her comfort zone, Sue began with a corner shop and explained to the owner what she was doing. Sue then tackled bigger shops and supermarkets; she would take the puppy up and down stairs and into lifts. It didn't take long for her to get used to attention from other shoppers and Sue has always found checkout staff to be understanding. Together, she and the puppies grow in confidence.
Cars
A couple of the puppies Sue has socialised for us were afraid of the car. To get them used to being inside one, Sue would sit with the puppy in the car without starting the engine. As she drank a cup of coffee, the pup would become more accustomed to this new environment. In time, she was able to start the engine, then drive down the road and back. Journeys got longer and longer, but always ended where the dog could go for a free run. The dog eventually conquered a fear of the car and Sue's mission was complete.
Helping others to understand
One of the hardest things for a puppy socialiser to cope with is the actions of other people. Assistance dogs are working dogs and just like us, need to be able to focus on the tasks they are trained to do.
There is some way to go before people understand not to distract an assistance dog and socialisers become natural educators; they interact with both the puppy and the general public. Sue had to get used to speaking out to ask people not to stroke a puppy, but it's an important part of the learning process for everyone.
Cafes
Sue finds the need to be most strict in cafes and eateries, but not – as it turns out – with the dog. Well-meaning people do sometimes try to slip dogs a treat, but this can cause a whole host of problems for any dog. Sue takes her own treats for the dog and builds up time spent in cafes gradually. She takes a blanket for the puppy to settle on, somewhere out the way. Still, other people are naturally attentive, she tells us:
"I had the unfortunate incident of a person giving a puppy a biscuit off his plate before I could stop him. I was never able to go to that cafe again with the puppy as he was always on the look-out for more biscuits and would not settle."
Rich in reward
When children want to fuss the dog, this is when Sue finds it most difficult to say no, but they learn the "importance of the difference between play time and training time," she says.
In the end, socialising a puppy helps to teach us all about the society we live in and important life lessons about boundaries.
Become a puppy socialiser
Would you like to be involved in the process? Find out more about how to socialise a puppy and  view the criteria.