In 2013 we commenced a ground-breaking project in conjunction with Alzheimer Scotland to train the first dementia assistance dogs. For the couples involved with the Dementia Dog project partnership with a dementia assistance dog has resulted in a unique support and a special bond, enabling them to cope with the additional pressures that living with dementia brings.
So, how do dementia assistance dogs make a difference to people?
Bringing happiness back to the home
Imke and Malcom with assistance dog Webb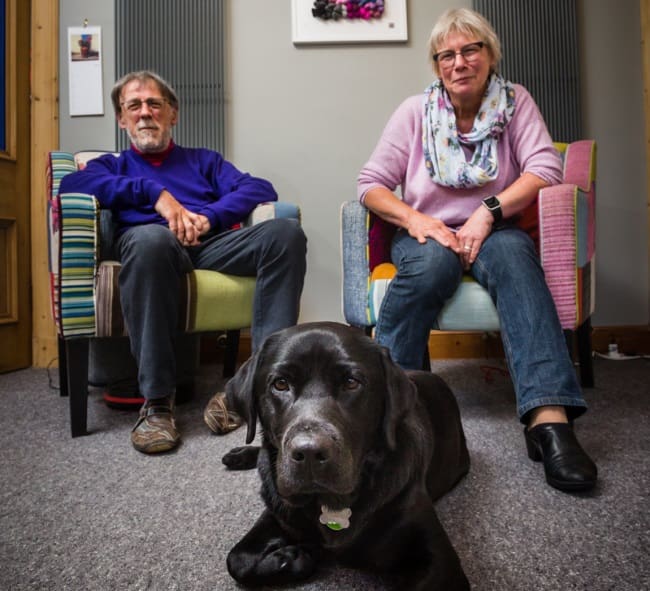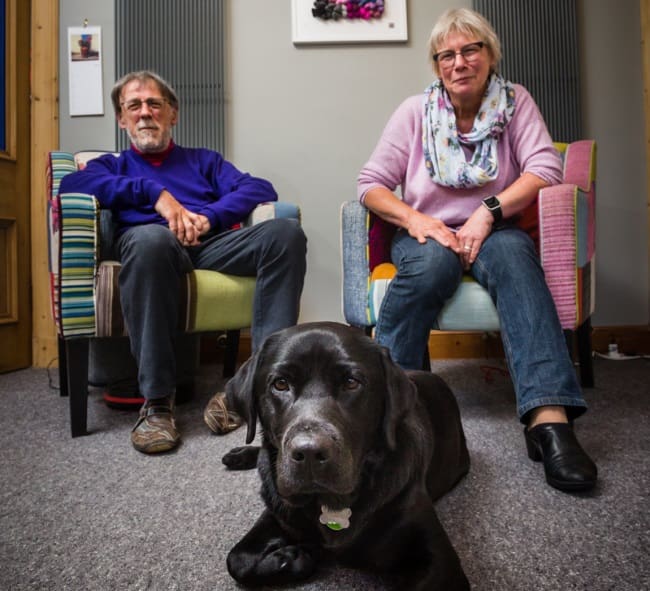 Imke says "There are so many things to share – funny moments, when Webb tries to persuade us that a game with a toy is an absolute necessity.  Or he wants a tummy scratch, or a carrot!  Malcolm's facial expressions have become quite "wooden" as a result of Parkinson's, but Webb can still make him smile."
Jan and Kurt with assistance dog Willow
"It is for me quite touching when I find them sitting together and Kurt is talking and patting Willow" says Jan. "Kurt is retreating more and more into his own world and doesn't talk a great deal now. Willow's presence brings a happier, relaxed mood into the house even at difficult times. Willow always seems the same – relaxed and ready to play or just be there to be stroked. She is so amusing to watch, it lifts my heart to see her so happy."
Reducing stress and anxiety
Glenys and Ken with assistance dog Kaspa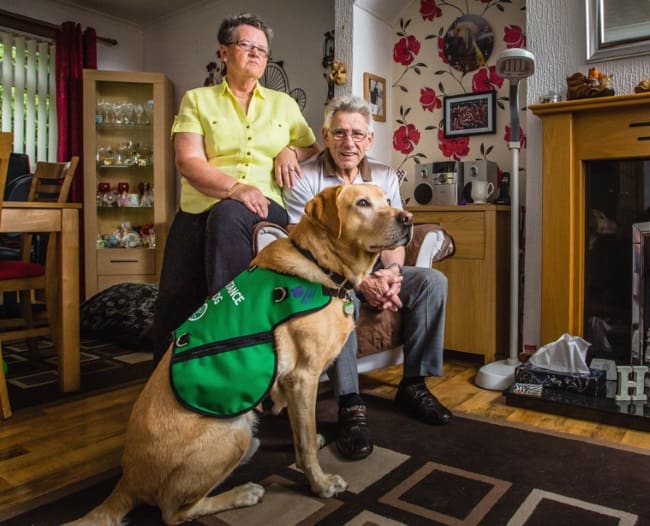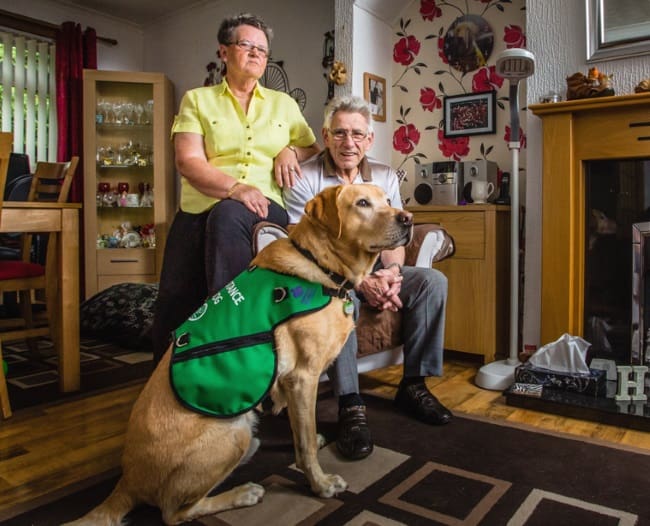 Kaspa has become Ken's shadow and means Ken is never alone. This not only enables Ken to retain his own independence and dignity, it also allows Glenys, Ken's wife, to continue having her job as a lollipop lady which is an important part of her independence. She is able to do this as she knows Ken won't be on his own with Kaspa by his side.
Henry and Ann with assistance dog Uno
"Friends and family have said that Henry is more relaxed since Uno became part of our family."
Imke and Malcom with assistance dog Webb
"Webb introduces laughter back into the home; in turn Malcolm benefits by Webb giving me the strength to cope."
Improving motivation
Frank and assistance dog Oscar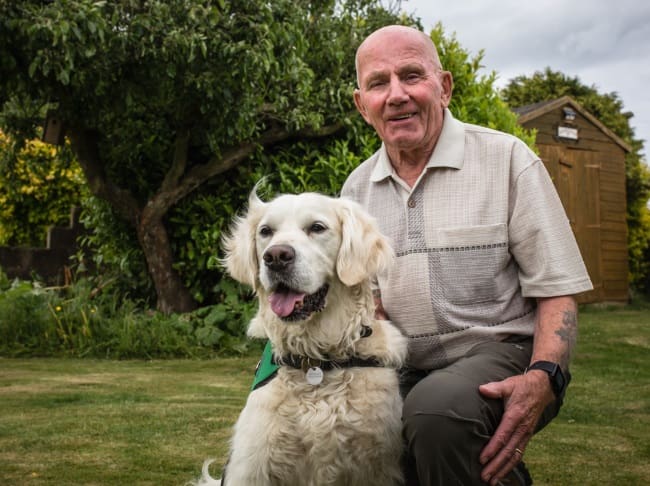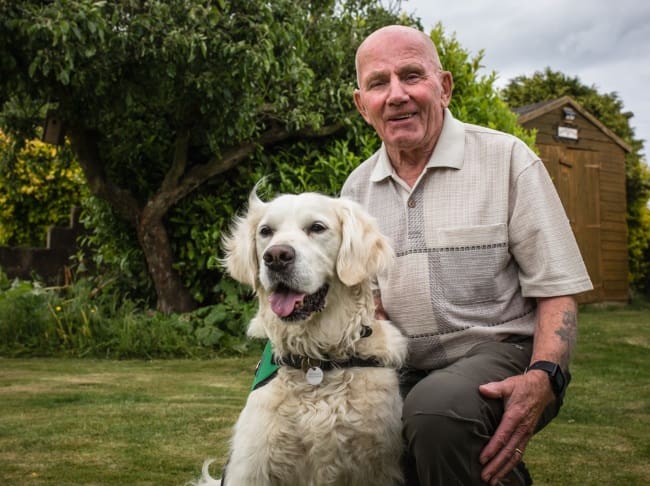 "Oscar gives me plenty of motivation and gets me out walking every day come rain or shine."
Henry and Ann with assistance dog Uno
"Henry's reason for getting up in the morning is because Uno is with us" says Anne. "Uno gives me a sense of purpose and has changed my life dramatically" says Henry.
Reducing social isolation
Jan and Kurt with assistance dog Willow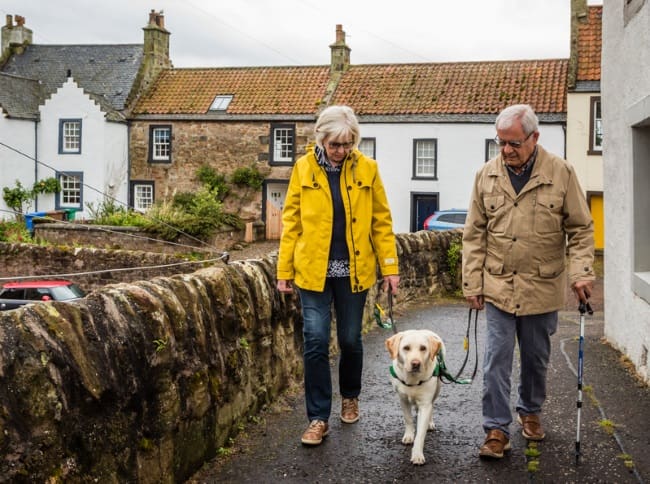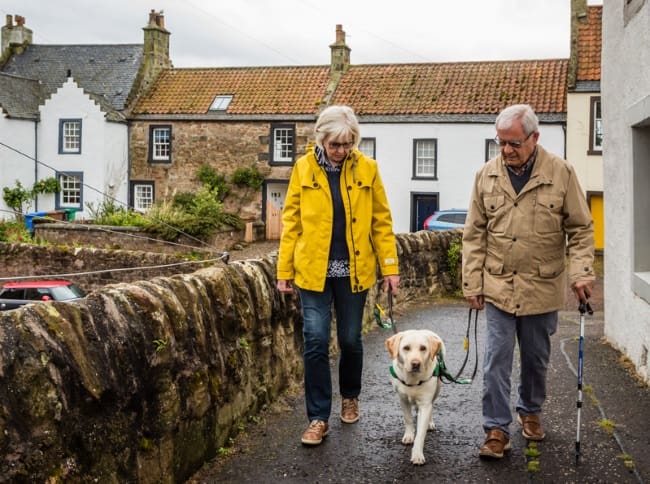 "During this past year, Kurt's health has deteriorated and he is not able to get out for walks with Willow very often. When he does though, he is very proud of her and enjoys when people stop and chat, usually asking what kind of assistance dog she is and what she is trained to do. This gives Kurt's confidence a boost."
Henry and Ann with assistance dog Uno
"Before Uno came into our lives, when I was out with my friends I constantly was clock watching. I now stay out longer knowing Uno is with Henry and I am more relaxed. I know that Uno is there for him and will watch over him will I am away."
Frank and assistance dog Oscar
"The biggest benefit for me is now that I take Oscar to visit care homes where he is welcomed by staff and residents, and I  feel that I have given back something for all the help I received from the Dementia Dog Team."
Imke and Malcom with assistance dog Webb
"We do go out more for a coffee so often we will end up speaking to other people. This makes a big difference as so often there is only the two of us, and with Malcolm not engaging in more general topics the days can feel quite lonely" says Imke.
"Before Webb joined us, I was determined that he would encourage us to get out more and do more things together. We joined the Botanic Gardens in Dundee and have become frequent visitors there.  In addition, Webb needs his daily free run, so he's an excellent reason for me to go out every day."
Find out more about dementia assistance dogs
The Dementia Dog Project is a collaboration with Alzheimer Scotland to develop new services for people living with dementia. Based at HMP Castle Huntly open prison near Dundee, we work with the Scottish Prison Service and Paws for Progress CIC to help train our family of Dementia Dogs. Dementia assistance dogs are currently only available in Scotland.
We are piloting dementia community dogs in England. Our dogs work with people with dementia and their carers, helping them to lead full and active lives at home and in their local community. Find out more.