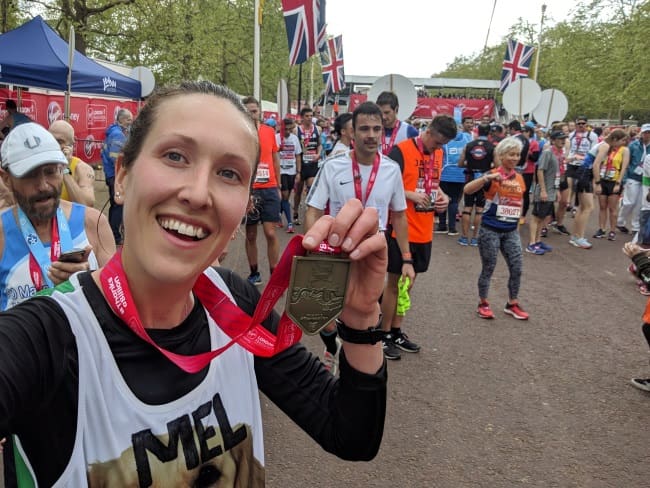 Our trainer, Mel, took part in this year's London Marathon on behalf of Dogs for Good. Once she got her breath back, we asked her to share her story about running a marathon for charity.
"I've not always been a runner," says Mel.  "I started to dabble in it a bit after watching my fiancé, Rob, run the London Marathon in 2015. "At the time, I couldn't run more than a couple of miles without stopping to walk, complaining it hurt too much or panicking that I couldn't breathe!"
But gradually, she got into it and found it was something she actually enjoyed. Mel is a girl who loves a goal, so she entered a few events and half marathons to see how she fared. And it wasn't long before she decided to take the plunge and apply to take part in the London Marathon.
Running a marathon for charity
Mel entered the ballot four times but wasn't lucky enough to get a place. "It's such a popular event and the chances of getting an entry are slim," she explains. "I'd considered running a marathon for charity and doing it for Dogs for Good but, if I'm honest, I was really apprehensive about the fundraising side of it.
"I hate asking people for money and while I knew it could be done because I'd seen friends do it, I've never fundraised for anything myself."
Mel spoke to her colleagues in the Dogs for Good Community Fundraising team who were really supportive. "They gave me loads of useful tips and advice to help me put a fundraising strategy together," she explains. "After chatting to them, I realised that fundraising was just another challenge. If I was going to push myself and run for 26 miles without stopping, I could just push myself a little bit more and raise some money."
Fundraising is just another challenge
Mel's strategy was based around doing one or two things and doing them really well. She decided that as well as well as calling on friends and family for donations, she would also hold a charity night in her local village hall with a raffle attached.
"For friends and family donations, I made my 'ask' informative using my Facebook page to update people about how training was going and the milestones I was hitting." And every once in a while she reminded people that Dogs for Good was the charity she was running for and raising funds for.
For the charity night, Mel made sure she told people well in advance and asked them to 'save the date'. She put up posters around the village and sent out little reminders the week before the event. "I'm friends with a lot of people in the village – especially the dog walking group – and everyone was super helpful and supportive."
The personal approach
Mel asked local businesses for raffle prizes and made sure that when she could, she visited their offices in person. "I felt it was important that the people I was asking could see I was a real person, raising money for a real charity that was local to them. I also made sure that whenever possible, I took one of the dogs I was training with me. Who can resist a waggy tail?"
In total, Mel raised over £3,250! "It was so much easier than I thought it would be," she says. "The event raised over £1400 which blew me away and the generous donations from friends, family and colleagues brought in the rest."
Mel's top 3 fundraising tips:
Plan, plan, plan! You have to train for the physical side of the event, so why wouldn't you 'train' for the fundraising side?
Highs and lows – I sent out about 100 letters to local businesses. Some weeks I'd get loads of responses and some weeks I'd get none
Ask for help – I got lots of help from my fundraising colleagues. They gave me tips and advice, helped me with a fundraising strategy that worked best for me and supported me every step of the way.
Feeling inspired?
You can register your interest in a London Marathon 2020 place, or if walking is more your thing then find out about the London Marathon Walk.