Darcy, Steve and Richard share a house together.  They're all in their mid-20s, work for a local aerospace technology company and lead full lives getting involved in things you'd expect young professional men to enjoy such as socialising, sports, travelling etc.  Where they differ from most young professional men is that they volunteer (pretty much) seven days a week, 365 days a year.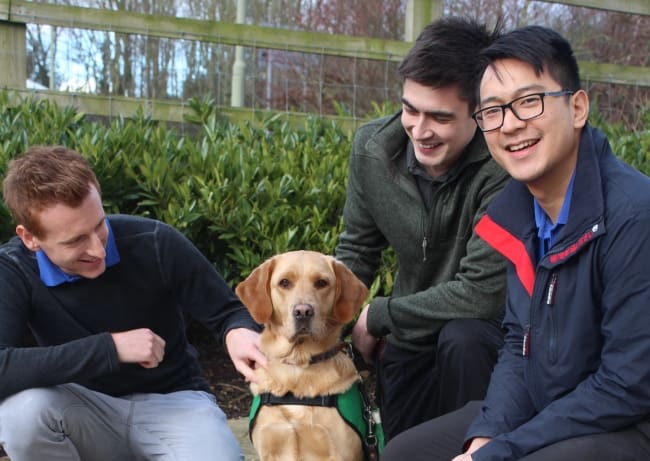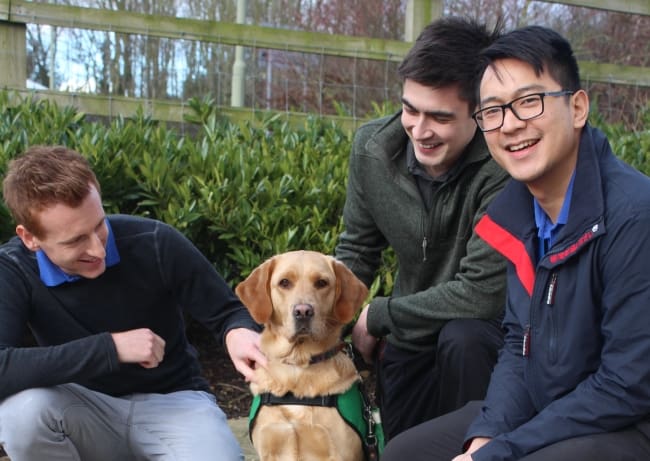 So, how do they hold down full-time jobs, manage a social life and find the time to volunteer in such a big way?
Easy. The volunteering they do takes the form of providing B&B boarding for puppies and young dogs that are being trained to become assistance dogs.
"It really doesn't feel like 'volunteering', says Darcy.  "It's so rewarding.  We have a succession of awesome dogs that come and stay in our home with us before going on to change someone's life for the better."
Darcy discussed the idea of B&B Boarding with his house-mates and despite Steve and Richard having never had pet dogs as children, they were all really keen to have a dog.  So, they filled out the paperwork, took part in a home assessment and very soon had their first puppy house-mate, Neptune.
Since then, they've boarded another five puppies and are thoroughly enjoying the experience.
"It does take a bit of planning and you do have to prepare yourself for the responsibility of having a dog, even if it is 'part-time'," says Richard.  "But, it doesn't take long to find your feet and its nice having a dog around and discovering their individual personalities."
"They've all been so different," explains Steve.  "Neptune was a bit of a slobber machine. Hetty was given the nickname 'Hurricane', Vixen was super cuddly, Lily & Anna were best buddies and Zak loved his ball.  Then we got Urwin, our current dog.  He's quite a handful but lovely in his own way.  We're quite sure he's half chocolate Labrador and half brown bear."
The house-mates all agree that B&B boarding really is a positive thing and would recommend it to anyone able to do the same.  "Loads of people say they'd love to have a dog but can't because of work," says Darcy.  "Boarding is a perfect solution.  We love it – even when Urwin eats our shoes!"