"I was invisible" before Working Cocker Spaniel Jetta arrived
17-year-old Georgia has cerebral palsy and, in the past, has been wholly dependent on her Mum and carers. She found this deeply frustrating, as any teenager would.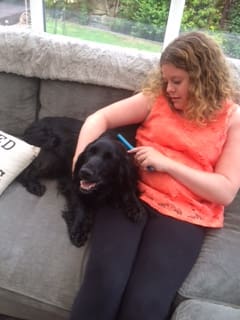 Georgia cannot bend to pick anything up and struggles to open doors since her movement is affected. She'd use tripod sticks around the house but rarely went outside:
"If I didn't absolutely have to, I wouldn't go out at all. I was invisible," says Georgia. "People would speak to Mum and completely ignore me. It was as if they couldn't see me sitting there in my wheelchair right in front of them."
For Georgia, having an assistance dog to help sounded like the perfect solution, but there was one major hurdle to overcome — she was petrified of dogs.
Overcoming fear
"I knew I might find it easier with a small dog," says Georgia, "I was determined to try".
Yet it was love at first sight when Georgia met Jetta."I just fell for her, head-over-heels. She's so cute and loving," says Georgia.
Jetta came to live with Georgia and Mum Sharon in 2015 and since then Georgia's confidence and independence have continued to develop with Jetta's help. "I'm not afraid of any dogs now," she says.
Finding hope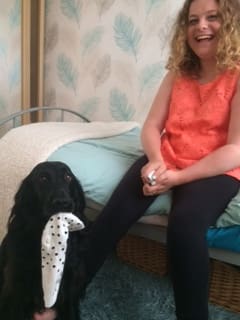 Because Jetta needs to be exercised, Georgia is also now happy to go out.
"People see Jetta and come to speak to me and I enjoy telling them about what she does to help me," she says. "Jetta has given me hope for my future. She makes me feel confident and brings me out of myself."
Every morning Jetta gets Georgia's day off to a great start by pulling the duvet off to wake her up, then fetches the clothes she needs to get dressed. "She also opens doors and can help take off my coat, gloves, socks and shoes," says Georgia.  "She'll pick up anything I drop and will go and get the phone or fetch the post or my shoes or slippers."
The future looks good
Every assistance dog trained by Dogs for Good is carefully matched with a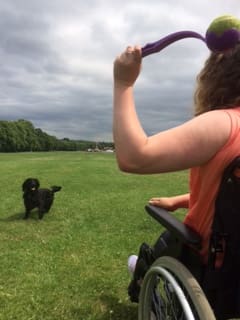 partner, learning how to do things that help with that person's specific challenges. The bond that forms between our client and their dog is deeply rewarding for both parties.
"Jetta's always there for me, we're inseparable," says Georgia. "Seeing how much Jetta can do to help me has given me hope that one day I could move out and live more independently. I'd like to learn to drive too. I would never have dreamt this might one day be possible without Jetta."
Find out more about our matching process and advanced training.