Exercising with your pet dog can be a great way to spend time together and strengthen the bond with your dog.
Puppy Coordinator Julia does Canicross with her pet dog Ludo and shares her top 5 things to consider when running with your pet dog: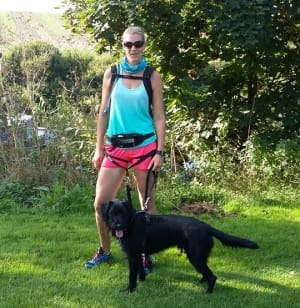 General health of your dog: dogs need to be in good overall health and of a suitable age (i.e. they are fully grown and all the joints have developed). For canicrossing the recommended age is usually around 18 months, as the dogs learn to pull into a harness which puts extra strain on them
A dog's fitness needs building up gradually, just like a human's
Most people are aware that dogs shouldn't run in hot weather (usually anything above 16 degrees Celsius is too high for dogs to run), as dogs often don't know when to stop and can easily overheat. However, another important factor to consider is humidity which can cause problems for dogs even on days that don't feel particularly hot to us humans
Hard surfaces (such as tarmac) can cause problems to your dog's pads and joints, so it is generally recommended to run off road with a dog
Dogs that are run on lead should wear an appropriate harness that is designed for running in, otherwise any sudden stops or changes of direction can cause injuries to the dog's neck.
If you're starting to run with your dog, then a Dog Jog could be a great first event. Sign up and help us train more life-changing dogs.