Technology makes our lives easier in so many ways. Internet shopping, keeping up with family and friends who are far away, teaching new skills, controlling lights and appliances, heating and even doors at the touch of a screen!
While we also know tech brings us some great opportunities, at Dogs for Good, we also know that the phenomenal power of dogs helps us humans connect and feel better in ways that technology simply can't.
Here's five ways that we think that dogs enrich our lives and solve some of the challenges we all face in day-to-day life…
Helping to bring families together
Modern family life can often be dominated by screens with everyone enjoying their favourite TV show or game on their own devices. While this is great for satisfying a variety of different needs and wants, the flip side is that it means people aren't connecting together.
A walk with a dog is a great way to get everyone together for some fresh air, a chat and – as always happens when a dog is around – a few laughs!
For many autistic children however, they often feel safest at home because being outdoors can feel totally overwhelming. Indeed, many of the parents who attend our Family Dog workshops say that they were rarely able to enjoy time outside together as a family. But, because of the bond that humans develop with dogs, many autistic children find it easier to go outside if there's a dog by their side. The presence of the dog provides a source of focus which distracts them from all the sensory overload triggers that the outside brings. A walk with the dog then becomes a great way to get all the family out and about together.
Helping to reduce social isolation
Vicky has assistance dog, Tula, and, due to her disability, was forced to retire very early. She says:
"I found myself in my late thirties, no longer working and feeling like I'd lost all sense of who I was. My friends were out all day and I was at home, grieving for my old life. Pretty soon, I didn't feel like going out anymore. I could order things online or get a food shop delivered and I just stopped going out.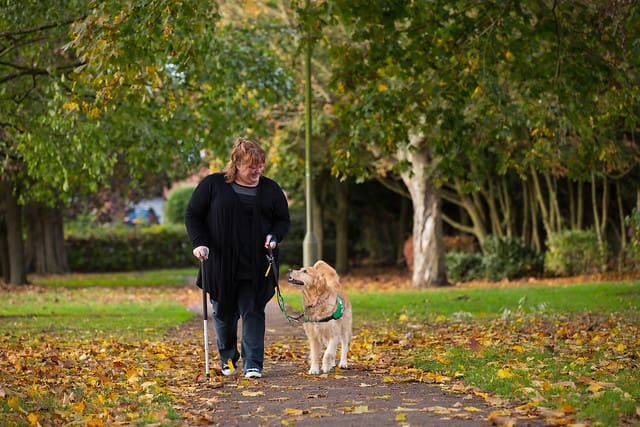 "When Tula came into my life, it gave me a reason to go out again and we developed a new routine together. I made friends with other dog walkers that we'd see on our daily walk. I started to go shopping again and I also volunteered for Dogs for Good as a speaker. My days are full again and Tula's helped me feel like my old self."
Helping where technology can't
Caring for someone with dementia is challenging and often, people caring for a loved one can become increasingly isolated themselves, feeling unable to leave the house or go out alone. Glenys, found leaving her husband at home increasingly stressful. Ken would become anxious the moment Glenys left the house and she found herself having to phone at regular intervals to reassure her husband.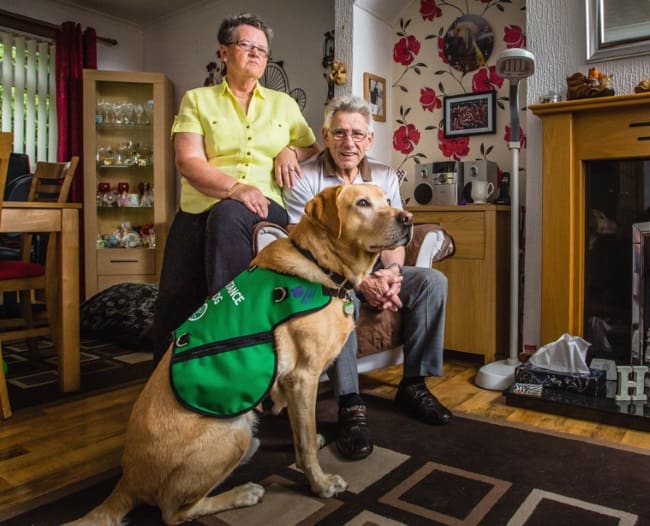 Since dementia dog Kaspa arrived, Ken is calmer and his anxiety levels have dropped considerably. He no longer feels alone as Kaspa sits loyally by his side, and the time seems to pass more quickly as he has his dog to occupy his mind and divert attention from being away from Glenys. Says Glenys:
"Kaspa has given us our life back. He greets Ken in the morning, so Ken starts his day happy. I have noticed if Ken is agitated or unsettled Kaspa gives him a nudge, so Ken talks to the dog or goes out in to the back garden and forgets what had bothered him."
It's good to walk … and talk
A dog walk is a perfect excuse to get out with a friend or family member and chat about what's on your mind. It might be a big thing or just to solve a little niggly problem and a dog can be a great motivating factor to get out.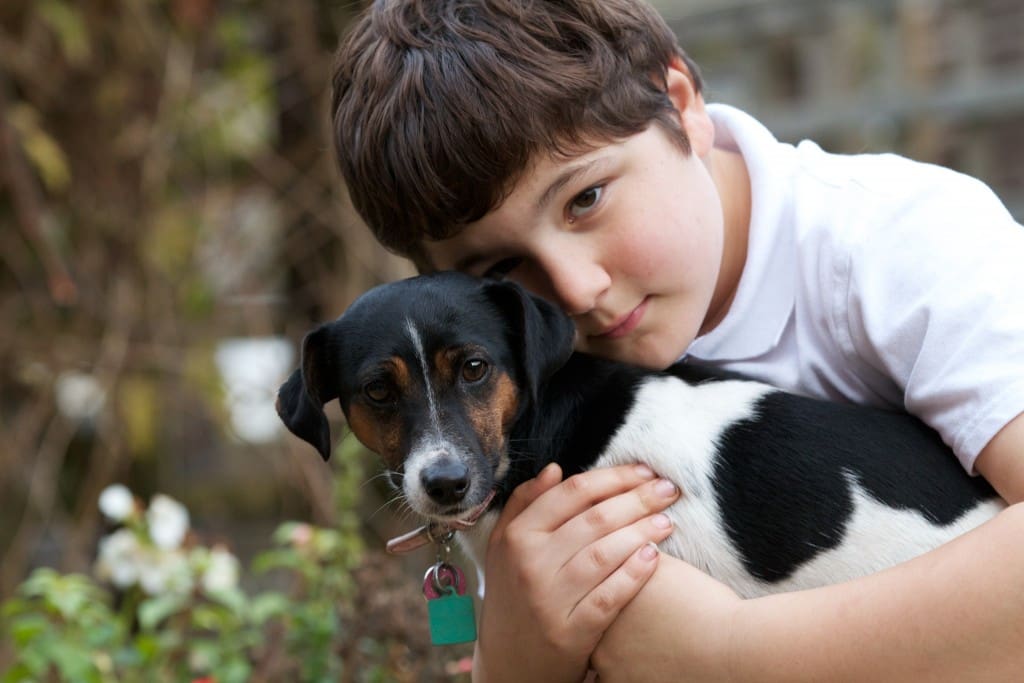 And walking side-by-side rather than sitting face on can be much easier way of having a difficult or emotional conversation. A parent who attended our Family Dog workshops said:
"My (autistic) son struggles to make eye contact; it's really difficult for him and therefore he feels anxious sitting down and talking. However, a walk with the dog can provide a great way for us to talk about problems and, more often than not, come up with solutions. It's far less confrontational and a good dog walk has helped us solve a number of problems."
Helping us destress in the office
If you have the right set-up in your office whereby you're able to support your dog with walks and plenty of distractions to stop him or her getting bored, taking your dog to work can have great benefits for you both.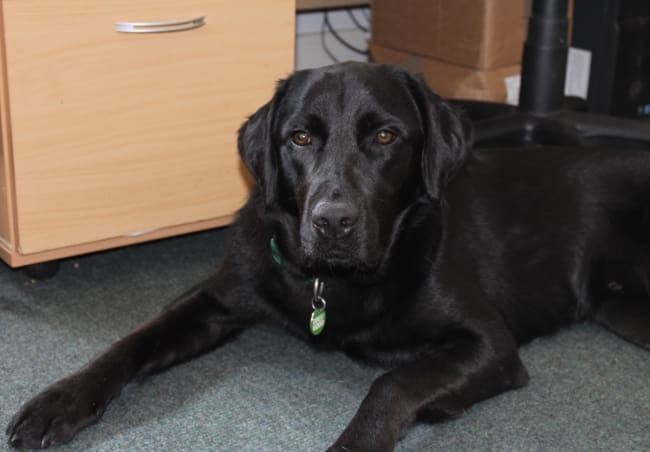 Time out and breaks away from desks and screens can be really beneficial and a dog in the office can make your working environment seem calmer and bring people together. Most of the office-based staff at Dogs for Good have one of our dogs in training sharing the office with them. Steph Lawless, community fundraising manager at Dogs for Good, says:
"There's something lovely about a dog having a quiet snooze under your desk or taking five minutes every now and again to play a game with them,"
Read our tips on taking your dog to work to make sure you and your dog set yourself up for the best day at work, ensuring a happy, stress-free day for both of you.
We'd love to hear the difference that a dog has made to you or a loved one. Why not share your stories with us on Facebook.