"My first sight every morning is her lovely, furry face. She listens for the click of the clock radio and her nose is gently nuzzling me awake on the first beep! It's a lovely start to the day." Find out how Dorothy's assistance dog gave her the gift of freedom.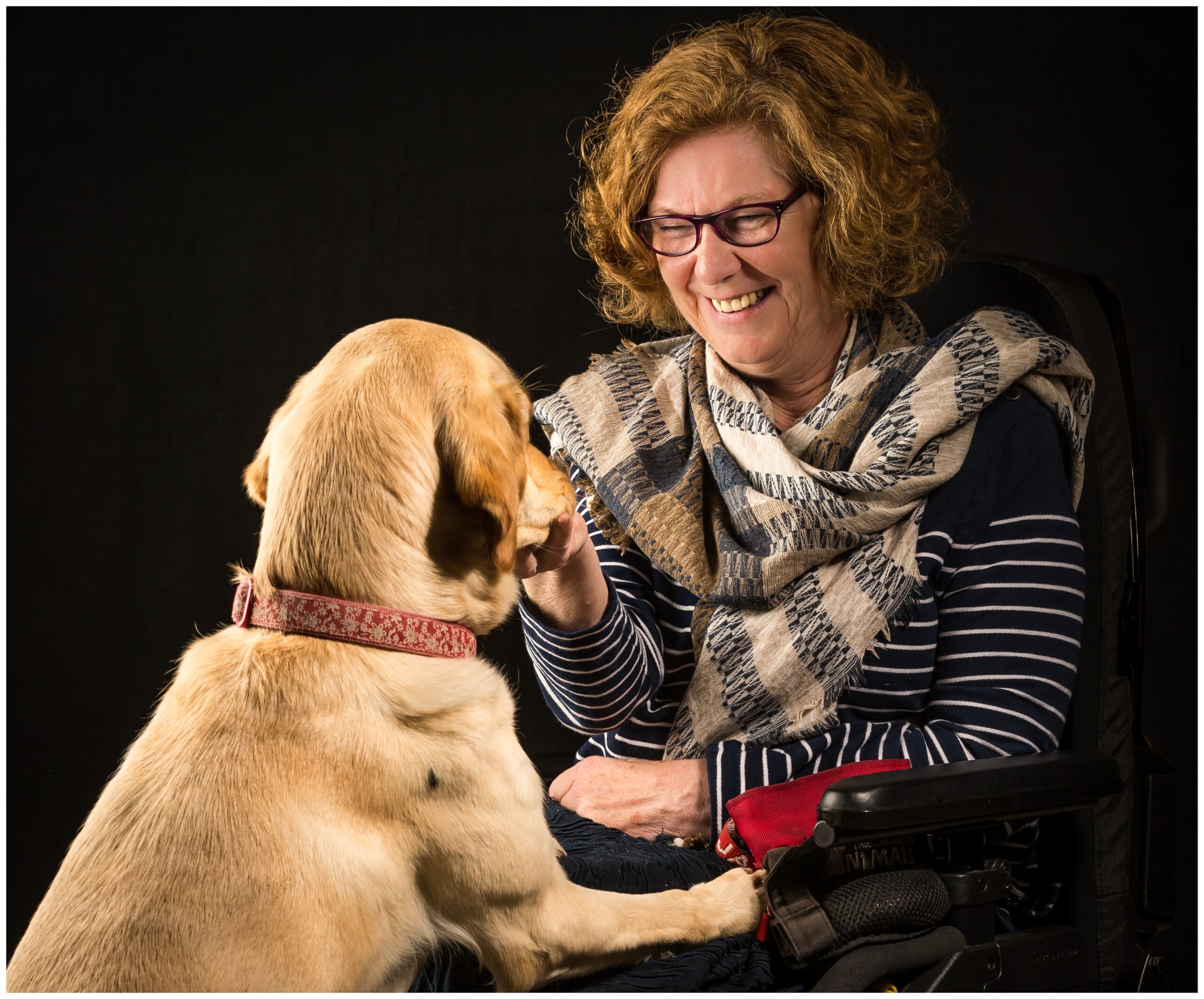 Dorothy was diagnosed with Primary Progressive Multiple Sclerosis in 1996 and by the beginning of 2001 she had to retire from work.
Long before disability was on her horizon, Dorothy met a woman at a motorway services. She was a wheelchair user, had a dog with her and their subsequent conversation informed Dorothy about the role of an assistance dog and of the charity who had provided and trained her dog – Dogs for Good.
"Fast forward to late 2001 and facing the world as a wheelchair user became overwhelming. My self-image was of someone I didn't know. I preferred to hide at home. And then I remembered that lady and her dog…"
More than practical support
Dorothy contacted the charity, started the application process and within a few months she learnt that she had been successful. She was introduced to Swift in 2002. "Swift was a wonderful, bold black Labrador who was full of life and keen to learn and work. He, his trainer and I embarked upon two weeks of intensive training which was challenging but very rewarding. I was keen to encourage and get the best out of Swift and of course, he was doing exactly the same for me!"
As well as the practical tasks such as retrieving dropped or out of reach items, unloading the laundry, removing gloves, jackets, socks etc. Swift became an interface between Dorothy and other people.
"I gradually started to feel more at ease with my new identity as a wheelchair user and being among people again. Now people smiled and were interested in my dog and I quickly realised that the psychological benefits of our partnership went way beyond belief."
Very quickly, Dorothy was able to start reclaiming bits of her old life that she missed. "I used to be a keen hiker and went on long walks in the countryside," she explains. "And with Swift by my side, I started to grow in confidence; enough to begin to explore the great outdoors once more."
Being home alone was also less of a problem. "There was one time, a long time ago where it all went a bit wrong," Dorothy recalls. "My husband had just left the house and I knew he would be away for a few hours, I went into the conservatory and toppled over onto the cold floor. With no phone to hand for Swift to fetch, I knew I was in for a long, wait. But Swift came to the rescue. As it got dark, he brought me the controllers for both the lights and the radio. He then brought me a pile of towels which I wrapped around me and finally, he snuggled up beside me and kept me warm until my husband came home, five hours later!"
Sadly, Swift died in November 2015. "Even though by then he'd actually been retired for almost two years, I had not considered applying for a successor dog. Swift and I were a team and he had been there for so many important times in my and my family's life.
"He carried the rings for me and my husband at our wedding, he was there when each of my children and step-children married and every one of my grand-children has snuggled up to him. They were wonderful years."
A hard act to follow
Swift was a hard act to follow but, with the passing of time and after talking at length about it with Dogs for Good, Dorothy gradually started to feel differently. In February 2017, Dorothy was told that a possible successor dog had been found, a yellow Labrador cross retriever named Vixen.
"She's totally different to Swift. She's no less smart or wonderful; she's just lacks a little confidence and needs me to help her come out of her shell a bit. Just as Swift had helped me with my own confidence all those years ago, I suppose! It's lovely to feel that I'm giving her something back in return for all she does for me and she's really blossoming," explains Dorothy.
Reclaiming some independence
"We now use the bus which was something we'd not done in training, so I was very proud of her acquiring that skill so quickly. She stays close and focused as I reverse into the allocated wheelchair space, tucking in beside me and settling without fuss as I engage the brake."
"Recently, we took a local steam train to the coast and she took it all in her stride! She's incredible in so many ways and I am looking forward to many happy years together."
"Having an assistance dog has generated the confidence to reclaim as much freedom and independence as is possible," says Dorothy. "And that's on top of pulling off my socks!"