The amazing team here at Dogs for Good makes our life-changing work possible. We'll be introducing you to some of them over the coming weeks:
Name: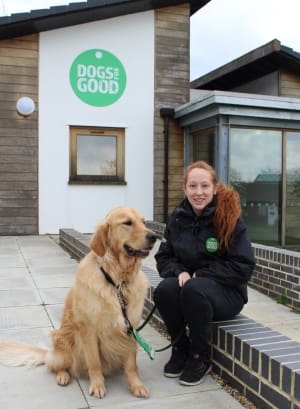 Vicky
What's your role at Dogs for Good?
Puppy Coordinator
What does that involve?
My main job is to supervise each puppy and their volunteer socialiser. I offer support and training to ensure that each puppy meets their developmental and training milestones as they progress through their first year of socialising.
I visit each puppy and socialiser at their home around every four weeks and I run puppy classes every month. When they are around 12 months old, each puppy has a kennel break at the Banbury centre where I  work with them one-on-one, and also see how they adjust to the kennel routine ahead of them coming in for their formal training. This is always nice as I get to spend quality time with each puppy and make sure they are progressing as they should be.
Wow, that sounds great – how many puppies are you responsible for?
At any one time I can be responsible for between 25 – 34 puppies. As you can imagine, they certainly keep me busy! They are all so different and I love getting to know each and every one of them and their individual personalities.
How long have you worked at Dogs for Good?
I have worked here for just over 10 years. I started in kennels as a welfare assistant. From there, I joined the early training team as a dog trainer which I thoroughly enjoyed. Then five years ago, an opportunity arose within the puppy team and I felt it was a great chance to work with younger dogs.
What's the best thing about your job?
The best thing about working for Dogs for Good is playing my part in training and guiding each puppy from the age of eight weeks old, and then watching as they become fully qualified assistance dogs. It is so rewarding!