Yesterday, Tuesday 29th August, marked the end of four years of physical and mental preparation for Scott Baker, when he completed his English Channel swim in 14 hours and 11 minutes, in aid of life-transforming charity Dogs for Good.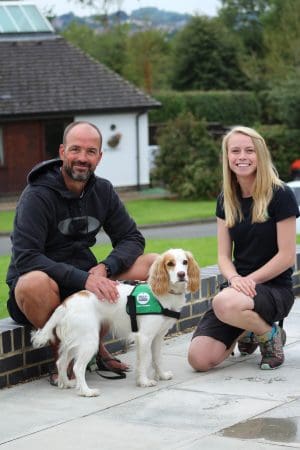 Scott decided to take on this challenge back in 2013.  At the time he had not swum for 25 years, did not own a pair of goggles and could only mange to swim two lengths.  Since then he's entered into the world of open water and marathon swimming to help him prepare.
This feat is even more impressive as Scott hoped to complete the challenge in 17 hours but beat his target by 3 hours and it's worth noting that more people have climbed Everest than have swum the Channel. Scott had originally wanted to raise £5000 but he has now raised over £6000. All of which will go towards training a dog to help change lives.
Scott explains why he took on this gruelling Channel swim:
"Over 100 years ago, my Great Nan trained hard to attempt to swim the English Channel. She was an excellent swimmer and spent much time sea swimming in preparation. The break out of World War One stopped her and she never got to make the crossing."
"As a child I was a keen swimmer. My Great Nan always used to come to watch me; she was always up there on the viewing balcony watching as I went up and down, I can't imagine how dull it must have been. I knew she was there, but I didn't thank her for it at the time.  I've thanked her now by doing what she was unable too and swam the Channel in her honour."
"I am raising money for this fantastic charity because I know the difference having a dog can make to your life. I am amazed by how Dogs for Good changes lives and I want to raise money so they can help more people."
To donate to Scott's fundraising go to: www.justgiving.com/scottsbigswim. To find out more about the charity visit www.dogsforgood.org.
Picture: Scott meets Instructor Becky and assistance dog in training Indi