Crufts 2017 Hero Dogs Revealed
13 year old Joel and his autism assistance dog Caddie trained by Dogs for Good have reached the finals of Crufts Eukanuba Friends for Life competition.
Before Joel, who lives in Cornwall, was partnered with Caddie he could not leave the house, speak to people or live a normal life. Now Caddie helps Joel to cope with a life that he finds incredibly hard and calms him in times of heightened stress, aids his communication and has brought support not only to Joel but his whole family.
When the family found out that they reached the final they were stunned. Joel's mum, Janet said: "I explained to Joel that he and Caddie were finalists and told him that we would be going to London and to Crufts – two things that are completely out of his comfort zone so I wasn't sure how he would feel about it all. But Joel was so positive, he just said that he would do it because he hoped it would help raise funds and train more assistance dogs just like Caddie." A £1000 will be made to Dogs for Good thanks to Joel and Caddie reaching the final of Friends for Life and the winner will receive £5000 for a charity of their choice.
It costs around £12,000 to train an assistance dog to help a child with autism but the impact on children like Joel and their whole family is incredible as Joel's mother, Janet Sayer explains: "I burst into tears one day when I was out with Joel and Caddie because I caught sight of myself in a reflection in a shop window and realised that with Caddie by Joel's side I was, for the first time, able to take my eyes off of Joel for a brief moment and do something that other people take for granted. Caddie is the finalist for the Giving the Best Start in Life category, which recognises dogs that support and impact the lives of children.
The annual Eukanuba Friends for Life competition celebrates the unique relationship people have with their dogs, the important role man's best friend plays throughout our lives and support they give us in the face of adversity.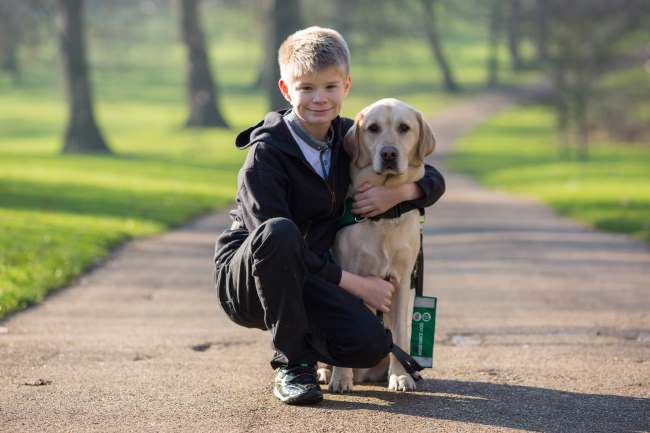 Cast your vote
The public can now vote for their favourite finalist until midday on Sunday 12th March.
The winner will be revealed in the Genting Arena at Crufts on Sunday 12th March.
Find out more about the renamed Kennel Club Friends for Life award.