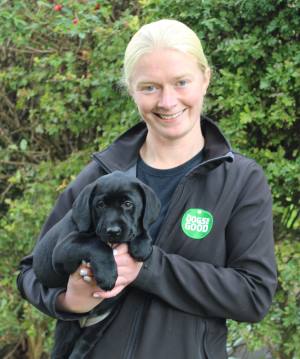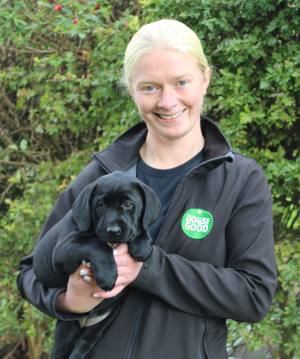 When you have a job with dogs, many people instantly think that you must have the best job in the world. But there's one role in Dogs for Good that has one of the highest cute-factor ratings – the job of Dog Supply Coordinator.
It may not be the most glamourous job title, but Becci Hodge spends her days carefully planning when Dogs for Good puppies will come into our national training centre ready to meet their new volunteer puppy socialiser's.
She also has the tough job of making sure each new recruit has a name – not as easy as you might think when you have 40 pups a year who all need a suitable name that isn't already being used!
Becci, what does your role involve?
There are two aspects to my role; looking after and managing the charity's breeding stock (our dog mum's and their pups) and contacting private breeders and sourcing puppies from them. It can be quite a juggling act. After all, we don't want lots of puppies one month, and then none the next, so I keep a very close eye on due dates!
What is the best part of looking after all the puppies?
Every puppy and litter is different and they always have their own character – albeit they are all usually very cheeky! Ultimately seeing the puppies grow up, progress through training and then qualify as an assistance dog partnership or a community dog is always very rewarding. To know you've played a part in that is special.
Have you always worked with dogs?
My family had a German shepherd and a Labrador when I was growing up so was used to being around dogs, even from an early age. My mum actually started breeding Labradors and as I became older, I was able to become more involved. Before I moved to Dogs for Good, I worked with specialised sniffer dogs so I can't imagine not being around dogs.
Can you sum up in one sentence what it means to you working for Dogs for Good?
I can't to be honest. I have always wanted to work with dogs that make a difference, so being Dog Supply Co-ordinator means that I am at the start of the process of helping to create a life-changing dog. I can't sum up how special that is!