Melanie and Leanne have recently joined our Training team here at the Frances Hay Centre in Banbury. Find out more about them in our latest blog below.
Melanie Wood

"Ever since I was little, I have always wanted to work with animals. So I studied Animal Management at College and University and during this time, I was lucky enough to get a job as a Zoo Keeper. Whilst working alongside these animals was absolutely amazing, there was something that interested me even more – training. I then progressed to working with sea lions and parrots and training them for husbandry behaviours and to partake in daily presentations.
I got the opportunity to work abroad with dolphins for a year (training them for A.A.I), which really sparked my interest in training animals to give people a better life. When I came back to England, after working in a Zoo again, I progressed to a job in an Agricultural College, developing the Exotic Animal Department. However, it meant that I was no longer training animals, and as this is something that I am so passionate about, I knew I had to look for a trainer role.
When the position was advertised at Dogs for Good, it seemed perfect – I even asked in the interview, "What's the catch?", because I genuinely couldn't see any downsides to the job! It is training animals for a great reason.
I'm now four weeks in and have met some lovely people, got a really good grasp of what everyone does and how the Charity works. I got my first dog, Vella, last week and have just got chocolate Labrador Jess today. I'm really excited to get stuck in with their training."
Leanne Carmichael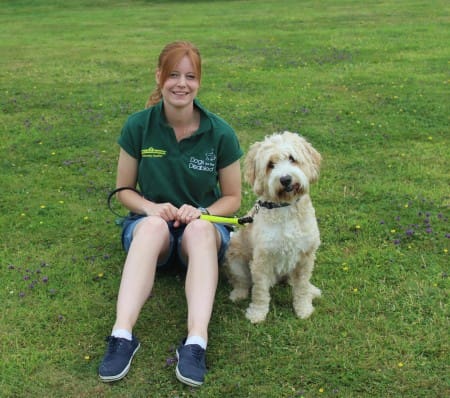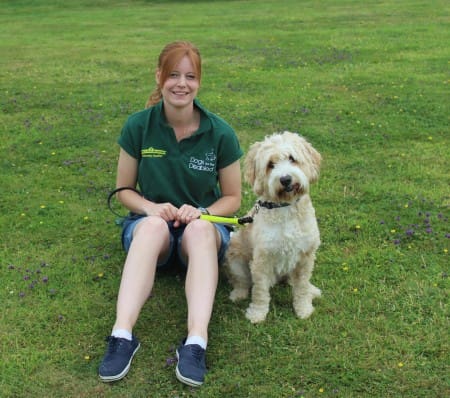 "All my life I've had a huge passion for dogs and one of my earliest memories was trying to train my uncle's Airedale terrier (which at the time was bigger than me!).
My career so far has involved working with both rescue dogs and military working dogs in the Army. Since leaving the Army in 2010, I have been desperate to get back into working dogs, so when the opportunity came up to train assistance dogs, I jumped at the chance.
To be able to work with such amazing animals whilst being able to help people in all sorts of ways is truly incredible and still feels very surreal.
I'm really looking forward to training my first dogs Banjo and Sandie, and hopefully making a life-changing difference to a someone's life."
Learn more about the sorts of things Mel and Leanne will be teaching Vella, Jess, Banjo and Sandie in our information on training assistance dogs.