This year, Mental Health Awareness Week is shining a spotlight on the effects of the pandemic.  In a recent survey commissioned by Dogs for Good and MORE THAN insurance we heard about the impact that frequent disruptions have had on children's mental wellbeing. 
To help highlight the benefits, we're delighted to have teamed up with MORE THAN and Presenter and DJ, Jo Whiley to highlight how dogs can benefit children's confidence, wellbeing and ability to learn and read at home.  Here's Jo reading an excerpt from the children's classic, The Story of Doctor Doolittle in the company of Dogs for Good community dog Fleck.   
Top Tips for 
reading to your dog 
Encouraging your child to read to your dog can be a lovely and rewarding experience for the whole family and to help get you started our Dogs for Good trainers have shared some top tips to help get you started and make it an enjoyable experience for everyone.   
Want to keep in touch? 
If you'd like to keep in touch and hear more about Dogs for Good's work, get great tips and advice about building a bond with your pet dog and much more, then sign up to our Enewsletter to hear more from us. 
About MORE THAN and Dogs for Good 
During 2021, we are really excited to be partnering with MORE THAN Insurance to help them celebrate their 20th anniversary and their commitment to do more for their customers, colleagues and community. 
Dogs or Good relies on voluntary donations to continue our work, sadly the covid pandemic has had an impact on the charity so MORE THAN's support is more vital than ever.  
Puppies that Do More 
We're pleased to introduce five fabulous puppies that MORE THAN are supporting all the way through their working life.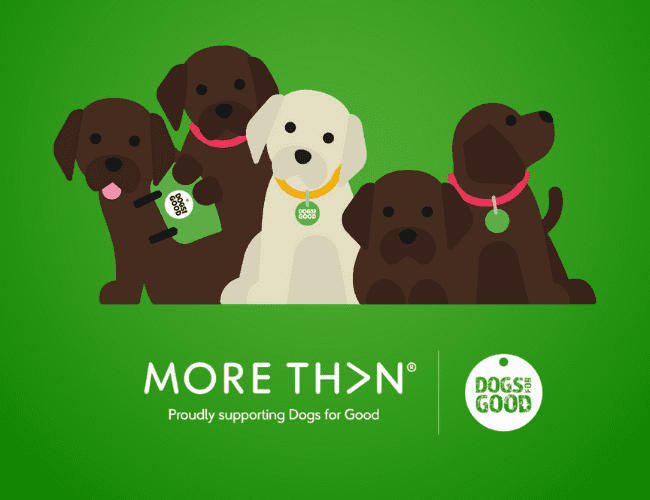 Damson, Darcy, Delta, DeeDee and Ernie are currently living with their volunteer socialisers and learning the skills they will need before they embark on their formal training to go on and help more people through our assistance dog or community dog programmes.
A huge thank you to MORE THAN and all their colleagues for their continued support during 2021.