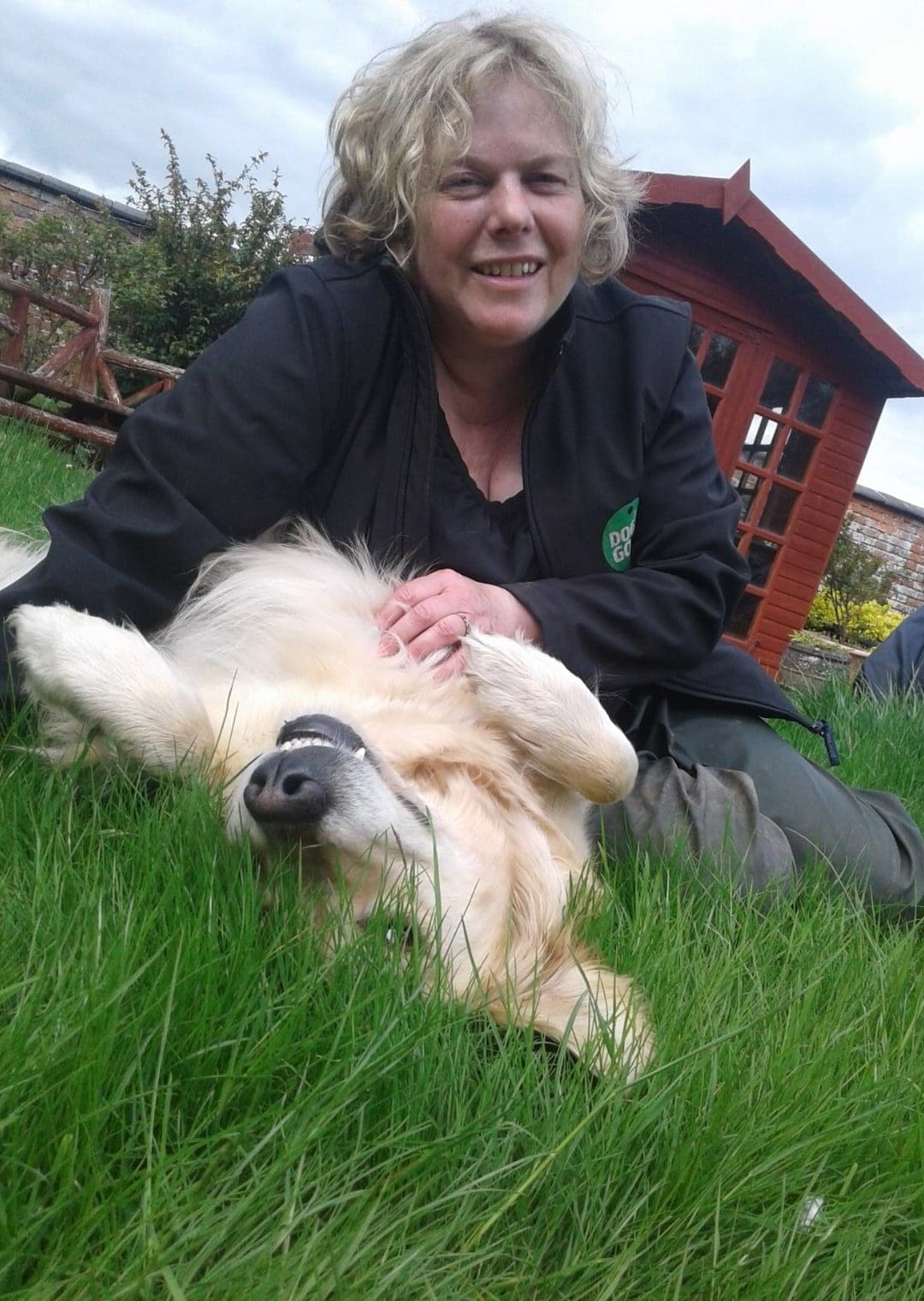 Our volunteers carry out so many different roles and are, without doubt, the beating heart of our organisation. They're out in all weathers helping us to raise vital funds, opening their homes and hearts to our puppies and dogs, talking to community groups about the work we do, driving things and dogs from one place to another… the list goes on and on.
One of our special volunteers is Helen who has, over the years, undertaken pretty much every role for us!
Inspired by the difference our dogs make
Helen was introduced to Dogs for Good when she was pregnant with her now eight year-old twins. "A friend of mine took me along to one of the demo events that the charity ran and I spent the whole time blubbing!" she laughs. "My hormones were high but seeing these incredibly clever dogs and hearing how they changed their owners' lives in such a powerful but simple way made me want to be part of the charity."
A volunteer role that fits into family life
Helen lives on a farm with her partner and when their children were two, the family opened their home to one of our dogs in the volunteer role of puppy mum or as they are officially called, Breeding Stock Holder. "She really was a very special dog and went on to retrain and become a Community Dog, carrying out some extraordinary work with her handler. It was such a special time having her in our lives and once she passed, we realised that giving a home to a 'puppy mum' was something we wanted to do again."
Enter Edna; a beautiful golden retriever. "Edna really is the most affectionate, kind, gentle and extraordinary soul imaginable," says Helen. "She's also really funny and cheeky! She's a wonderful mum to her pups and it's an honour for us as a family to have her and them with us. She and they really are where the journey starts."
In addition to looking after Edna, Helen also fundraises for us, is one of our volunteer speakers and offers her home to a steady stream of puppies and dogs which need temporarily boarding.
Proud to support
When asked why she does what she does, Helen's answer is simple. "It goes back to how I first felt when I saw those dogs at the demo day," she says. "Knowing that the puppies I help Edna raise will go on to one day become a life-changing assistance dog is absolutely incredible. I've spoken to one of Dogs for Good's clients, Simon, who has one of Edna's puppies, Axel and what he says about how Axel has changed his life makes my heart smile."
And for Helen's children, there are lots of lovely moments that Edna and her puppies bring. "The children get very involved with the puppies and will play with them and even read to them when they're very small," says Helen. "They adore Edna and while it's hard when the puppies go, they understand and accept that the journey they're going on is going to change a life. It's taught them to understand the differences in people in such a positive way and that's very special."
One other thing that Helen is keen to mention is the help she gets from Dogs for Good's very own Becci Hodge. "The support, advice and kindness that Becci gives to us is invaluable," says Helen. "She's absolutely amazing. I've learned so much from her over the years which gives me so much confidence which then helps me do more for Edna. It adds to my learning and understanding and is a lovely additional benefit to being part of Dogs for Good."
On a final (and very lovely) note, Edna's story actually starts on the farm that she now lives on with Helen and her family. "A wonderful man called Glen worked on our farm from the age of 15 until he was 75," explains Helen. "When he died, he left us some money and we ended up giving some of that money to Dogs for Good to purchase a puppy. Edna was that puppy and was named after Glen's favourite niece. We had no idea that Edna would become a puppy mum but she did and the fact that she came 'home' to live with us on the farm is wonderfully serendipitous."
Quite simply, without people like Helen, we couldn't do what we do. So, we'd like to say thank you to all our incredible volunteers for every minute you spend helping us to change lives for the better through the power of dogs.
If you've been inspired by Helen's story, here's more information about volunteering for Dogs for Good.