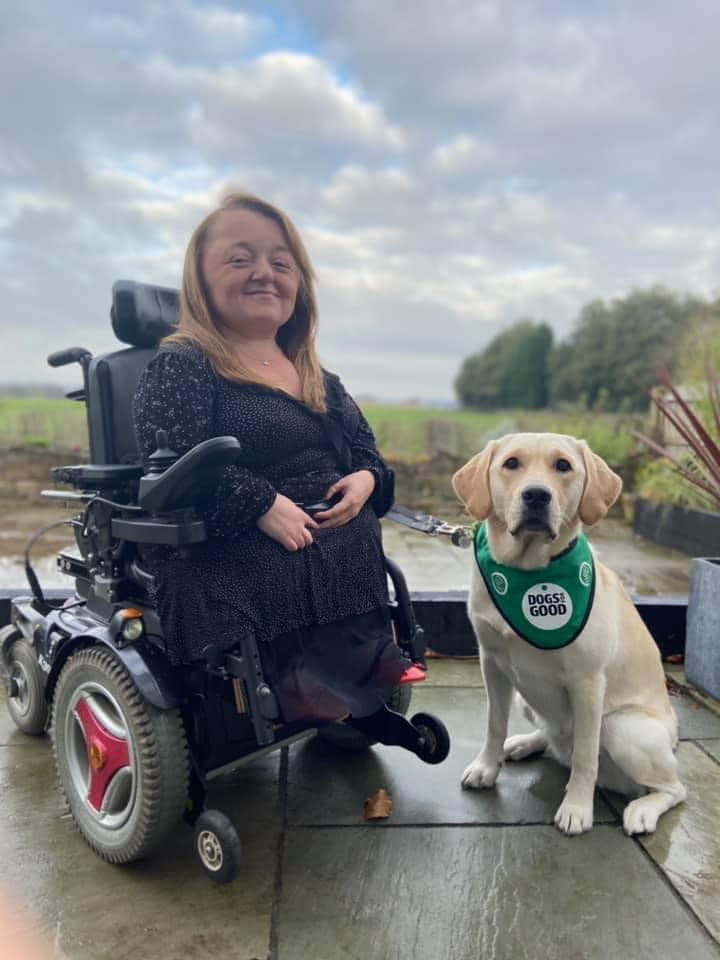 Alice Moore-Simmons from Wigan has a variety of different conditions including brittle bones, Ehlers Danlos syndrome and POTS.  The infectiously-cheery 25 year-old takes it all in her stride however, supported by her incredible family and friends.  "I'm really lucky in so many different ways," she says.
At the age of 15, Alice was partnered with Dogs for Good assistance dog, Bella after her mum and dad applied to the charity in the hope of helping their daughter gain more independence through the help of an expertly-trained dog.  "Bella definitely opened the door to more of the outside world and with her by my side, my horizons broadened," recalls Alice who, prior to getting beautiful Bella was petrified of dogs! "Yeah, that fear didn't last long once I'd met her," she laughs. 
Bella's calming influence, practical help and limitless devotion helped Alice through the many, many surgeries she's had and also therapy for the dissociative seizures she developed as a result of PTSD. "She definitely changed my life for the better and when she retired, I thought, 'I don't want this to be the end.' I wasn't going to be cheeky and ask if I could have another dog but one day Ella, my Dogs for Good Instructor mentioned it. She told me that Dogs for Good always look to see if there's potential for existing clients to work with a successor dog. I didn't need telling twice and filled out the application form with a heart full of hope."
Bella continued to live with Alice and her family, putting her paws up for a well-earned rest while the charity looked into finding a successor dog to help Alice further.  This time, instead of being one of Dogs for Good's children's partnerships with her mum being officially responsible for Bella's welfare, Alice would be the team leader. 
"I filled out an application form and went through the whole process before finally receiving the letter I'd been waiting for," recalls Alice. "I'd been accepted! It was a two–year wait so Dogs for Good could find exactly the right dog for me but when Ella said that she thought they'd found the one, I was so excited."
In March 2020, just before lockdown, Ella introduced a beautiful yellow Labrador x golden retriever called Winter to Alice.  "When I saw her, I was stunned.  I just thought 'wow'!  It was love at first sight," recalls Alice.  "She's so girly and giddy. She went straight into Bella's toybox, helped herself to something squeaky and played for a little.  Bella was a bit surprised but, sweet girl that she is, she didn't mind too much."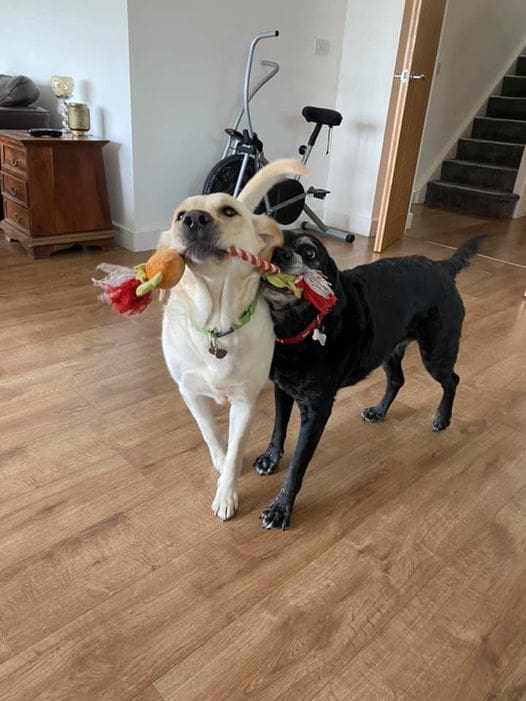 It was important that Bella was happy to have Winter join the family.  "Bella was here first and it wouldn't have mattered how much I adored Winter, if Bella wasn't happy, I'd have to pass and wait for another dog.  Bella's seen me through some tough times, been my absolute rock and her happiness is everything to me."  
Happily, it wasn't an issue and Bella and Winter get on like a house on fire. "Bella's 13 now but having Winter around has given her renewed energy," says Alice.  "They love to play together and Winter is super respectful of Bella; she instinctively knows when to calm down and just relax together."
Alice bonded quickly with Winter and has enjoyed doing all the training independently now that she's an adult partnership rather than a children's team. Despite lockdown they have been to a variety of environments, and Winter gives Alice the confidence to go off on her own in shops rather than sticking with her parents all the time.  "Winter settled in really well," says Alice.  "She's matured a lot since she came last March and I'm starting to see her really start to blossom into this cheeky, clever, amazing girl." 
Winter has been trained to help in a variety of practical ways such as pulling off Alice's coat, gloves and tops, fetching dropped items and pushing access buttons.  "This sounds simple but the impact is huge.  It means that mum doesn't have to do everything for me or be with me everywhere.  I can go off and do my own thing, safe in the knowledge that if I drop my purse, Winter will get it for me.   If I need to access a shop, Winter will push the access button for me.  If I want to get changed into something different, Winter can help me.  Independence and confidence are priceless gifts and Winter's helping me achieve both." 
Seizures are another, now regular, feature of Alice's life, triggered by her environment and/or anxiety. "Sometimes they don't last long but sometimes they last for over 20 hours," she explains.  "And Winter helps me there, too."  Dogs for Good Instructor, Ella, has worked with Alice to teach Winter to go and get her mum or dad if Alice feels a seizure coming on.  Alice will give the cue, 'go get', and Winter will search the house for mum or dad, nudge them on the leg or hand before running back to Alice. "The first time she did it, my dad was utterly blown away," laughs Alice.  "He said afterwards that initially, he didn't know what Winter was doing but she kept nudging him and then running away.  He followed her and found me about to have a seizure so could help.  Afterwards he said 'that dog is amazing.  Pure and simple.  Amazing.'  And he's right!"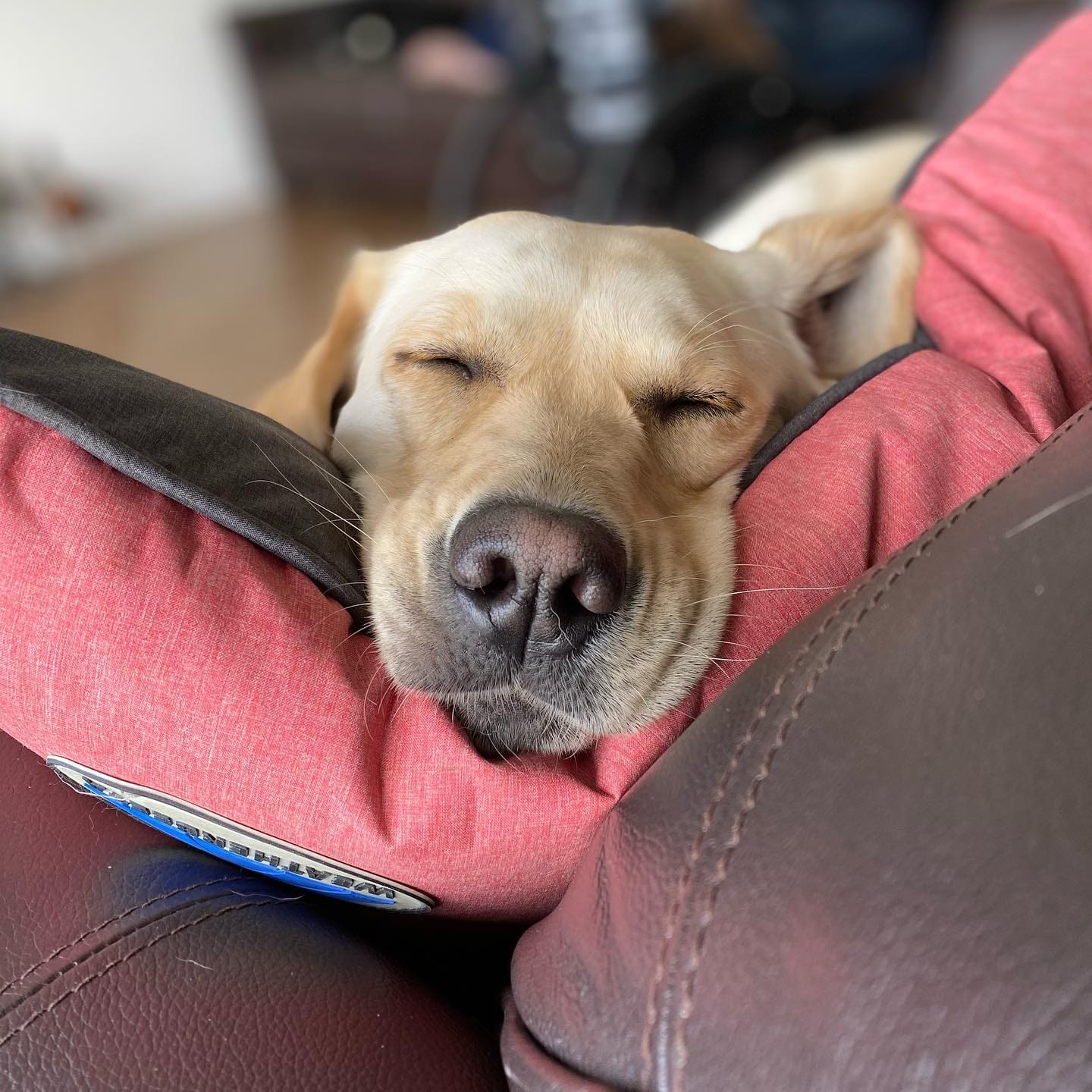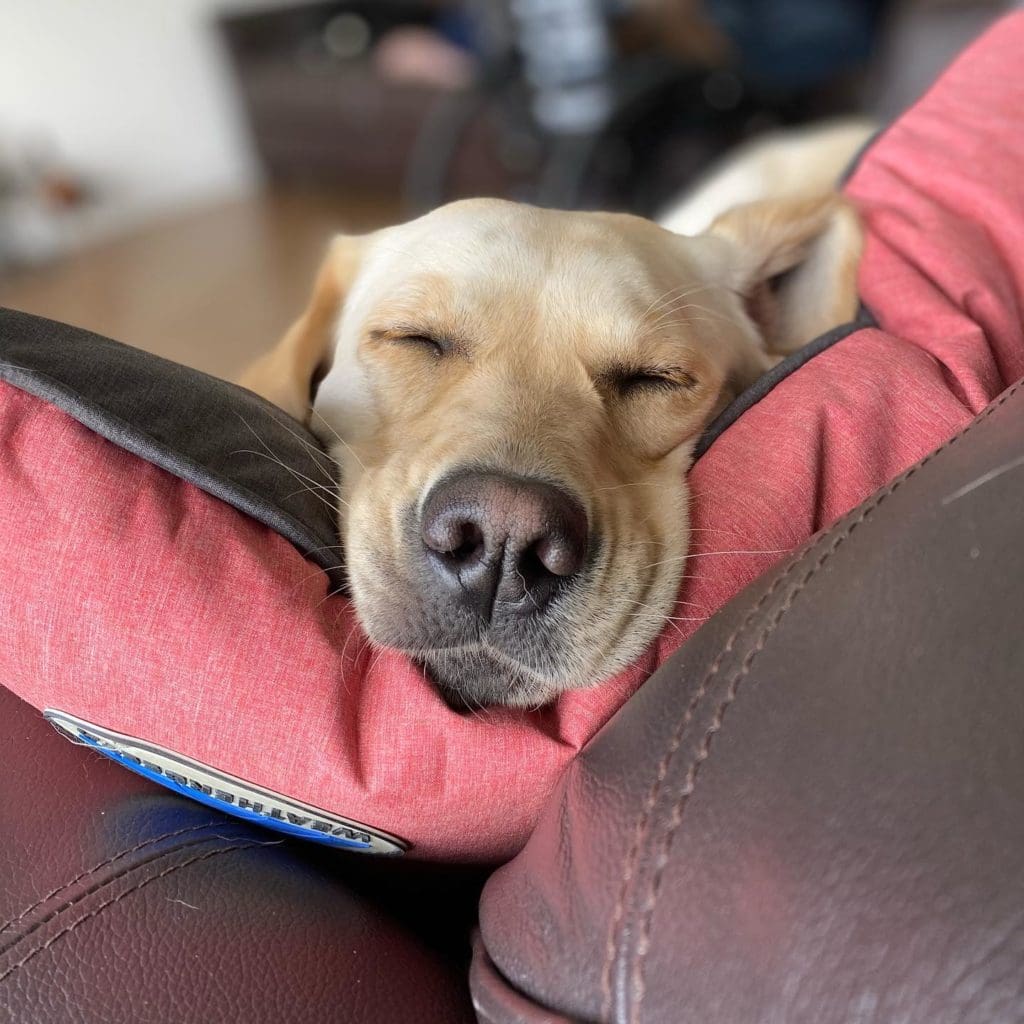 Winter has also taken it upon herself to ensure that Alice has her blood pack with her wherever she goes.  "It's really important that I have it with me at all times in case my blood sugars drop and I faint.  I sometimes forget to take it from room to room with me but Winter never forgets.  I don't even have to cue her and ask for it now, it just comes with her wherever we go and she pushes it into my hand."  
Alice says that once it's safe to do so, she's looking forward to going out more and going further with Winter.  "I can't wait for us to go on adventures," she says.  "She's my funny, beautiful, clever girl and she's got my back.  Even though I couldn't love her any more than I already do, I feel like our bond gets better and better every day.  She's just a love!"  
---
We receive over 5000 enquiries a year for our services and we rely on donations to continue to make life-changing partnerships.  If you're able to help us, we'd be so grateful. 
Please donate today.