"Right from the moment he entered our lives, Oscar made a positive difference to Harry. He's my absolute little star."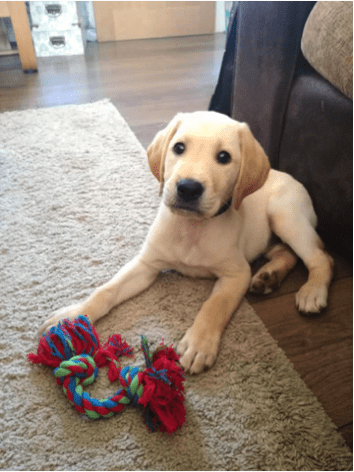 Jen (41) is mum to two sons and her youngest, Harry (11), has autism and ADD.  "Harry is high-functioning and he really struggles with his mental health. His darkest moods take him to places that no parent wants to find their beloved child."
Like most parents of a child with autism, Jen found herself searching online for services and therapies that might help Harry. "I'd heard about autism assistance dogs but felt that Harry's diagnosis meant that he wouldn't qualify for one," she explains. "But, having had a dog myself as a child I felt sure that it would be a positive influence. So, when I found out about Dogs for Good's Family Dog service, I thought that it could be really helpful."
Family Dog service for autistic children
Held at various locations around the country, our Family Dog workshops are specially designed to help parents of autistic children find (if they don't already have a dog) and train a dog to benefit the whole family. The course instructors use a combination of practical demonstrations, discussions, hands-on learning and course handouts. The workshops are also attended by Family Dog workshop dogs, Siren, Fidget and Neville who are all excellent at demonstrating what the trainers are explaining.
Jen booked herself onto a local course and right from the start, knew that she'd made the right choice.
"Everyone was in the same boat as me and it was lovely to be part of a group of people looking for the same kind of help. The instructors were immensely knowledgeable and because the group was small, one-to-one help was easily achievable. I learned so much about choosing the right breed, how to understand dog behaviour and ensure that their needs are met and how to go about training a dog in the right way. Even after the first workshop, I started to feel confident enough to start the search for a companion dog for our family."
Jen decided to get a puppy and after careful consideration, felt sure that a Labrador would be the best choice for her family. "I knew that getting a puppy would be a lot of hard work but I knew that I wouldn't be in it alone because of the post-workshop support that Dogs for Good's Family Dog team offer on the phone and online. That was really reassuring."
Along came Oscar
Jen found a breeder locally who sent her some photos of the litter so she could show them to the family before going to see the pups. "Of course, they were all adorable… but there was something about one of them," she says. "We were all really drawn to him."
Needless to say, Jen instincts were correct and as soon as he was old enough to leave his mum, a little yellow Labrador puppy joined their family. They named him 'Oscar'.
"The workshops taught me not to expect too much of Oscar as puppies aren't hugely trainable until they're much older," says Jen. "But one thing did happen, right from day one. Oscar became Harry's best friend and just that simple thing started a hugely positive change for Harry."
School was something that Harry didn't enjoy but Oscar helped make that less upsetting by just being part of Harry's life. "Even though Oscar wasn't able to go to school with Harry, the school were amazing and and got involved with helping Harry share Oscar with his classmates through visuals," says Jen. "This helped the other children see Harry differently. It also helped Harry's relationships with his teachers," says Jen.
Previously, when Harry came home from school, he would go straight out onto his trampoline to bounce and gain some relief from the sensory overload he'd experienced during his school day. "That changed immediately, too," recalls Jen. "As soon as Harry came through the door, he'd seek out Oscar for cuddles, strokes and laughs. It was absolutely magical to see Harry's anxiety, stress and unhappiness melt away through his interaction with Oscar."
After a few months and as he got bigger, Oscar also showed a natural inclination to 'body rest'; where a dog will lay the weight of its body over a person which gives a comforting sensation of deep pressure. "It's something that autistic children find incredibly soothing so Harry is a big fan," explains Jen. "But Oscar will also do it to any one of us if he senses we're upset about something. His lovely, calm presence is so relaxing."
Building a strong bond
Oscar is now two years old – an impossibly handsome, leggy, 31kg package of joy who Jen describes as "my absolute little star."
Since coming into the family, Harry's moods have stabilised and the love he and Oscar have for each other is unconditional.
And now that Oscar's old enough to teach, the techniques that Jen learned in the Family Dog workshops are starting to come together.
"We're starting to refine the body rest a bit and also teach him just to use his head – a technique called a 'head rest' which we learned in the workshops," Jen explains. She is also teaching Oscar to use 'talking buttons' – another method that the Family Dog workshops teach. "The buttons are devices that you can record a single message on," explains Jen. "They're big enough for a dog to either place a paw or a nose on to set it off.
Jen says she's likely to use the buttons for 'transitions' – for example, letting Harry know when it's time to end screen time, bed time, homework time and helping him to choose which homework to do. "Harry wants to help train Oscar to do this which will, I'm sure, strengthen their bond even more," she says.
Lockdown is hard for everyone but especially for families with a child with autism. Jen says that now, more than ever, Oscar has made everything so much easier to bear. "Lockdown would have been so much harder without him," she says.
The whole family agree, saying: "He provides us with unconditional love and entertainment every day; he's so loveable and playful. He helps to relieve stress and tension and is a great distraction. He always knows if you're having a bad day and is always there for you."
Harry adds: "Oscar makes us all laugh and he makes me very happy. I love the funny dance he does when we give him a treat! Oscar is my best friend and I hope Oscar knows this. I hope I am also Oscar's best friend."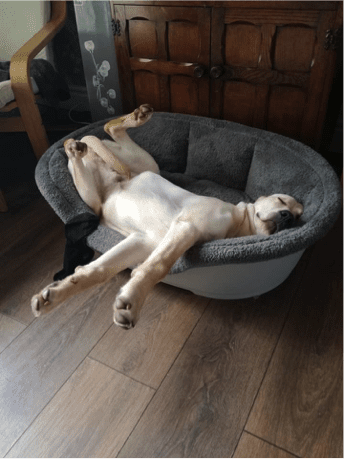 ---
Our Family Dog team gives advice and support to help families with an autistic child to get the most out of their relationship with their pet dog. Find out more about our Family Dog service here.