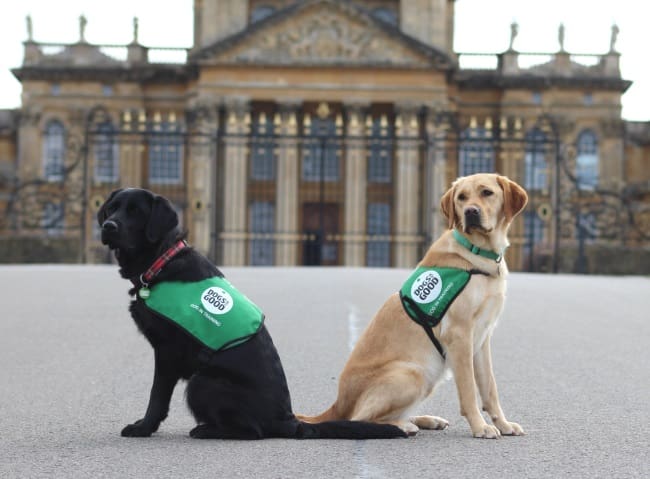 Dogs for Good has been selected as SsangYong Blenheim Palace Horse Trials' chosen charity for 2018. Dogs for Good is celebrating 30 years of supporting people with complex needs – including physical disabilities, autism, dementia and learning disabilities – enabling them to lead more independent lives through the help of specially-trained dogs.
Dogs for Good's chief executive, Peter Gorbing said: "We're honoured to be part of SsangYong Blenheim Palace Horse Trials this year and we look forward to speaking to visitors about the work we do. So many of us have a special connection with animals and, as any dog-lover will know, the power of the human-dog bond is phenomenal. At Dogs for Good we see that dogs can make an incredible difference to people facing additional challenges, enriching their life and enabling them to enjoy much greater independence."
Event Director Mandy Hervieu said: "SsangYong Blenheim Palace Horse Trials is Oxfordshire's biggest sporting event, and we are looking forward to welcoming this local charity and lots of good, well-behaved dogs and their owners to the horse trials. Many spectators bring their dogs with them as it's a great opportunity to have a lovely walk round the course in the fabulous Blenheim parkland, and we hope that the demonstrations will allow our crowds to appreciate the work that Dogs for Good does."
Dogs for Good staff, volunteers and of course the charity's wonderful dogs will be at SsangYong Blenheim Palace Horse Trials every day of the event (13-16 September) and on Saturday 15 September, the Dogs for Good demonstration team will be showcasing how the charity's dogs are trained and the specialist help they can give to someone with disabilities.
Visitors to the event can help support Dogs for Good when buying tickets online by making a donation with their purchase and there will also be lots of opportunities to find out about volunteering and other ways to support Dogs for Good during the event.
Regular visitors to the event will notice the addition of a canine-themed Dogs for Good Cross-Country fence and social media followers can chart the progress of event mascot and Dogs for Good's 30th anniversary puppy, Pearl.
SsangYong Blenheim Palace Horse Trials is one of Britain's most prestigious equestrian events. Its principal classes are the CCI3* and the CIC3* for eight- and nine-year-old horses, featuring many of the best riders in the world. The event also hosts multiple opportunities for amateur riders, including arena eventing classes for individuals and Pony Club and riding club teams, a new Retraining of Racehorses dressage championship and the popular fun ride round the beautiful Blenheim Palace estate.
As well as the sporting action, SsangYong Blenheim Palace Horse Trials features excellent, carefully selected, shopping opportunities. There is a full and varied programme in the Attractions Arena every day, superb children's entertainment and great food, ranging from locally produced outlets to a range of dining packages.
Visit www.blenheimhorse.co.uk to book tickets and for further information.