Meet Willow, Webb and Uno, the three latest dogs to be trained as Dementia Assistance Dogs as part of a very special collaboration between Dogs for Good and Alzheimer Scotland.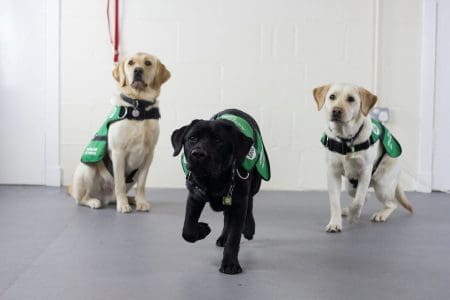 Over the next few months, Willow, Webb and Uno will be learning what it takes to become dementia assistance
dogs as part of the second phase of the project funded by the the Big Lotteries Life Changes Trust.
The dogs will learn to respond to alarms to provide reminders to take medication, help with getting up in the morning and reminders to rehydrate.  The dogs have all been selected for their affectionate nature and will help to act as a calming focus for a person with dementia, where often high levels of anxiety can lead to difficulties for a person to be left, even for a short period of time.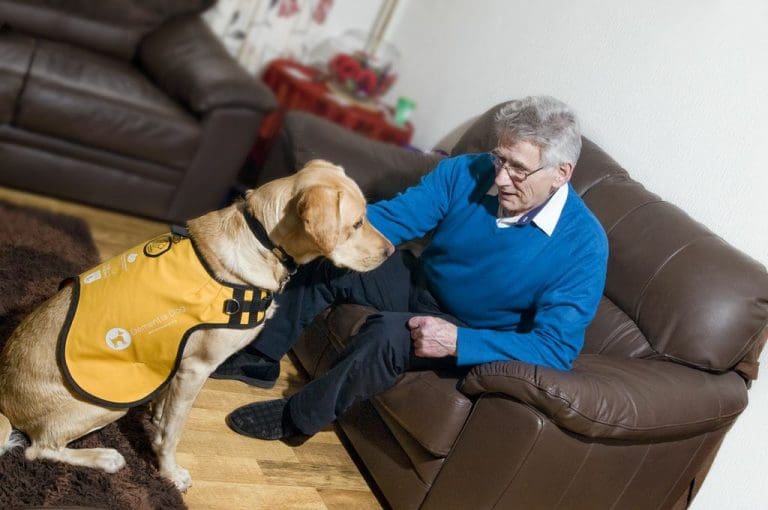 In 2013 four dogs were matched and placed with a couple where one person had early on-set dementia.  Ken (pictured) and his wife Glenys were partnered with Kaspa a yellow Labrador. Kaspa had been given special training so he could offer practical assistance to someone with dementia and also reduce anxiety levels.  This meant that Glenys could leave the house knowing that Ken would be safe, as Kaspa had been trained to respond to alarms that would remind Ken to carry out tasks, like take his medication.
Glenys says "Kaspa has given us our life back. He greets Ken in the morning, so Ken starts his day happy. Kaspa has removed my fear that Ken had gone, life is so much better for both of us now.
Once fully trained, Willow, Webb and Uno will be going out to couples like Ken and Glenys, where one person has the early stages of dementia, to provide both practical support and life-changing friendship.
For many couples dealing with dementia can be incredibly lonely, even a trip to the supermarket can be stressful and many carers are left isolated, feeling like they have not only lost their loved one but also find that continuing to do activities that they used to enjoy is no longer achievable.  Says Glenys: "Having Kaspa has given us the chance to go out more and when we are out people stop and talk to us because we have Kaspa by our side.  That's been a real positive for both of us."
We'll be telling you more about our Dementia Assistance Dogs as they continue their training, so keep up to date through  Facebook and Twitter  or through our e-newsletter.