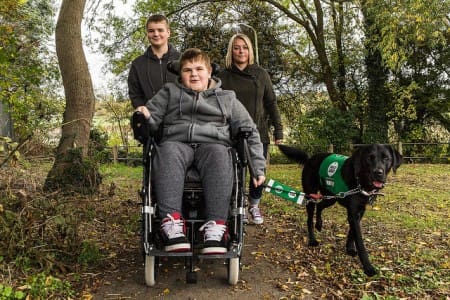 Mums will get some well-deserved appreciation on Mother's Day (Sunday 26 March). Here at Dogs for Good we're celebrating a smashing mum we think deserves some extra recognition
Meet Lisa, who describes herself as a full-time mum and carer, part-time mechanic and comedian!
Lisa is mum to her two sons Adam and Oliver.  Oliver (13) has Duchenne Muscular Dystrophy, a condition for which there is no cure and which gradually wastes the muscles of those affected. 10 years ago it was a devastating diagnosis for Lisa to face.
Then two years ago assistance dog Rosie came to help and has made a huge difference: picking up anything Oliver drops, helping him undress and giving him confidence and reassurance.
But Lisa, Oliver and Adam still face daily challenges and are denied choices mums and their able bodied children will scarcely recognise. Lisa's philosophy is "I have to make the best of it and giggle as much as possible." She's a truly remarkable mum.
Can't get your child to stay in their bedroom?
Oliver was too scared to sleep alone downstairs because he couldn't get upstairs if he needed Lisa in the night; "I spent a whole year sleeping on a mattress in Oliver's room", says Lisa. Only when Rosie came and slept with Oliver (she can alert Lisa if needed) was Lisa was able to return to her own room and bed.
Invited to meet friends at a restaurant, café or pub?
"I have to telephone or look at the website, but usually try to visit a possible new place first" says Lisa.  "The accessible toilet frequently doesn't have space for a power wheelchair to turn or to line up alongside the toilet.  In the end it's easier to say no and invite people round to our house.  But that's actually denying all of us the opportunity to go out somewhere different."
Hate preparing to go out in the car?
For Lisa, it's like a military operation and starts the night before: the power chair must be fully charged and all the supplies and equipment Oliver needs collected and ready.  On the day, after Lisa has toileted Oliver and the dog, Rosie helps her by collecting Oliver's shoes and outdoor clothes so he can be dressed to go out. Finally they're outside and ready to get the power chair and Rosie into the car (Lisa makes it look smooth, but it takes a long time).
Want to return to work?
Lisa says, "I'd love to work and I have good employment skills; but I have responsibilities. Oliver can't always manage a full week at school due to his condition.  Then there are all the clinic appointments: physio, respiratory, cardio, posture – and never on the same day. I also have to understand what the clinics are investigating and the implications. A revised posture report will mean an alteration is needed to the power chair. Then there are wheelchair assessments, repairs/servicing to home equipment (the hoist, used to help Lisa transfer Oliver from bed to wheelchair and to bath, is a recurring problem). I've had to become a part-time mechanic too, adept at adjusting and fixing the wheelchair myself!"
Stressful & expensive family holiday?
Lisa's last attempt at a family holiday was not a success. Access and facilities were not as advertised and it was terribly hard work. "But I've just booked a holiday for the first time in four years!" says Lisa. She's very grateful to a high street travel agent's staff, who spent hours on research and found exactly the same holiday as one offered by companies specialising in holidays for children with a disability, but at half the price.  She and the carer (Lisa must pay for this) will take Adam and Oliver to a resort where she can hire (more expense) a sea buggy so Oliver can enjoy the sea too.
Struggle to give equal attention to your children?
"Necessarily I spend a lot of time with Oliver, but I work really hard to make sure I have time out separately with both Oliver and Adam.  Thankfully I've at last been given respite care, so I can now devote time to go out with Adam and catch up with him about school, friends, hobbies and interests."
How to support your child through problems?
Understandably Oliver struggles at times.  "He gets down and frustrated with all the limitations his condition imposes – even simple things like not being able to choose the clothes he'd like or to go out on his own," explains Lisa,   "and this is when I'm family clown and comedian, trying to cheer him along and help him to feel better." She's unfailingly ready with a smile and a joke to ease the pain and irritation and this demands endless patience, understanding and quite extraordinary resilience.
A Marvellous Mum indeed!