I was privileged last weekend to be part of two stimulating conferences, bringing together practitioners from all over the world to discuss best practice and new thinking on assistance dogs with Assistance Dogs International and animal assisted intervention with AAII.
Both are rooted in the belief that bringing dogs and people together can change lives and that by creating a bond between people and dogs, mutually beneficial relationships can be developed.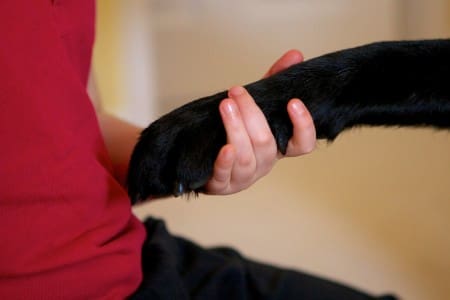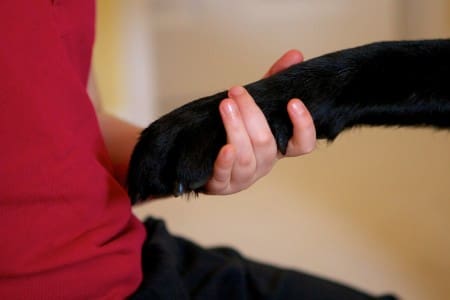 With an assistance dog a partnership is created between one person and one dog. They become lifelong companions. The focus of the dog's role has traditionally been on practical taskwork, eg opening doors, picking up items etc. This practical support is truly life-changing, but whenever I talk to our clients, they tell me that the benefits go so much further than those practical tasks.
The dog simply makes them feel better. They are an important motivator, boosting the person's confidence and self-esteem. The dog becomes a bridge to the wider world, enabling and encouraging the person to fulfil their aspirations in life.
I think we have underestimated the therapeutic value of assistance dogs. Our primary focus in all that we do has been on the practical tasks they can assist with: in the way we train our dogs; assess the client's needs; the way we 'market' our services to potential clients; and in the way we have positioned the benefits to the people who help fund and support our work.
With animal assisted intervention, one dog will typically work with a number of people. Around the world we see many applications of this. For example, from dogs supporting witnesses and victims in the judicial system, to programmes helping people to overcome specific challenges and develop life skills, such as a child with an acquired brain injury learning road safety skills. Again, the bond created between the person and the dog – facilitated in this case by a skilled handler – is the catalyst for bringing about a life change for the client.
As the assistance dog sector has developed we have, perhaps understandably, created services aimed at helping people address the practical challenges presented by specific conditions or disabilities. These services have provided invaluable benefit to the people they support. But in truth, I think what we see when we bring dogs and people together is that the benefits are much further reaching than just the practical support. People come to us because they want something to be different in their lives. A dog brings a new and positive focus. They make us feel better about ourselves and that's a very powerful enabler, and provides that bridge to the wider world.
No two people are the same, even if they have the same disability. We need to look beyond the neat service boxes we've created in the assistance dog sector and to think differently. By understanding the practical and emotional needs and life aspirations of every individual, we may be able to go further in helping them lead the lives they want to lead.
Likewise, we need to find the right jobs for our dogs. Just as we need to work harder to understand the emotional needs and aspirations of the people we support, we also need to work harder to ensure our dogs are able to fulfil their potential. Dogs have so much to offer us, but not every dog is suited to every job. It's up to us to help them find the right role for them and our experience tells us that when you get it right for the dog, the rest will usually follow. We have much to learn and dogs have much they can teach us. To access this learning, we have to be open to nurturing a genuine, two-way relationship with our dogs; one where we can receive as much as we give. As our insight and learning increases, through practical experience and research, we must take care to apply this in a way that will help both people and our dogs to lead the most fulfilling lives. It was reassuring to see this as a recurring theme throughout the weekend's conferences.
For Dogs for Good it therefore seems a natural step to develop our Community Dog services alongside our existing Assistance Dog services. Developing the two hand in hand will bring greater understanding and learning to benefit both disciplines. This is likely to gain pace as we develop our skills, knowledge and understanding in each and continue in our quest to look at the best ways to meet the needs of our clients. For example, we have already recognised how an assistance dog can bring benefits to the wider family and even members of the local community. Understanding, communicating and championing the potential and value of the special bond that can be created between dogs and people is at the heart of enabling us to help many more people.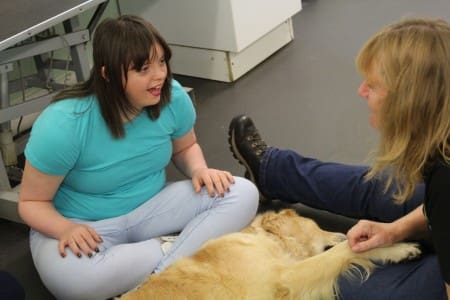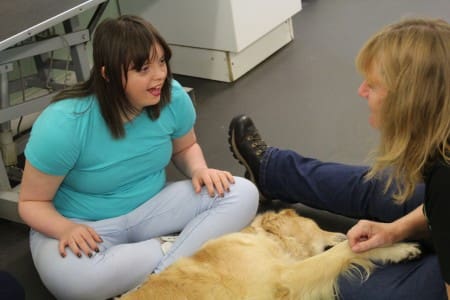 It was therefore heartening to see so much cooperation and common ground between assistance dog organisations and those providing services in animal assisted intervention last weekend (and, of course many, like Dogs for Good, do both). The two representative organisations (Assistance Dogs International and Animal Assisted Intervention International) are working more closely together to reflect this.
The opportunity is significant. Dogs are good for us in so many ways. By embracing new insights, taking a more holistic view of the person and thinking creatively about what we do, I believe that we will be able to help many more people into the future.
Peter Gorbing is Chief Executive of Dogs for Good. He is a board member and a past president of Assistance Dogs International (ADI) and a founder director of Animal Assisted Intervention International (AAII).