Hannah – Family Dog Service Instructor: I help families with any aftercare, whether it is advising on how to source a dog or puppy, how to encourage dog-child interactions, or how to create a safe space for your dog.  I also help to run the workshops that take place around the country.
My background is within education and over the last 6 years specifically with autistic children, within both a secondary mainstream school and an Autism Resource Base within a mainstream secondary school. I have grown up with dogs in the family, so I have now combined my love of dogs with my interest in Autism to do my dream job.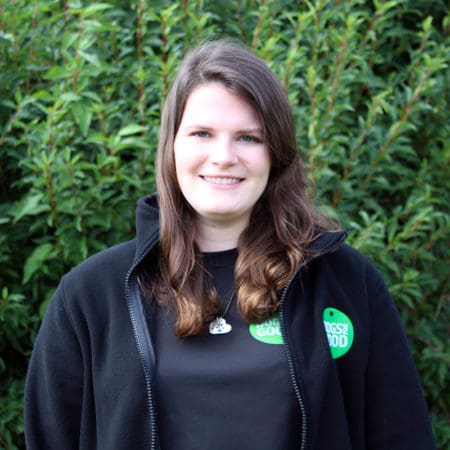 Cari – Family Dog Service Instructor: I come from a Canine Behaviour background, and have grown up with Autism within my family. I am a qualified Assistant Pet Dog Training Instructor, and am just finishing off my qualification as a Canine Behaviourist. I have studied, and continue to further my knowledge on Autism, and am looking forward to learning specifically about Animal Assisted Play Therapy.
I have worked in Canine Rescue and Rehoming, where I also volunteered as a Behaviourist's Assistant, helping to run The Kennel Club's Good Citizen Dog Scheme classes, puppy training classes, and agility.
I have two dogs of my own, one of which is my partner for regular Pets As Therapy visits at a Neurological Care Home. Our visits have only enhanced my passion for Animal Assisted Intervention, and have demonstrated just how much of a positive and therapeutic effect a well-trained dog can have on someone's life, so I feel very fortunate to combine these passions in my dream career.
Sarah – Family Dog Service Instructor: I would like to officially introduce myself as one of the new Family Dog team members. I have a vast working background however, I previously worked at a rescue centre and a vets before my new adventure with Dogs for Good. I am hoping to gain a dog trainer qualification this year as I enjoy trick and task training and would like to hopefully pass my knowledge and enjoyment of teaching these to parents to assist with their dog and child. I have two dogs at home and one loves learning new things when my other is like Cari's dog a PAT dog. I love being able to spend time and do things with them that they enjoy as well.
I am very much enjoying my vast role as a Family Dog Instructor. I take pleasure in meeting new and pre-existing parents on the workshops and hearing their stories. I am looking forward to assisting parents further in gaining a dog (especially from a rescue) and any difficulties that may arise when the dog is home. I feel very passionate about my role and job as a whole and look forward to what the future might hold for the Family Dog Team and Workshops. I am in the process of completing an Autism course to give me a better understanding then I already do of Autism.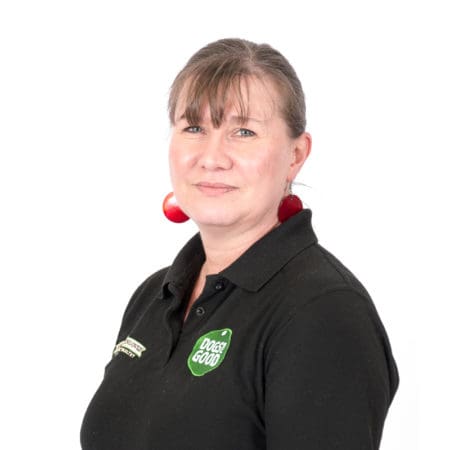 Kate – Training Department Support Officer: I first joined the team in September 2011 and have enjoyed watching the service develop and grow into what it is today.  When I first started, I was involved with the research we did in the early days alongside the University of Lincoln, and the National Autistic Society funded by the National Lottery.
Over the years I have enjoyed following our Family Dog parents through their journey with their family dogs.  It is lovely to still be in touch with so many of them with our ongoing aftercare and private Facebook group.  Hearing all the good news stories makes all the hard work worthwhile.
My days are varied and busy, especially as I am now in a team which supports Dogs for Good's training department.  My primary role is still with our Family Dog service and I deal with enquiries, sorting all the paperwork that goes alongside the workshops as well as arranging the catering at the venues we visit.
I feel very fortunate to work for such an innovative charity which enables me to help so many families and work in an office with dogs!  I look forward to welcoming many more families onto our Family Dog service and maybe meeting you in the future.