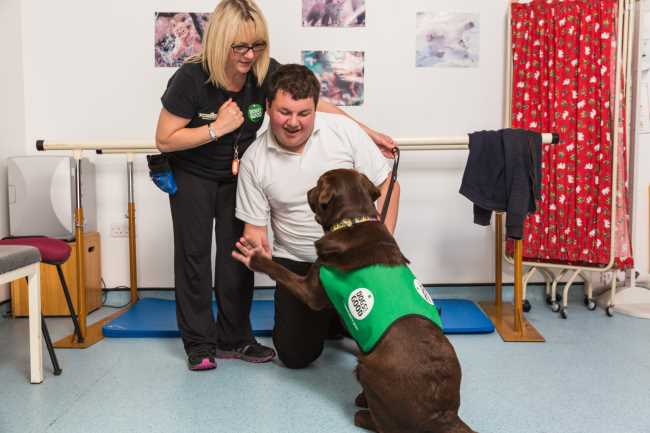 The school dog team comprises a specialist handler and a specially trained activity/therapy dog. They work together to  introduce a dog to the school and become an integral part of the school team. They soon become a natural part of the school's daily operating environment.
The school dog and the handler work in partnership with the teaching staff and therapists. This helps everyone to maximise the positive benefits of having a school dog, for students and the wider school environment.
At the start of the project, the handler will consult with teaching staff and therapists to develop a structured timetable and programme of activity. This programme establishes clear goals for activities with students, both working with individuals and in groups. One example is this school where dogs support children's literacy. This is a key step to make sure we meet our standards of best practice, for students and the dog. This also gives the handler an opportunity to understand the priorities for individual students, groups and the school community. The programme also gives the team a structure for future progress reviews.
Detailed Areas where a School Dog can be Engaged to Help Students
Improving concentration, attention and listening
Play, participation and social interaction
Speech and other communication
Reducing anxiety
Personal care activities eg grooming; personal hygiene etc
Sensory skills development
Motor skills development
Cognitive skills development
Confidence and self esteem
Responsibility and respect for others
Developing independence
Motivation to attend school or engage in specific learning/activities
Specific life skills eg road safety
Improving the effectiveness of therapy sessions
You can click the links to find out more about our School Dog Handlers or about our School Dogs in general. You can also find out about the work we have done in partnership with  school dog at Stocklake Park School.