In our 30th anniversary year, we've (understandably) been reminiscing about how far we've come since our founder, Frances Hay, disabled since childhood, recognised that her pet dogs would instinctively help her with certain tasks.  As a result of our little trip down memory lane, we've thought we'd share with you how assistance dogs can help adults with physical disabilities.
Providing practical assistance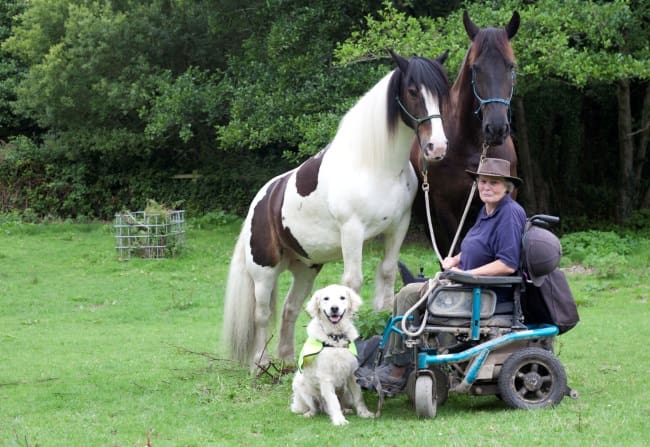 The clue's in the title really…assistance dogs provide assistance; helping their owners with a range of practical tasks including (but not limited to) unloading washing machines, opening and closing doors and drawers, assisting with the removal of clothing items and retrieving or fetching items.  These items could be remote controls, phone handsets and even, in the case of one of our clients, helping her look after her horses by picking up tack, fetching feed bins and helping to harness up the trap!
Restoring relationships
Many of us know and understand the direct physical effects that a disability can have upon a person, but what isn't always evident is how a disability can affect other family members.  We hear from our clients about how their amazing assistance dog come into the household and restore relationships which are perhaps struggling and have then gone on to adapt and flourish.
Jacqui has assistance dog, Duke and her husband, David says "Duke has given me my wife back.  He's a godsend, an absolute godsend."
And Karen with assistance dog, Iggy, adds "Before Iggy came into our lives, Mum had become my full-time carer.  Now he's with us, Mum and I can enjoy a proper mother/daughter relationship again.  I can even go out on my own with Iggy and buy Mum's birthday, Christmas and Mother's Day presents without her having to be there to hand items to me while at the same time 'looking away' – and she doesn't now have to feign surprise when she receives them!"
Going back to work
Having the opportunity to work and contribute to society is important to many people and particularly if someone's life has been affected by disability, they may want to return to their old jobs or are inspired to take on the challenge of a new one.  Very often however, confidence can be low or there may be a worry about being regarded differently; perhaps even being judged because of a wheelchair or mobility aid.
Assistance dogs have an innate ability to melt away the barriers that a disability can put up.  Our client, Heather, who suffered a series of devastating strokes in her late 30s is now partnered with beautiful chocolate Labrador, Eider. Heather says, "Before Eider, I would deliberately avoid contact with people as it's surprising the amount of intrusive questions people ask about your disability. Every day I had to battle to get myself out to work and it was never a pleasure. Now I don't have to force myself, I'm happy to go out with Eider by my side. The most important thing she gives me is confidence and when people they do speak to me, it's not about my disability, they just want to find out what Eider does for me."
Dogs for Good – Meet Heather and her dog Eider from Dogs for Good on Vimeo.
Enjoying the great outdoors
There's nothing like getting out into nature for blowing away the cobwebs.  Watching a beautiful sunrise or sunset, journeying through the woods with all its sounds and scents, listening to the waves crash onto a beach or following a coastal or hill path – all things guaranteed to put a smile on your face whether you do them solo or with a companion/family.  Assistance dogs can help restore the confidence needed to return to things you love doing, because walkies are walkies whether you're a specially-trained assistance dog or not!
Our client, Dorothy, has primary progressive Multiple Sclerosis and was, before diagnosis, a big fan of the great outdoors. But facing the world as a wheelchair user was overwhelming. "My self-image was of someone I didn't know and I preferred to hide at home," she recalls. However, with the arrival of her first assistance dog, Swift, Dorothy realised that the benefits of their partnership went way beyond anything she'd first imagined and was quickly able to start reclaiming bits of the old life that she missed. "Beforehand, I was a keen hiker and used to go on long walks out into the countryside," she explains.  "With my dog at my side, I started to grow in confidence; enough to begin to explore the great outdoors once more."
Breaking down barriers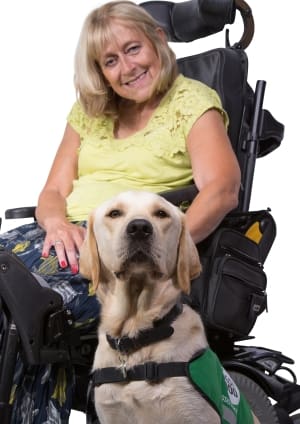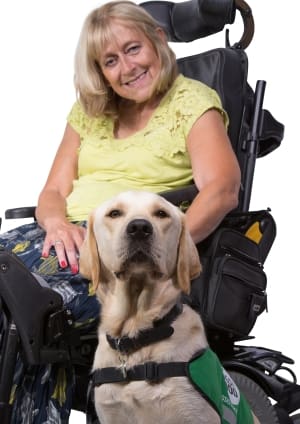 As a nation of dog-lovers, we know that one of the silent superpowers our four-legged friends possess is that of the skilled social icebreaker.  For our clients with physical disabilities this can be transformative; helping initiate conversations and interactions that perhaps would otherwise be stilted and awkward.
Our client, Ann, partnered with assistance dog Twickers, sums this benefit up beautifully.  "Before, I was just a lady in a wheelchair.  Now, I'm Ann with the lovely, clever, amazing dog and my disability fades into the background."
Giving independence
Assistance dogs give the gift of independence… it's something we hear a lot.  And independence means different things to different people.  To our client, Annie, who became a wheelchair user at the age of 20 after receiving a diagnosis of dystonia, it's a very big deal indeed.
Dropping things is a part of daily life for Annie, who was partnered with her first Dogs for Good assistance dog, Lucy, in 2012. "Before I got Lucy, I wasn't able to go outside without a carer, and as a young adult who just wanted to get on with her life, that wasn't great," she explains. "My life changed from the moment I met her and, because of all the things she could help me with, my care package hours ended up being halved – I went from 90 hours per week to 45," she says.
Help us train more assistance dogs
Over the last 30 years, Dogs for Good has trained over 655 assistance dogs to help adults with physical disabilities.  Demand for our services is at an all-time high and we rely solely on donations to carry out our life-changing work. Find out how you could help us to train more wonderful assistance dogs.