Thank you for choosing to raise money for Dogs for Good during Dogtober.
Here's your fundraising kit. To help make your event a success simply click on the links below to download posters, invitations and activity sheets to use at your event.
Let people know about your event
Download your invitations and print off posters to tell your friends and family what you're doing: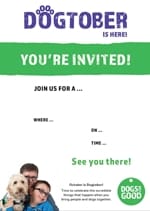 How your fundraising helps
Download our Dogtober flyer for your event and let people know how their support will help us change lives.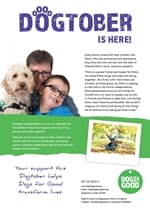 How your fundraising will help
Have some fun!
Download our fun activity sheets to help make your event even more fun for everyone.  Why not make some dog toys to sell at your event or ask for a few pennies to complete a dog mask or make an origami dog.  All those pennies will help to raise more money and help us make a difference.
Make an origami dog      Make your own dog toy      Make your own dog mask
Don't forget to also check out our PupCake recipe – they're surprisingly simple to make and look fantastic!
After your event
Here's a special thank you to share with everyone who attended your event.