This year around 70 puppies will take their first steps on an exciting journey to become life-changing dogs. 
Our puppies are very carefully chosen and live with volunteer socialisers for their first year, giving them all the experiences they need to become confident dogs when they start their formal training at around 14 months of age.
Meet some of our newest pup recruits…
Name: Megan
Breed: I'm a golden retriever x Labrador
"I loved my first day at the Dogs for Good training centre. I mean, I got lots of attention, new toys and a really posh collar and lead – what's not to like! I can't wait to start learning lots of things that will mean when I grow up, I can be a really important helper to someone. I think I'll be great at it."
Name: Adele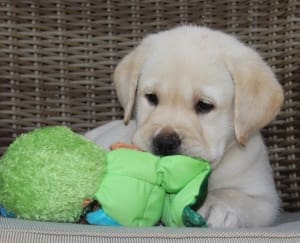 Breed: I'm a Labrador
" I just love toys! Fluffy toys, squeaky toys, chewy toys, oh don't forget the ones that my family put treats inside, even if it does take me a little while to get those pesky biscuits out. I think toys are my most favourite thing ever . . . that and dinner time!!"
Name: Basil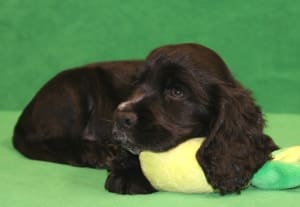 Breed: I'm a Cocker Spaniel
"I know, I know – I'm super cute! I love having cuddles with people while they tell me how adorable I am. I love attention, but I will have to learn to ignore passers-by if I am going to be an assistance or community dog one day. I will start soon . . . just a few more cuddles first!"
Sponsor a puppy from £5 a month and follow their journey to become a life-changing dog.