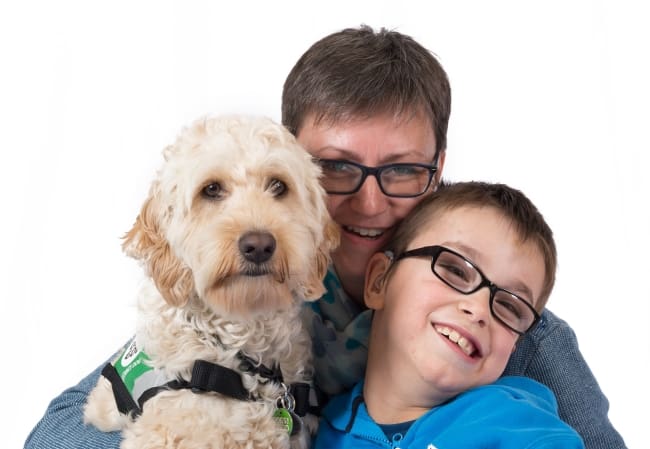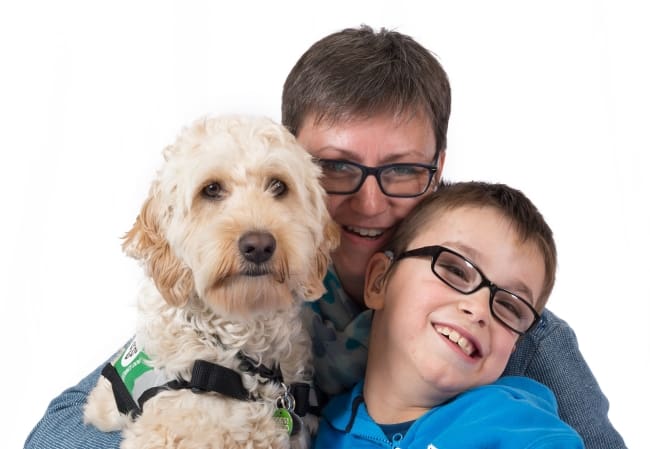 Just like any ten year old, Elliot is determined to be more independent as he grows older. However Elliot has already faced more challenges in his young life than many will in a life-time.
Elliott has a condition that means he needs a wheelchair to get around, and requires help from his mum to do even the most ordinary things, like getting dressed or getting ready for bed. He struggles to play the games that his school friends take part in because his movements are restricted, often leaving him lonely and isolated
Greater independence
His mum Caroline came to hear about Dogs for Good, and knew instantly what a difference an assistance dog could make to her son. "Elliot is desperate not to rely on others and as parents, we want to see him grow up and to live as full and independent a life as possible," she explains. "We knew an assistance dog would be the ideal way to help Elliot."
Elmo, a cheeky cockerpoo, bounded into Elliot's life at the end of last year. The difference he has made has been life-changing.
"From the moment Elmo arrived, he's made Elliot laugh and they love being together," Caroline says. "Elmo is always ready to help, he can't wait to take off Elliot's shoes or pick something up for him.  He's just what Elliot needed and even though they've only been together for a year, I can already see that Elliot feels more positive about his future and that he can do things for himself so he's less frustrated."
"Elmo's comical, he is cute and lively and playful, but he's so much more than that to Elliot. He's the first step towards greater independence, he's able to feel like he can do things for himself and that's so important to his self-esteem and confidence."
Breaking down barriers
As well as practical help, Elmo has made a huge difference to Elliot socially, as Caroline explains. "There are times when Elliot can feel that because he's in a wheelchair there is a barrier between him and meeting other people. There have been so many times in the past that we've abandoned a day out after just an hour or even not gone at all, Elliot just couldn't face feeling different from everyone else."
"When Elmo is by his side, he no longer feels that way, he's always got a friend to share things with and to talk to. We can enjoy a whole day out as a family now and that's been great for us all. It's so lovely to see."