Sarah Fisher, Canine behaviour advisor
Sarah Fisher has worked with animals for over twenty years and incorporates some of the elements of the Tellington TTouch method in her work. She is experienced with a wide range of breed types and teaches staff workshops for many of the UK's animal welfare organisations including Battersea. She has also worked in Europe teaching staff workshops for shelters including SPCA Malta and GIA (Romania) and has taught workshops and clinics for dog trainers and behaviourists in Holland, Greece, Switzerland, Italy, Austria, South Africa, Ireland, Romania and Poland.
Sarah gives presentations on a variety of topics at dog training and behaviour seminars in the UK and abroad, and is a regular speaker at the annual Dog Behaviour Conference. She also conducts behaviour assessments for private clients, animal welfare organisations and court cases.
Sarah is a published author and has participated in numerous television and radio programmes over the years including the recent Nightmare Pets SOS for BBC1. She runs courses under the name Animal Centred Education (ACE) for trainers, groomers, veterinary nurses, physiotherapists and animal behaviour counsellors who wish to broaden their expertise by learning detailed observations combined with Free Work, and techniques inspired by other professionals working in the world of animal welfare and behaviour.
Dr John Bradshaw, Writer and academic
John Bradshaw BA PhD has become well-known to pet owners through his books "In Defence of Dogs" and "Cat Sense" (Penguin), both of which were bestsellers in the UK and also in the USA, and have been translated into more than fifteen other languages.  His many TV and radio appearances have included six BBC Horizons, including "Woof: A Horizon Guide to Dogs", "The Secret Life of the Cat" and "Catwatch 2014".  Other recent contributions to TV have included "The Wonder of Dogs", "Dogs: Their Secret Lives" and "The Dog Factory".  His most recent book, "The Animals Among Us" (Allen Lane) explores why we love our dogs so dearly.
He is an Honorary Fellow at the University of Bristol, where he was formerly Reader in Companion Animal Behaviour and Director of the Anthrozoology Institute.  His main academic interests are in the behaviour and welfare of domestic dogs and cats, and their relationships with people; he has published over 100 research papers and book chapters on these topics.  Among the several honours he has received are the 2018 RSPCA Award for Outstanding Contributions to Animal Welfare Science, and the British Veterinary Association's Wooldridge Medal.
Barny Revill, Director
Barny Revill is a television director who has filmed in some of the earth's most extreme locations throughout his career. He's filmed on Mount Everest, deep in the Congo and even under the North Pole on a military submarine. However a few years ago he was asked to use his skills as a wildlife filmmaker to create a documentary about domestic dogs. The subsequent film 'Secret Life of Dogs' became one of the world's best-selling documentaries and helped start a trend for TV shows about dogs that shows no signs of ending. He has since filmed commercials with the Dulux dog, rebranded Battersea Dogs and Cats Home, as well as directing a series for the BBC called 'Me and My Dog – the Ultimate Contest'. Dogs remain a much loved part of his work and home life.
Stephen Jenkinson, Access Adviser to The Kennel Club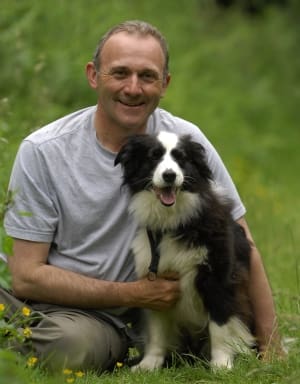 Stephen has been the Kennel Club's Access and Countryside advisor for 17 years. Working from his island home in Orkney he travels across the globe helping people to support the benefits of dog walking, while minimising any adverse impacts on livestock, wildlife or other people
Stephen's unique role stems from his childhood love of exploring the outdoors with his first dog, Smokey, which when combined with his first job in the NHS inspired him to forge a career in blending canine welfare and conserving the outdoors, with promoting human health and social inclusion.
Stephen wrote the UK's first guide to planning for dog ownership in new housing, which helps councils and builders to design-out conflict by providing attractive dog-friendly greenspaces on people's doorsteps.
Further afield Stephen worked in Bosnia guiding community initiatives to minimise conflict from free-ranging dogs; in San Francisco he advised officials on how to plan for happy, hassle-free dog walking in a city with more dogs than children.
Stephen has been the outdoors columnist for Your Dog Magazine since 2005 and special adviser to the 2017 All-Party Parliamentary Group for Animal Welfare investigation into sheep worrying.
Read Stephen's blog on how to have safe walks around livestock.
Peter Gorbing, Chief Executive, Dogs for Good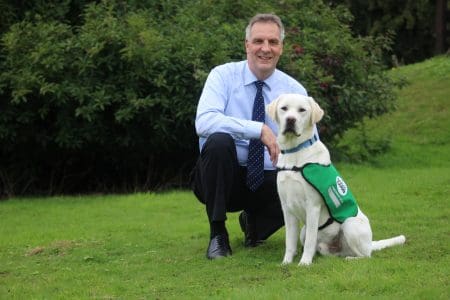 Peter has worked for Dogs for Good for over 20 years and is passionate about sharing best practise and helping to improve understanding of the role assistance dogs play in people's lives.  He has played a significant role in campaigning for better access rights for assistance dogs in the UK and internationally.
Peter is a founder director of Animal Assisted Intervention International (AAII), the international umbrella organisation for practitioners in the field of AAI. Dogs for Good is one of the UK's leading practitioners of AAI through its Community Dog programme, training activity and therapy dogs to work with dedicated handlers in a range of community settings.  Peter has given lectures and presentations on all aspects of the charity's work in the UK and abroad.
A board member and a past President of Assistance Dogs International (ADI), the body responsible for setting standards and accrediting the international assistance dog industry, Peter is also a Board member of Assistance Dogs Europe (President from 2001 – 2007) and Assistance Dogs (UK).
Sorry, no dogs except assistance dogs.
Proudly supported by CEVA UK.