Be part of the largest charity running event in the world and help us train more life-changing dogs for people with disabilities.
Date: April 2018 (date TBC)
Location: London
Distance: 26.2 miles

Register for a Charity place in the London Marathon 2018
Register your interest in a Dogs for Good Charity place.
Pricing information:
Registration fee: £100
Fundraising target: £1,950
How Dogs for Good will support you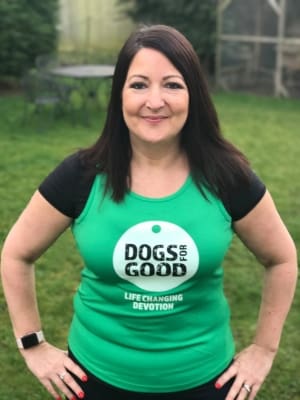 Why I chose to run for Dogs for Good
Find out how running for charity has made the intense training that little bit easier for Julie.
There are lots of ways that we can inspire you and support your fundraising:
An invitation to visit the Dogs for Good Training Centre in Banbury to meet your fellow walkers and find out more about the charity you'll be fundraising for – date TBC
Dogs for Good t-shirt or running vest
Fundraising pack – full of ideas to help you to reach your fundraising target
Help with setting up fundraising pages, and images and videos to share with your sponsors on social media
Sponsorship forms
Literature and DVDs
Encouragement and support.
Already have your own place? 
If you've managed to get a place in the ballot, why not join the Dogs for Good team?
Get in touch
If you have any questions, please get in touch with Tina on 01295 252 600 or [email protected].