Sign up to take part in 'the UK's greatest endurance challenge' and help to support our life-changing work. Here at Dogs for Good we train dogs to support people with physical disabilities, learning difficulties and a range of conditions including autism and dementia.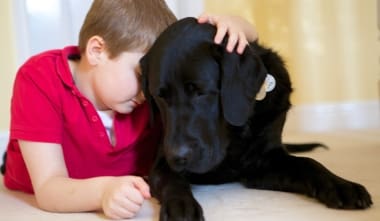 "Sox has filled a huge hole in my heart. We're connected by an imaginary string from his heart to mine. I just feel better now Sox is here."
- Toby, aged 12
Date: 27th – 28th May 2017
Duration: 24 hours
Distance: choose 100km (Full), 56km (Half) or 31km (Quarter)

Run it, walk it, jog  it, you choose how you cover the distance from the capital to the coast. Enter the London2Brighton Challenge as a team or as an individual. It's your challenge, your way.
There's great support and hospitality along the route:
Fully signposted route with support throughout the journey
Checkpoints providing refreshments and toilet facilities every 12-13 km
Support from marshals, pace walkers, physiotherapists and medics
Hot meals en route and celebratory hot brunch or lunch at Brighton Racecourse (100 km)
Age restrictions: Full challenge – 18 years, Half/Quarter challenge – 16 years (under 16 years must be accompanied by an adult).
Fitness and training
You will need to prepare for the challenge; the more comfortable you are with walking long distances for sustained periods, the more comfortable you will be on this tough challenge.
After signing up for the challenge you'll have access to the recommended training plan from Action Challenge, the organisers of the event.
Register now
Interested in signing up? Find out what to do next.