We'd love you to take a moment to pause from your usual routine to have fun with friends and family virtually and raise some much-needed funds to help support us during this very difficult time. We know that online gaming isn't for everyone, but for those who enjoy it, playing online games is a great way to challenge yourself and your friends while raising funds for Dogs for Good. You can choose whatever game and console you most enjoy, play alone or as a team and ask your friends, family and colleagues to sponsor you as you Game for Good! 
If you're new to gaming or a parent of a child who'd like to take part them please refer to our Safety Guide before you begin.
Gaming for Good challenge ideas
Livestream your gaming marathon. This is the most popular way to raise funds while gaming. Set an amount of time that you want to play (alone or with friends). Ask supporters to sponsor you for each hour played. Stream your marathon through Twitch and gain supporters all across the globe to raise awareness of Dogs for Good at the same time. 
You may even want to hold a Gaming for Good tournament. Choose a game, challenge your friends to a tournament and the best player wins! Ask everyone participating to make a donation to your fundraising page. 
Gaming for Good resources
Before you get started, please read our Gaming for Good Safety Guide.
Post about your challenge on social media using our Gaming for Good badge – Download Here
If you would like to stream your gaming challenge, register with Twitch. Do a test run before the day so you are familiar with how everything works. You can use our Twitch frame to brand your Twitch channel – Download Here
Set up your Just Giving fundraising page here. New to streaming? Read Just Giving's handy guide here.
Need more fundraising inspiration? Read our Fundraising Guide here.
Tell all your friends and family, and shout about your gaming adventure on social media. Don't forget to tag DogsforGoodUK.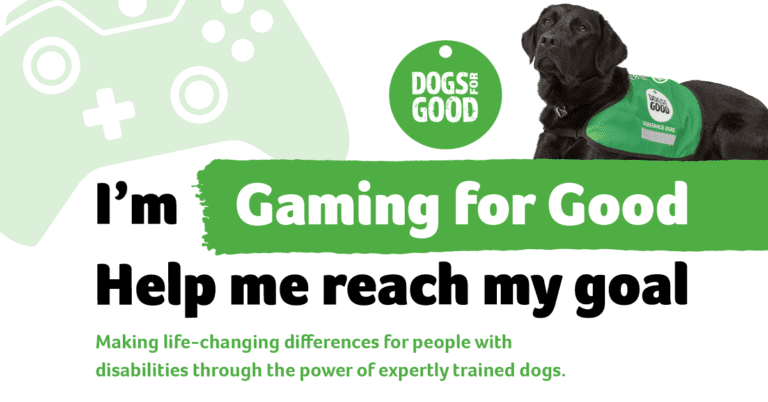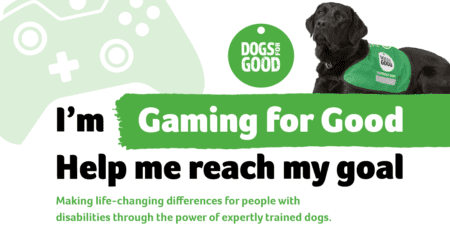 How our team can support you
We can provide you with a Dogs for Good t-shirt and other promotional materials such as stickers, leaflets and posters.

 

An invitation to visit the Dogs for Good Training Centre in Banbury to find out more about the charity you'll be fundraising for – various dates will be available in future

.

 

Help with setting up online fundraising pages, and images and videos to share with your sponsors on social media

.

 

Encouragement and support.

 
If you'd like to hear more about other events or have any questions then get in touch with our lovely team by emailing [email protected].