Our junior puppy sponsorship is the perfect gift for children who love dogs.
Buy the special child in your life a puppy sponsorship and over the next 12 months they'll follow their little 8 week old puppy on his journey to be a life-changing dog.
The perfect present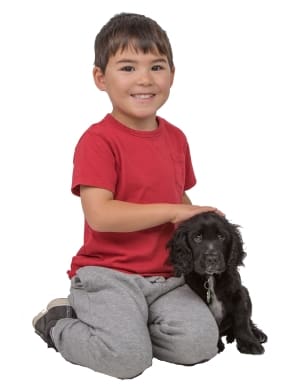 Your junior puppy sponsor will receive:
A fantastic welcome pack containing a personalised sponsorship certificate, gorgeous photo of their puppy, cuddly toy dog, puzzle sheet and more!
Regular updates over the next 12 months about what their pup has been getting up to and how their training is progressing
Photos of their puppy as they grow
Stories of some of the people Dogs for Good help, and a chance to learn more about our work
Tips on caring for and interacting with dogs from the team here at Dogs for Good
Fun competitions and many more ways to get involved!
Buy today
Purchase a puppy sponsorship today and give the perfect present.