Whether you're a dog walker, rambler, or haven't taken a walk for a while, a Dogtober walk is a light-hearted way for everyone to enjoy the great outdoors.
How long the walk is, where you go, and whether it's just friends and family or a wider community, is entirely up to you.
Make sure everyone knows in advance to bring a small donation to enjoy the walk, or if you're going far, ask people to sponsor you.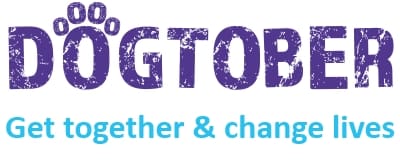 Want to plan a community walk?
An organised walk can bring together a whole community of people of all ages. All you need to do is decide where the walk starts and at what time, so people can congregate.
Tell everyone the route and where the walk will end – a nature hotspot perhaps, or the Town Hall – so people can take the walk at their own pace and fall behind if they need to.
You can advertise a Dogtober Walk in all sorts of places:
In your local shop or library
On community noticeboards
On social media (a Facebook Group for your nearest town is ideal)
Ask people to tell their friends
Invite local dog walkers or trainers
Tell your local school and youth club
You could meet new people or see new sights – take your dog and they might make a new friend too.
If you'd like further advice on organising a walk, call us on 01295 252600 or email [email protected].