Our ground-breaking partnership with Bracknell Forest Council, which ran until 2021, brought AAI into mainstream social care and healthcare practice for the first time in the UK.
A dedicated Community Dog Practitioner, Lucy, was based as part of the Council's Social Care team in Bracknell, with two Community Dogs, Lexi and Ned.  They worked as part of the local multi-disciplinary team to help adults and children to improve their independence, wellbeing and skills.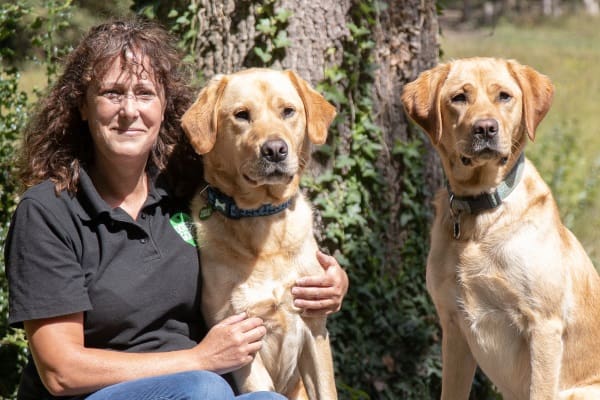 The partnership followed a trial conducted with the Adult Social Care team, working with Occupational Therapists and Social Care Practitioners to support people with autism and learning disabilities. The results demonstrated how AAI could deliver positive outcomes for people and also bring associated financial benefits for the Council. As a result the service was extended to other client groups, eg older people; children's services; D&A support.
Clients were referred into the service by a social care or health professional, who proposed clear goals for each person and worked with us as part of the intervention process. At the end of each intervention, care plans were reviewed and updated based on outcomes and learnings. 
Examples of some of the clients we have supported in our work with local authorities include:
Adult with learning disabilities regained skills and confidence to access the local community independently meaning additional support at home not now required.

Older person caring for husband at home now has confidence to go out when carers come in to help husband. Greater independence and resilience means husband able to continue living at home.

Teenager with learning disabilities previously at risk of exclusion from mainstream school developed his self-esteem and the need for specialist education provision was avoided.

 

Adult with learning disabilities regained skills to travel by public transport independently, thus avoiding additional care costs.
For more information download our Community Dog leaflet.