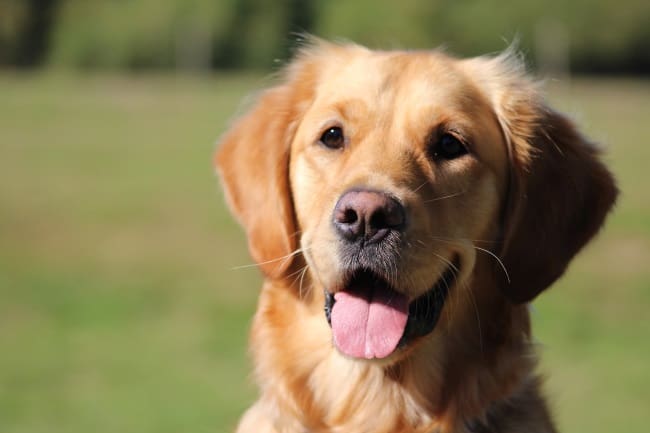 The loyal and loving golden retriever
The affectionate and ever-popular golden retriever has been sharing the world with us for over 100 years. They are kind, gentle, intelligent and even-tempered dogs and their unwavering loyalty is legendary.
Experts believe the golden retriever breed originated in Scotland and they are classified as a 'large' breed – growing to a sizeable 30-40kgs in weight. They were officially recognised by the Kennel Club in 1913 as Yellow Retrievers. The more well-known Golden Retriever classification came on board in 1920 when the Golden Retriever Club of Great Britain was founded.
Why do golden retrievers make great assistance dogs?

Milli and her 'hero assistance dog' Emma from Dogs for Good on Vimeo.
Golden retrievers are, unsurprisingly enough, great at retrieving!  Members of the gun dog group, they are very motivated to pick up and carry things in their soft mouths. They deliver the item gently, without marking or damaging it.
Very well-mannered and sociable dogs who greet adults, children and other dogs graciously, golden retrievers are generally very steady on the lead. Goldies hate being left on their own for long so be prepared to include them in as much as you can.
Dogs for Good trainer, Clare, is a big fan of goldies: "They're incredibly loving, kind, and gentle and they form really strong bonds with people – which makes them great assistance dogs for our clients.
"They don't forget who they've given their love to, either – there are golden retrievers I've trained and then see years later who still remember me and greet me like a long-lost friend."
Training golden retrievers
Trainer Clare says: "From a training point of view, they need to be made to feel that everything you're asking them to do is their idea.
"You need to make things a lot of fun, so they don't 'know' they're in a formal training session. Also ensure that you don't ask them to learn lots of different things in one go. Teach them one thing at a time, to the point of success, and you'll have a happy, motivated goldie."
Click if you want to discover how we train our assistance dogs, including golden retrievers.
Things to consider when choosing a golden retriever:
Needs lots of exercise and grooming
Drawn to water – always best to keep a towel on hand when walking a goldie near a pond!
Don't like to be left alone
Training needs to be very structured – one thing at a time!
See how golden retrievers compare to other breeds we work with.