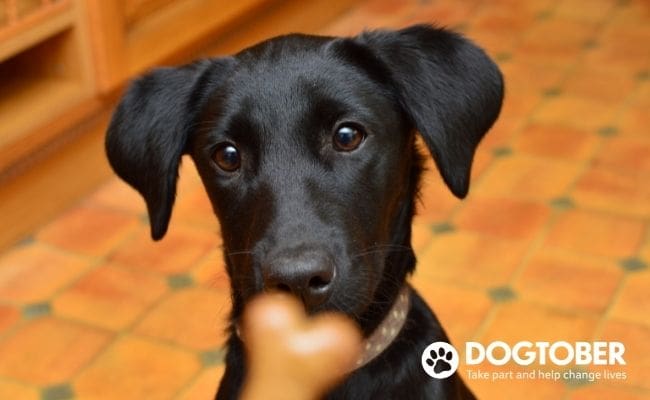 Donate £5 and bake a thank you
Your donation will help us train more life-changing dogs for disabled people.

Let's face it, everyone loves a treat, and our dogs are no different.
This Dogtober, we want to say a big thank you to all our dogs for the contribution they make to keeping us happy and healthy.  The last eighteen months have been tough on us all and for many of us, our dogs have provided us with some amazing support.   
We've come up with two fantastic dog treat recipes – our dogs in training have definitely given them the paws up!  So why not have a go at making your own?  
Our recipes are free, but you can help support our work this Dogtober by donating £5 and helping us train more life-changing dogs for disabled people.  
Say thank you to your dog with a special healthy home-baked treat.  
Cheesy dog treat recipe

Ingredients:
115ml of chicken stock (Ideally made with low sodium stock cube)
1 egg
200 grams of wholemeal flour 
40 grams of grated cheddar cheese 
Method:
Preheat your oven to 180 degrees Celcius

Mix your flour, egg and stock together in a bowl to make a dough

Add in the cheese and m

ix through again adding more water or flour if you feel the consistency isn't quite right to roll out a dough.

 

 

Flour the worktop 

and knead your dough gently read to roll out.

 

Using a rolling pin, you want to create an even thickness of around 1/4 inch. The thinner they are, the quicker they will cook and vice-versa.

 

You are now ready to cut out your favourite shapes. From circles to love hearts. Bones to doggy shapes, the world is your oyster here!

 

Remember to roll together any dough scraps and roll them back out again to create even more cheesy dog biscuits. You'll be surprised how many you can get out of this small batch.

 

Put some baking paper on a tray and pop your cut out shapes onto the baking tray

 

Bake in the oven for around 20 mins so they are crisp enough to form biscuits.
Pumpkin and peanut butter dog treat recipe

Ingredients:  
80 grams of wholemeal flour
2 eggs
115 grams of pumpkin puree (you can buy this canned from supermarkets)
2 tablespoons peanut butter (remember to make sure your peanut butter is free of the ingredient xylitol. Organic 100% nut is best – try  Pawnutts)
1/2 teaspoon ground cinnamon  
Method:
Preheat your oven (180C) and line two baking trays with greaseproof paper.

Mix all th

e ingredients together in a bowl. 

You can add water to the bowl if you need to make the dough more workable. Overall you want it to be dry and stiff to cut out the shapes so do add any water in small quantities until you are happy with the dough.

Flour the surface you plan to roll out your dough onto and your rolling pin too.  This will help stop the dough from sticking to the surface. Roll out the dough to around 1/4 inch thick

 

Using your favourite cookie cutters, cut out your dog treats.  We used pumpkin and leaf shapes for ourDogtober theme and a few bone and dog shapes too!

Bake in the oven for around 30  The biscuits should be hard and when you press them, there shouldn't be any give. Think crunchy instead of soft and brown edges are a perfect sign too!

Allow to cool and then pop them into an airtight container to store. Can be frozen or given away!

 

 
Once you're done, share a picture of your treats (or your dog enjoying them) on your social media feed. You can tag us and use the hashtags #Dogtober and #BakeaThankyou.
Don't forget to donate £5 if you'd like to support us.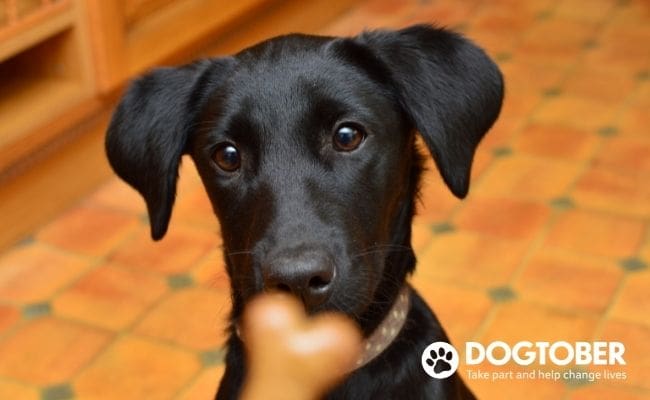 Donate £5 and bake a thank you
Your donation will help us train more life-changing dogs for disabled people.
Got the baking bug?  
Why not sell some dog treats to friends and family in aid of Dogs for Good.  You can donate any funds you raised by clicking the Dogtober donate £5 button. 
Go back to Dogtober page