About MORE THAN and Dogs for Good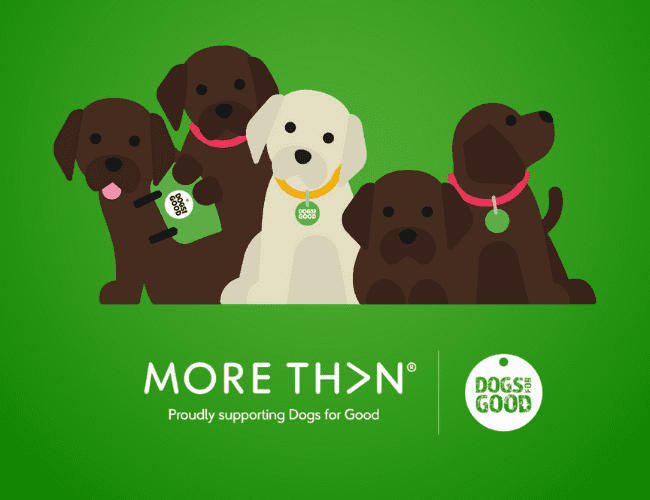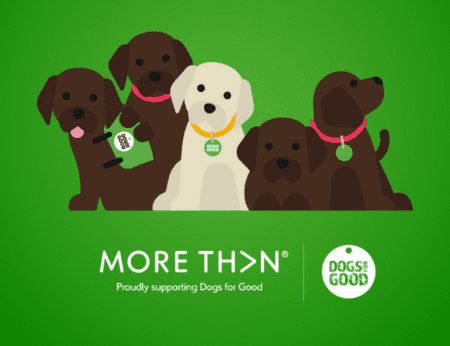 Since 2021, we've partnered with MORE THAN Insurance to help them celebrate their 20th anniversary and their commitment to do more for their customers, colleagues and community.
Dogs for Good relies on voluntary donations to continue our work, sadly the covid pandemic has had an impact on the charity so MORE THAN's support is more vital than ever.
Who are we?
For over thirty years, we have been using our knowledge and experience to bring people with disabilities and dogs together, enabling life-changing differences. Through the power of expertly trained dogs, we support people with autism, physical disabilities, learning disabilities and dementia, empowering them to live more independent lives.
Watch one of our dogs in action
"Sailor is the missing piece of my life jigsaw. He spurs me on to do more and more. I can go where I want, when I want and my confidence is growing every day."
Watch the video below to see how Dogs for Good assistance dog Sailor helps owner Caroline with tasks around the house and also gives her the confidence to get out and about by herself again.
A huge thank you to MORE THAN and all their colleagues for their continued support.
---
Want to keep in touch?
If you'd like to hear more about Dogs for Good's work, get great tips and advice about building a bond with your pet dog and much more, then sign up to our emails below.