TV star Lorraine Kelly joins charity Dogs for Good in urging Brits to "Get Walking, Start Talking" this 'Dogtober', as new research by pet insurer MORE THAN reveals two thirds of dog-owners (66%) say their pup has decreased feelings of loneliness.
New 'Paws to Talk' podcast hosted by Lorraine, in partnership with MORE THAN and Dogs for Good, explores the positive influence of our dogs on combatting social isolation with charity beneficiaries.
'Paws to Talk' forms part of 'Dogtober' – a month long fundraising campaign to challenge Brits to walk 100km and shine a spotlight on the positive influence of our pups
Pet insurer MORE THAN and charity Dogs for Good have teamed up with Lorraine Kelly to launch a new podcast celebrating the special relationships dogs help us form and sharing inspiring stories of how assistance dogs have changed the lives of their owners.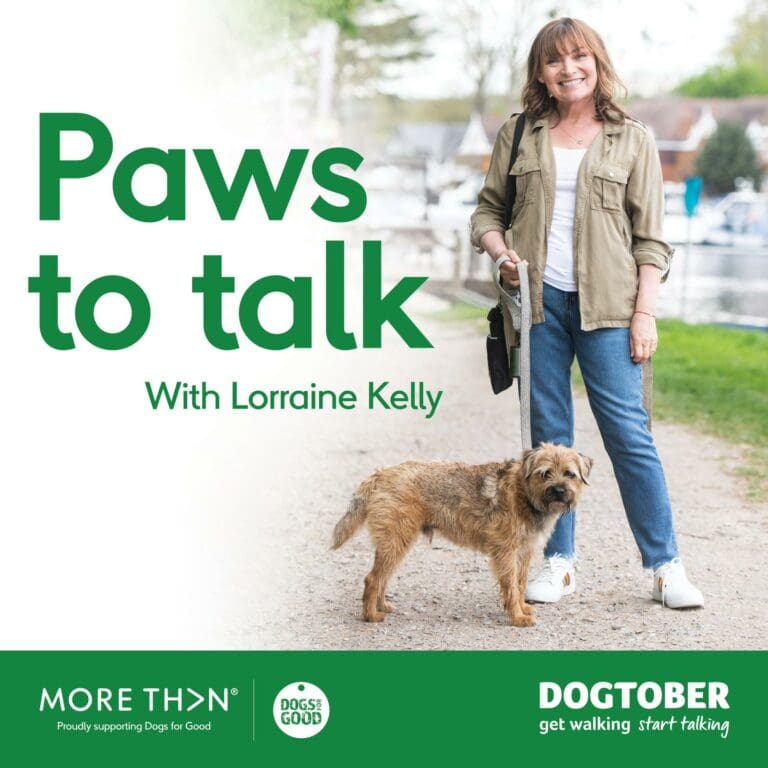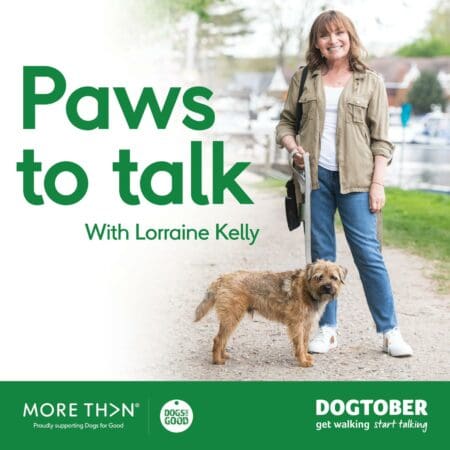 'Paws to Talk' is released as a new study by MORE THAN and Dogs for Good reveals the scale of social isolation in the UK, finding that almost two fifths (38%) of Brits regularly feel lonely. Those with disabilities are even more affected, with nearly half (47%) stating that they regularly feel lonely.
To celebrate 'Dogtober', a month-long fundraising campaign for Dogs for Good and encourage Brits to take up a 100km walk challenge to help raise vital funds for the charity, 'Paws to Talk' sees Lorraine in uplifting conversations with those who work with and are supported by Dogs for Good, sharing stories of how their assistance dogs have helped build their confidence and social connections.
Lorraine Kelly, TV presenter said: "I've absolutely loved hosting 'Paws to Talk' with MORE THAN and Dogs for Good and hearing incredibly powerful stories about how assistance dogs are helping to change the lives of the people they support.

"When winter closes in, my dog Angus gets me out of the house and chatting to people, even when I would sometimes rather stay home with a cup of tea! He needs his daily walks and plays a crucial role in inspiring my daily conversations – I hope by sharing these stories, we can encourage other dog owners and dog lovers to take toile to chat and make new friends."
The ultimate icebreaker
The study also found that those with dogs are more sociable, with dog-owners more likely to go for a walk at least once a day compared to the average person (63% vs 53%), and more likely to strike up conversations with new people (3.29 vs 3.1).
Our dogs can also be instrumental in getting us out the house, especially during the winter. Of all dog-owners surveyed, 69% agree that they get out of the house more during the winter now that they have a dog. and over half of dog owners (53%) say they have met new people through walking their dog.
The effect is even more pronounced within disabled dog-owners, with seven in ten (71%) disabled dog owners find that they are approached more often when they are with their dog as compared to when they are alone.
'Dog's the word' when it comes to top conversation starters too, with MORE THAN and Dogs for Good's study uncovering that owning a dog is more likely to spark interactions over tying the knot, holiday small talk or a career change. Amongst those surveyed, almost a third (32%) agree that they would rather chat about a furry friend when interacting with a new person than current events (21%), a significant life event (8%), or holiday plans (9%), while over half (57%) attribute an increase in meaningful connections to their four-legged friends.
Paws to Talk with Lorraine Kelly
The 'Paws to Talk with Lorraine Kelly' podcast sees the TV star uncovering the benefits dogs bring to combatting social isolation. In Episode 1, 'Jemima's Story', we hear Lorraine in conversation with Dogs for Good assistance dog partner Jemima about how her assistance dog Albert has changed her life and enabled her to have the career she's always dreamed of.
Episode 1 of 'Paws to Talk' will be released on Saturday 1st October, with subsequent episodes released throughout the month of October. All episodes will be available on all major podcast platforms, including Spotify and Apple Podcasts.
Luke Mangion, Veterinary Surgeon at MORE THAN Pet Insurance who also features in the podcast series, added: "There is no doubt that mutual affection for a furry friend can often be the spark that starts a conversation, and the 'Paws to Talk' podcast highlights just that. Dog owners have more opportunities to make meaningful connections, and our research shows that our dogs can be a key factor in combatting loneliness, particularly during the winter months.

"Our furry friends deserve to be celebrated this Dogtober, and we are proud to partner with Dogs for Good and Lorraine to help bring awareness to the positive impact they have on our lives."
Peter Gorbing, CEO of Dogs for Good, said: "Our research shows that dog owners take more walks and have more meaningful connections with new people while out and about. This Dogtober, we are encouraging everyone to Get Walking, Start Talking and support us in fundraising at this pivotal time.

"So, when you're in need of some social interaction this Dogtober, take your dog out for a stroll in a park or their favourite beach and enjoy the wellness benefits that this quality time is sure to bring."
Throughout Dogtober, MORE THAN, Dogs for Good and Lorraine are inviting people to visit the Dogs for Good website and sign up to a fundraising challenge to walk 100km throughout the month. Find out more the challenge and how you can listen to the podcast here.