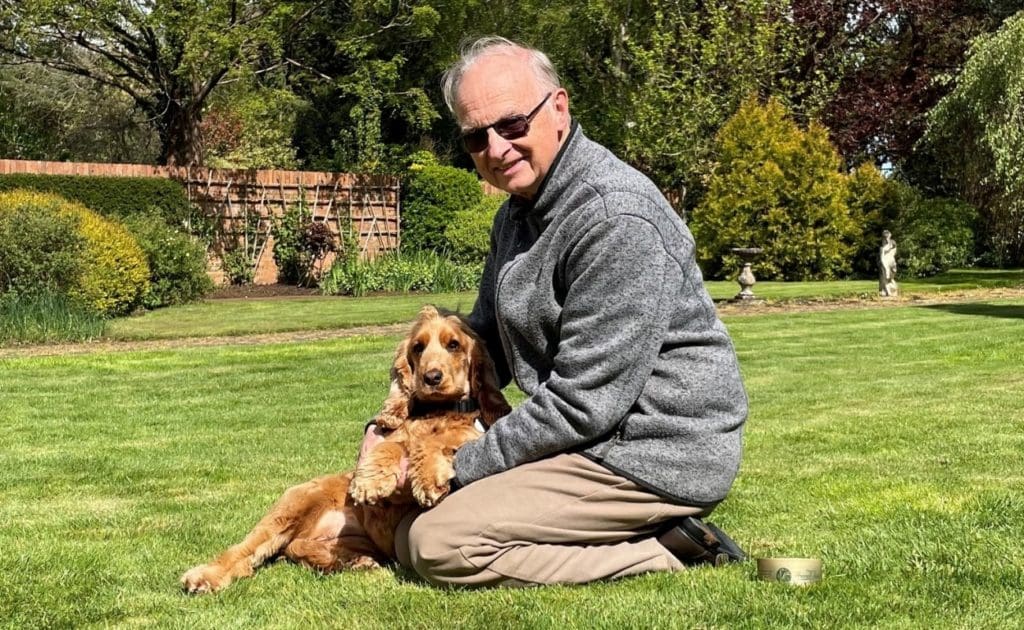 Retired engineer, Gerry Bernardo, is one of our many fabulous volunteer temporary boarders and, over the past ten years, has looked after no less than 50 of our clever dogs!
The role of a temporary boarder involves providing a loving home for our dogs for around four months, while they go through their training and learn the skills that they'll need for their future work as life-changing assistance dogs. Our dogs go to their boarders at around 14-20 months of age and currently, Gerry is looking after a very beautiful 20-month-old golden cocker spaniel called Esther.
Gerry says that volunteering for Dogs for Good has helped him to cope with the grief of losing his wife to Alzheimer's Disease nearly two years ago and also, more recently, living alone through the pandemic. "Losing Heather, my wife, was very difficult; she passed four days after our 50th wedding anniversary and three days before her 75th birthday. It was a really bad time for me emotionally. But the dogs don't have any views on things like that. They are always the same, so it is great to have them, and they really help me. I don't think I could cope without a dog," he says.
Gerry has two grown up children and four grandchildren but hasn't been able to see them for the past year, because of Covid restrictions. "Having the dogs has also been particularly good during the Covid lockdowns, when I had little contact with people. Dogs are brilliant companions."
Gerry says: "Esther's a lovely dog and like all the dogs I care for she has a lovely personality. Like many spaniels she is quite interested in the birds and the squirrels that we meet in the park at the moment, but her expert trainers are working on this to ensure her success as an assistance dog."
"I don't train the dogs, the charity's experienced trainers do that, but I do assist in their training. For example, I've been helping Esther establish a good toileting routine and I maintain things she's already learned, such as sitting at kerbs and waiting at doorways.
Gerry says that temporary boarding is a great way to help Dogs for Good and have the pleasure of a dog's companionship without committing to one full-time. "If I'm unable to board a dog for a period of time, the charity has other volunteers like me that they can call on. They have a brilliant attitude and that's why I like working with them because you never feel forced into anything.
"All the people I've known over the years at Dogs for Good have such a lovely way with both the dogs and the volunteers and I really feel part of the bigger Dogs for Good family.
"I feel privileged to be part of their team and to play a part in helping these dogs go on to transform people's lives."
Dogs for Good's Volunteer Coordinator, Liz Stone says: "We have volunteers who go out in all sorts of weathers to fundraise for us, people who transport dogs or resources by driving for us and of course, the volunteers who socialise puppies or board dogs in training and other Dogs for Good dogs, providing them with a loving home. Quite simply, we wouldn't be able to do our work without them.
Find out more about volunteering for Dogs for Good. Volunteers' Week takes place from 1st June to 7th June 2021.