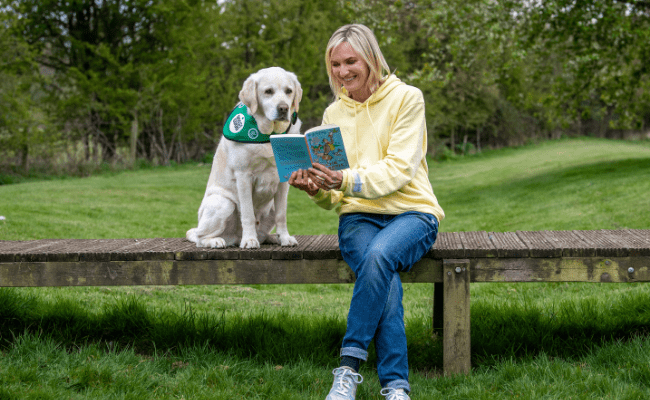 This year's Mental Health Awareness Week shines a spotlight on the fallouts from the pandemic and the fears that parents have in terms of the disruption having a negative impact on their child's mental wellbeing.
From a survey carried out recently in partnership with our friends at MORE THAN insurance, we know that lockdown has been particularly hard on children, specifically around their ability to focus on learning and reading.
Dogs for Good and MORE THAN insurance has teamed up with Presenter and DJ Jo Whiley to help encourage young readers: "There's a clear link between the presence of a dog and a child's ability and confidence to learn and read at home," says Jo, who has put together a wonderful 'read along' video with one of our Community Dogs, Fleck. Jo reads an excerpt from a classic children's book, 'The Story of Doctor Dolittle' by Hugh Lofting.
The survey of 2,000 mums and dads, found six in 10 have already noticed the impact of Covid on their children's ability to learn – with reading especially impacted.
The video shows that reading to your dog is a great way to encourage children to read. For people wanting to bring their dog into their child's story time, we've put together some fantastic tips to fully enjoy the benefits reading with a dog can bring.
"It was a real experience reading with Fleck," enthuses Jo. "It's really calming, very soothing and that's why I think it's really important to read with your dog. It actually helps!"
As we return to normality and children get back on track at school, 18% of parents surveyed agree that having a pet dog improves or would improve reading skills for their child, contributing to greater mental wellbeing. What's more, 33% of parents think their child is happier and has better structure to their day (22%) in the presence of a dog.
Jo says that lockdown has given her a much deeper appreciation of her own family dogs. "Our dogs have been a real lifeline throughout lockdown. I've got a lovely large family but we've really needed that relationship with our dogs. We've gone on walks so that gave us structure, gave us routine… it was a healthy thing to do. And then, just to have the affection from our dogs; to be able to stroke them and to have company with them and feel the love from them. I have a much, much deeper appreciation after lockdown for our dogs."
Check out more of our Good Advice to help you get the most out of your relationship with your dog.