"Right from the moment Sage wagged her way into my life, the walls that had been closing in started to recede. I could clearly see how she was going to open up my world again."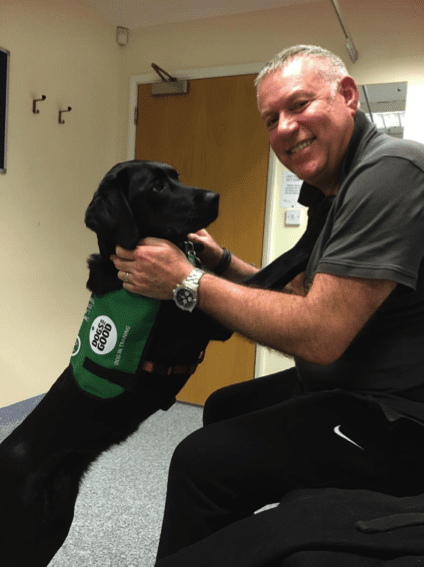 In 2012 Neil had an MRI scan for a back problem and received unexpected news.  "I was told I had 'benign Multiple Sclerosis'," he explains, "which is a form of MS where people generally develop occasional lesions which might not go on to develop severe disability.
"The 'might not' bit of that diagnosis was obviously worrying," explains Neil (58). "So, just in case, I decided it was high time I got on with ticking a few things off my bucket list and started with a trip to America in the spring of 2014, riding coast to coast on a Harley Davidson!"
Soon after his American adventure however, Neil started to suffer very typical symptoms of full blown MS and was re-diagnosed in August 2015 with Primary Progressive MS. "I had to sell the Harley and buy a mobility scooter," Neil says. "I remember my young son crying when I sold the bike – we loved going out together on it."
Neil's neurologist advised him to keep on working and after making a few changes to the workplace in the form of ramps and lifts, Neil was able to find a bit of 'normal' again. "My colleagues were brilliant and helped me so much," Neil remembers. "But I found myself staying in the office and not going out at lunchtime. I felt really embarrassed on my scooter and people on the street would avoid and ignore me and it wasn't at all pleasant."
As his illness progressed, family life also became very different. "Of course, I didn't want my family to stop going off and enjoying themselves but instead of joining in, I'd while away the hours in coffee shops reading books while they had their adventures. Mentally as well as physically, my world was changing and the walls were slowly starting to close in on me."
Neil was, understandably, grieving for the life he had lost. "But I also recognised that I needed to make the most of what we could do as a family, rather than what we couldn't do," he explains. They discussed getting a pet dog and looked into rehoming one from a local charity. And then someone suggested that Neil contact Dogs for Good; a charity that trains assistance dogs for people with disabilities.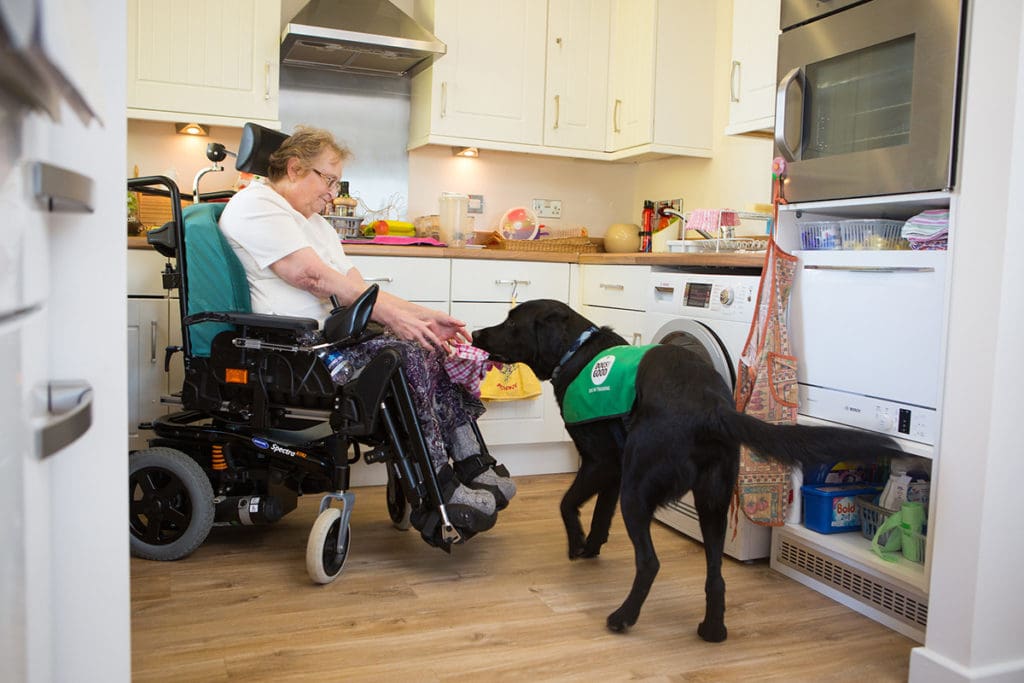 Please donate today
We need your support to continue training our special dogs.
"While I'd heard of assistance dogs for people with vision and hearing impairments, I had no idea that assistance dogs for people with physical disabilities were a thing!"
he says.
Neil registered his interest with Dogs for Good in 2016 and waited for three years until the charity was able to invite him to an Information Day in February 2019 "That day was incredible," Neil remembers. "We found out so much about the charity, the dogs and what to expect. I started to think that if we were lucky enough to be accepted, this could be absolutely life-changing."
"Dogs for Good received literally thousands of enquiries every year from people like me who would like an assistance dog, so it was really quite humbling to receive a call to tell me that we were through – once the right dog was available, we'd be matched. All we had to do was wait."
In October 2019, Neil eventually received the phone call he'd been waiting for. "Dogs for Good Instructor, Jen, said she thought she'd found a match and wanted to come to the office and then to my home and see if the match was right for both the dog and for me. We were all – family and work colleagues – so excited to meet this four-legged life-changer."
Enter a little black Labrador, called Sage.
"Right from the moment she wagged her way across the office, the walls that had been closing in started to recede," says Neil. "Jen brought her in and almost instantly, Sage settled down beside me. She was perfect."
A home visit completed the assessment and thankfully it all went well. "We all went out to a place where Sage could run freely and it was magical," says Neil. "Even then, I could see how Sage would open up my world again."
Six months on and Sage and Neil are now a closely-bonded partnership. Jen worked with them both every day for a number of weeks to ensure that they both understood each other and how to get the best out of the partnership. "It was hard work," admits Neil. "But it was work that I loved because the rewards have transformed my life."
Sage now helps Neil with the task work she's been specially trained to do such as picking up items he's dropped, helping him on and off with items of clothing, bringing him his sticks, opening doors for him and also putting down the footplates on his wheelchair.
Sage loves doing her task work but the one thing she loves more than anything is… her ball. "She does 'happy feet' when there's a ball in the near vicinity," laughs Neil. "She gets so excited and it's lovely to see."
Office life is quite different, too. "She brings the post, picks up things I drop – and sometimes that my colleagues drop! – and generally charms the pants off everyone."
With Sage at his side, Neil no longer feels embarrassed on his scooter and every lunchtime, they go out together. "I found myself on the high street that I'd not seen for two or three years. And because Sage is trotting along beside me, people actually see me and talk to me."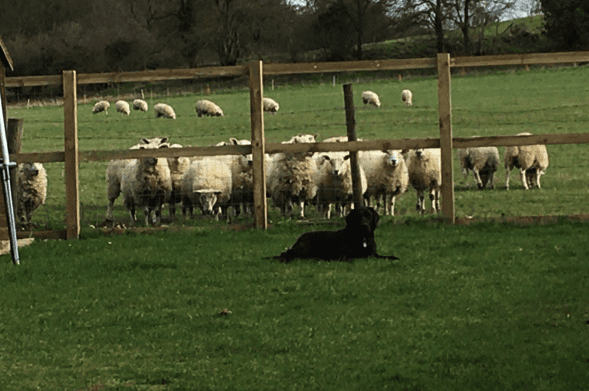 During the current coronavirus pandemic, Neil has been told to stay at home because his immune system is severely compromised as a result of a new drug he's been taking since January. "I absolutely can't afford to get Covid-19," states Neil. "But because we're fortunate enough to live somewhere that's quite remote, we can get out but above all else, we're lucky enough to have Sage, who opens up the doors, even in lockdown."