My name is Vikki and I am a volunteer puppy socialiser for Dogs for Good. This means that I have one of their puppies to socialise from the age of eight weeks, normally up to about 12-14 months.
As my children grew up, I knew I needed more of a challenge and so I made the decision to put myself forward for puppy socialising with Dogs for Good. We were visited at home by one of the charity's puppy team who wanted to see we were a good fit for socialising and even interviewed Katie, our yellow Labrador by bringing along a Dogs for Good puppy to see how she reacted!
Along came Dante
Once the paperwork was done, I went on a short course at the Banbury centre and after a short while, we were introduced to Dante. He was brought to us on a cold March morning and all I could see as he was lifted out of the car was a massive ball of fluff! He looked so small but straight away he strolled into Katie's bed and made himself at home. He is a golden retriever and boy, does he know he is handsome!
It is rare that I feel it is hard work having a puppy about and I thrive on watching them grow and learn. Needless to say, the reality is that the first few months you are kept busy with toilet training and regular feeding regimes but this also a good time to make a start on some basic commands. I really enjoy watching for that lightbulb moment when they understand you want them to 'sit'!
Family routine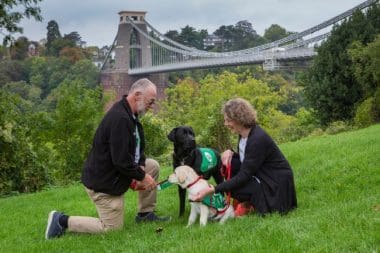 Volunteer as a Puppy Socialiser
We urgently need volunteer socialisers to care for our pups.
Our house wakes up most days at about 6.30 – 7am and the normal morning chaos begins. There is a queue of dogs and children waiting to be served and the kitchen turns in to a processing line of breakfasts, drinks and lunch boxes! Once the children have been fed (and de-haired), they go off to school and then it is the dogs' turn to go for a walk. Sometimes, we work on our recall and other days we go out and explore a place we haven't been to before. Either way, I try to keep it fresh and exciting for Dante.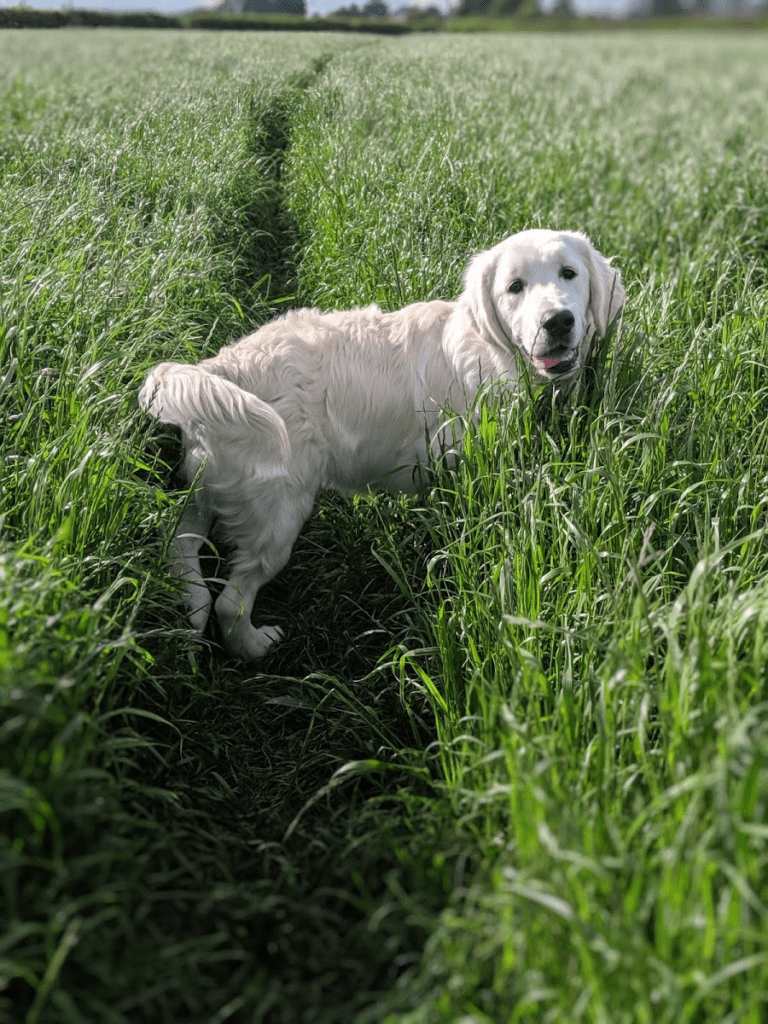 At lunchtime we either go to the local shops or test out new environments – this means Dante will be wearing his Dogs for Good 'puppy in training' jacket and lead flash so that the wider public know that he will be working on accepting new things and practising his basic commands. It also helps retailers recognise he is in fact a puppy in training. It is important these dogs get to experience as many different environments as possible in order for them to help their future partner in relaxed and happy way.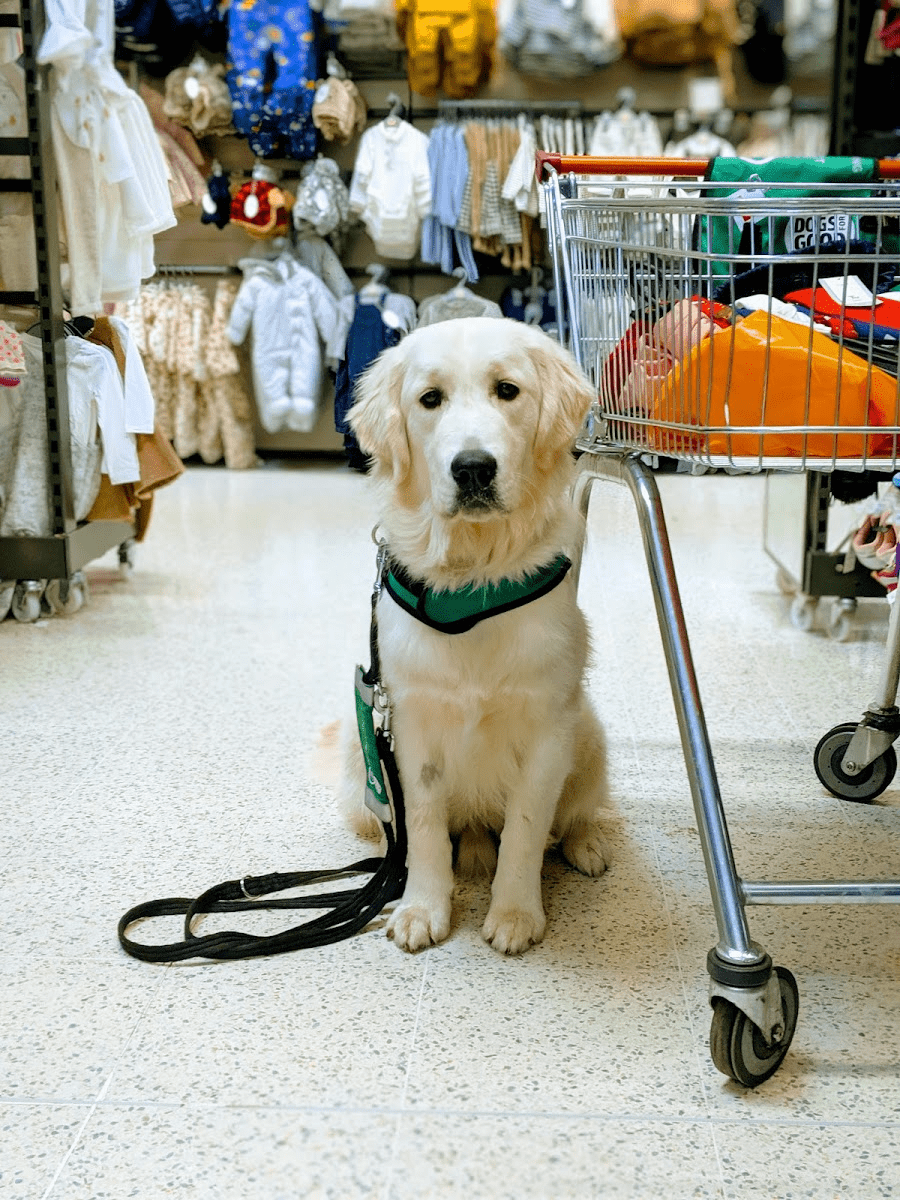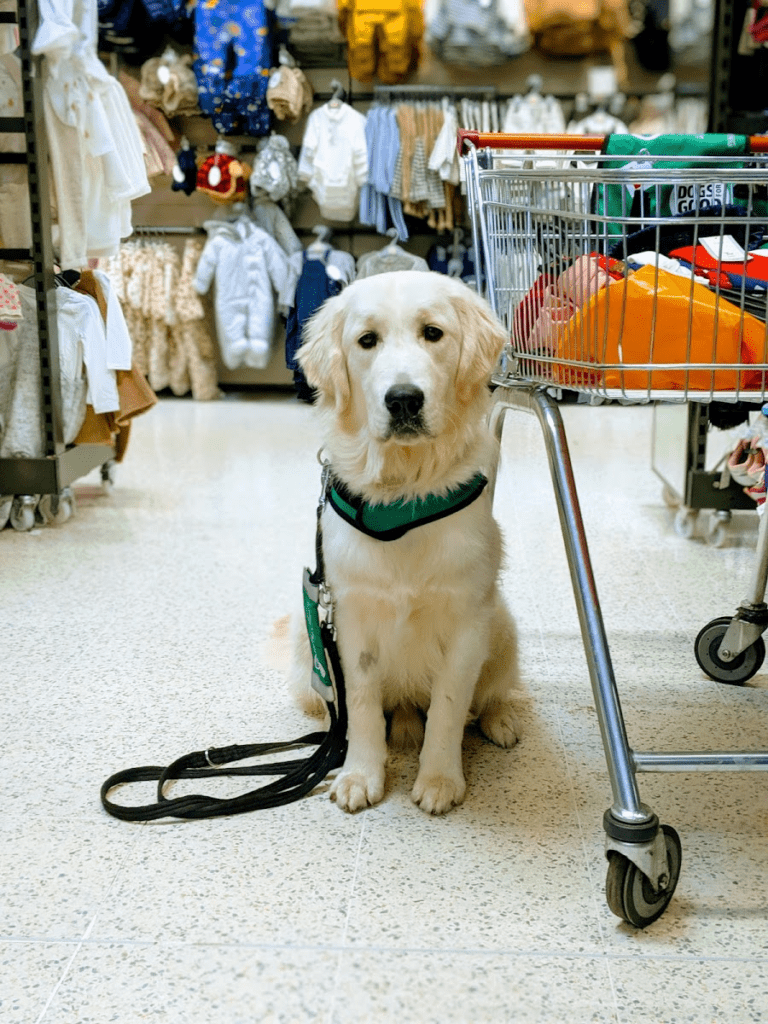 As we go around the shops, I give Dante lots of encouragement so he knows that relaxed and 'tuned in' behaviours bring him lots of rewards. Dante also really thrives on lots of vocal encouragement so being told he is a clever boy is just as good as a tasty treat. You can see how proud he is of himself when he gets it right, his tail and body wag at the same time! All the training is done using positive reinforcement with food or toys and this keeps the pups responsive and interested in you. The more challenges, the cleverer they get!
Getting anywhere fast while out shopping with a cute puppy in a jacket is nearly impossible and socialisers know that plenty of time is needed to answer the questions people ask about what kind of support work they will do and how on earth can we hand them back! Towards the end of our visit, there is always a coffee stop so that Dante can perfect the all-important 'settle'.
The team at Dogs for Good are so supportive and helpful when it comes to any questions regarding training and health and wellbeing of the puppies. They are always at the end of the phone to answer even the smallest of queries and we also get to visit the Banbury centre once a month to show our puppy co-ordinators what they have been learning.
The reward
While we love any puppy that comes into our home, we all know that they're not here to stay and we keep that in mind while reminding the children of the work they are going to do. We are gently shaping the puppies from the moment they come to our home for a life with another person that will need them to make that special difference.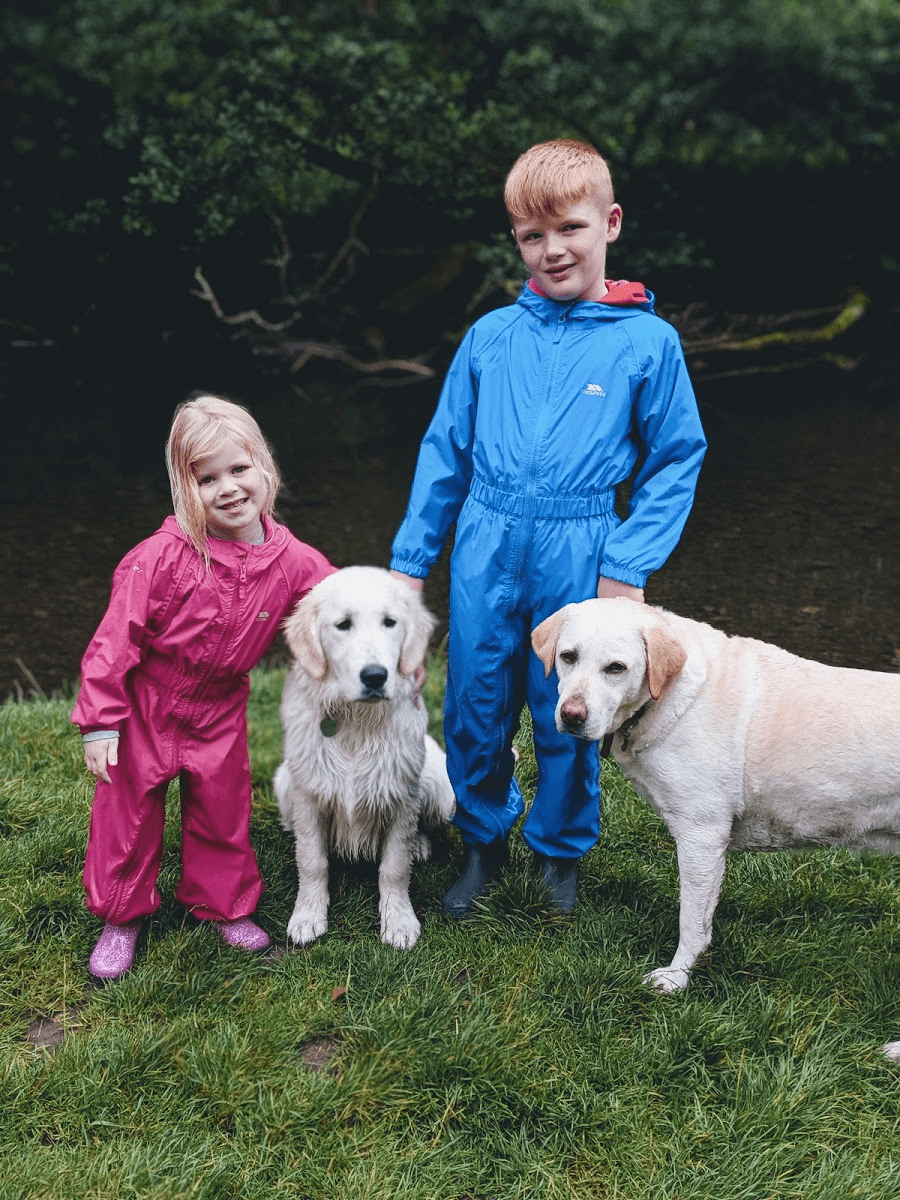 Socialising really is the best fun and as a family, we feel privileged that we can give our time to do something so incredible. My husband says:
"I love Dante for his gentle presence around the house. He is superb with the children but what I like most is that it is teaching our children that helping others is fun and can play an important part in everyone's lives."
I feel so pleased to be supporting a charity that provides assistance dogs to people with physical disabilities or autism. Just imagining how these dogs make such a difference to people's lives, is enough for me to devote my time.
---
If Vikki's story has inspired you to get involved please register your interest in becoming a Puppy Socialiser.