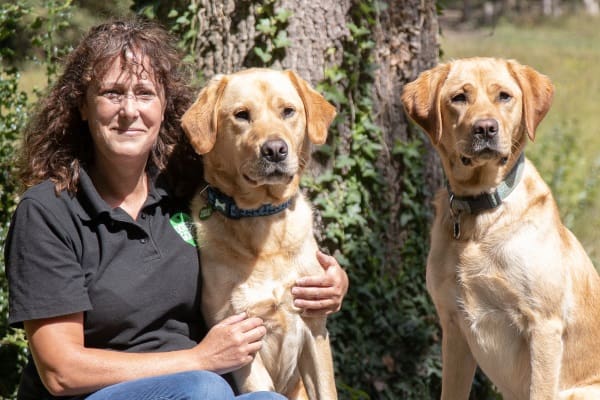 Dogs for Good's groundbreaking social care partnership with Bracknell Forest Council has expanded with a second community dog – Ned – joining the team.
Yellow Labrador cross golden retriever, Ned, joins existing dog, Lexi, and their handler, Lucy Purchese, helping residents improve their independence and well-being.
The partnership – the first of its kind in the UK – provides Animal Assisted Intervention (AAI) support to both adults and children with a range of needs including physical disabilities, sensory needs or mental health conditions, as well as supporting people with a learning disability, autism or dementia.
Since the launch of the partnership in November 2018, Lexi has already helped 10 people develop the confidence to access the community independently; young people to re-engage with school and adults and children with a range of needs to develop road safety and travel skills. New dog Ned is currently in the advanced stage of his community dog training and will be working with residents over the next few weeks.
Having two community dogs will allow the service to work with more individuals and provides the opportunity to take on some group work with one anxiety group and one Dementia group already planned for the autumn.
Cllr Dale Birch, Executive Member for Adult Services, Health and Housing, said: "We are delighted to welcome a new member into the community dog service. We look forward to seeing this service reach more residents as it goes from strength to strength."
Hayley Stimpson, AAI Services Development Adviser at Dogs for Good, said: "We're pleased to be working with Bracknell Forest Council in this innovative social care partnership. The early results are very promising, demonstrating just what can be achieved when you bring people and dogs together in a planned way to support adults and children in our communities."
Lucy Purchese, Community Dog Practitioner, Adult Social Care at Bracknell Forest Council said: "Ned has the perfect temperament for the role of a community dog and is thoroughly enjoying the activities and tasks that are involved. He has become the best of friends with Lexi and I am delighted that he has joined us in helping people in the local area."
To find out more about Dogs for Good's Community Dog service click here.
Click to find out more about the Bracknell Forest Community Dog service.
Watch a video of the service on Bracknell Forest's Facebook page.