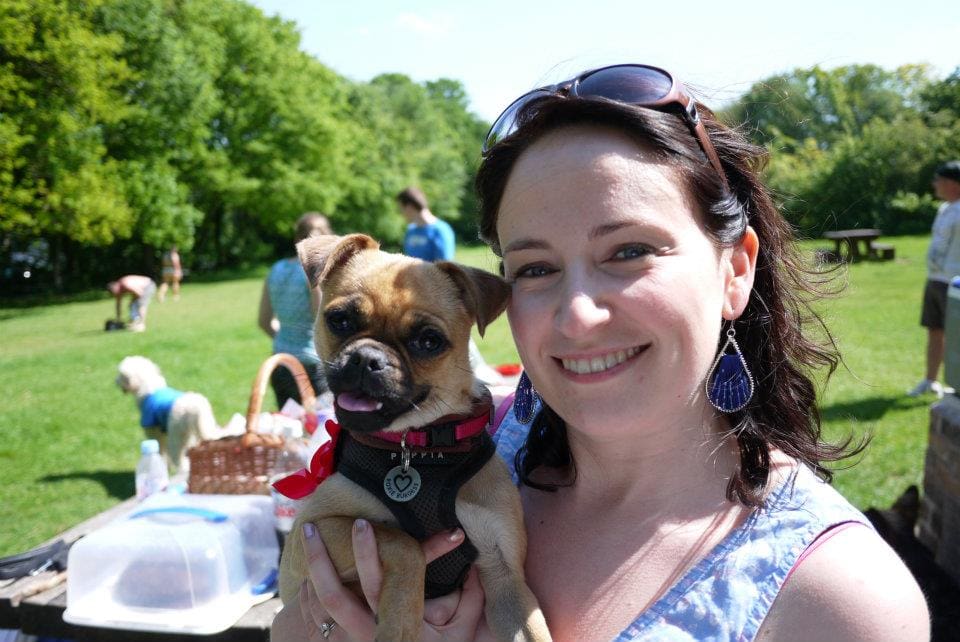 Dr Carri Westgarth, lecturer in Human-Animal Interaction at the University of Liverpool took some time out of her busy schedule to talk to us about her views on the Power of Dogs.
Q. What does the Power of Dogs mean to you?
As a scientist, I think it becomes a question of what is so powerful about our relationship with our dogs that makes us take them out for a walk, come rain or shine, even when we are tired or busy? What is so powerful about dogs that motivates us to go for a walk with them compared to walking with a friend or going to the gym etc.
Q. Who are your current dogs?
A Chihuaha x Pug (Chug) called Roxie (pictured above) and a rescue Beagle x Pug (Puggle) called Brienne.
Q. Would you share a 'memorable dog moment' with us? Perhaps something incredible you have witnessed or observed.
One icy morning, I was walking my two previous dogs home from the woods, my thoughts away in my own little world, when they started whining and pulling me towards something across the road.
It turned out that an elderly lady was lying, hidden from sight on her driveway, having slipped on ice and fallen and broken her ankle.
Because my dogs noticed her we were able to help her.
Q. What's your favourite breed of dog and why?
What a difficult question! I usually end up with cross-breeds, but I guess if I had to choose, I most like spaniel-types. However, having recently discovered them, I've got my eye on one day having a Kooikerhondje.
Q. What's your favourite dog walk and why?
Keld to Muker in Swaledale. It involves a bit of a two-car coordination effort but the scenery as you wind downhill to the river is stunning.  You then cross wildflower meadows in the valley before finally ending up at the village pub. Carri is speaking at our Power of Dogs event in Cheshire, on 26 September. Find out more and book tickets. Meet the other speakers.