Assistance dog Rory gives Lisa far more than practical help; "He's my big best friend. He's given me my happiness back and I'm starting to recognise myself again." Getting out and about with Rory has helped Lisa to become fitter and healthier, and she's made some firm friends.
Invisible disability
At the age of 36, Lisa was diganosed with Hypermobility Spectrum Disorder. "By the time I got my diagnosis, I was then quite unwell with depression, too," she explains. And because she doesn't always need a mobility aid to get around, Lisa discovered that people can find it difficult to accept she had a recognised disability. "It's the whole 'invisible disability' thing.  I ended up losing friends; I felt I was being avoided and that my world was shrinking."
One day, as she was browsing social media, Lisa came across a post which led her to Dogs for Good. "I knew about assistance dogs and the help they give to so many people with disabilities," she says. "So, to find a charity that offered this service gave me the impetus to fill out an application form."
A short while later, Lisa attended an information day at Dogs for Good's HQ. "The whole day was really well done and all my questions were answered. I came away knowing what I could expect and when which helped me to manage my expectations," she recalls.
The perfect match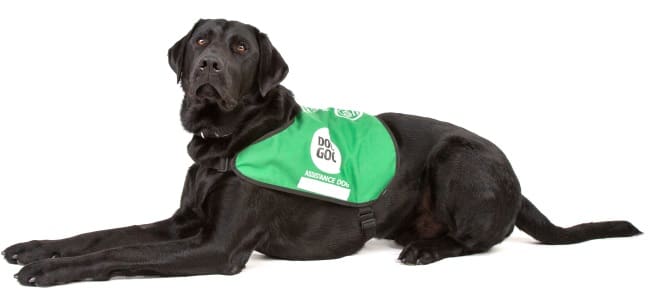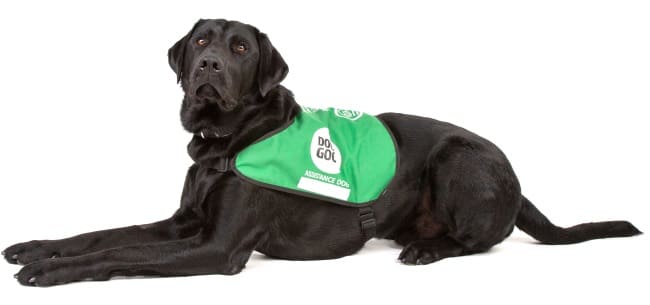 Because Dogs for Good matches people with exactly the right dog for them, taking into consideration individual personal circumstances, family considerations, lifestyle etc. there is no minimum or maximum wait time; it could take months and in some cases, even years. However, sometimes, the right dog is just around the corner…
Five months later, Lisa picked up the phone to Dogs for Good who told her that they had the 'perfect match' for her. "They said it was a black Labrador called Rory and that he was funny and quirky. The instructors brought him to meet me and that was it, I fell in love with him in a heartbeat."
Lisa and Rory started their bonding and training; getting to know each other and Lisa learning how to issue the right commands so that Rory understood what she was asking him to do. She had the full support of the Dogs for Good instructor team who helped her and Rory to go from strength to strength.
Rory now helps Lisa by picking up dropped items, bringing her the phone as well as her shoes and slippers, retrieving the post and helping her take off her coat, socks and gloves. Out and about he'll help her with access buttons; nudging them with his nose to open doors.
The biggest best friend
More than this though, Rory has helped Lisa do something she thought she'd never be able to do. She now walks from her house to the local park. "It's no more than 500 metres," she says. "But for me, it's a really long way when my body is in pain." She's also able to climb up small hills and this all helps her to feel fitter, healthier and more like her old self.
As a result of taking Rory out, Lisa has made friends with other dog-walkers. "I've lost friends through my illness but now, I've got the biggest best friend in Rory and also in people who have become firm friends through meeting us in the park."
Rory is a cheeky boy and often has the family giggling because of his antics. Mostly though, he's given Lisa her happiness back. "He's done so much for me physically and mentally.  He allows me to be mum and a wife again. "He's the best dog in the world and he's definitely the perfect match for me."