Dogs for Good recently nominated on of its clients and volunteers, Marie Carden, for a prestigious League of Mercy award in order to highlight and recognise her significant contribution to Dogs for Good.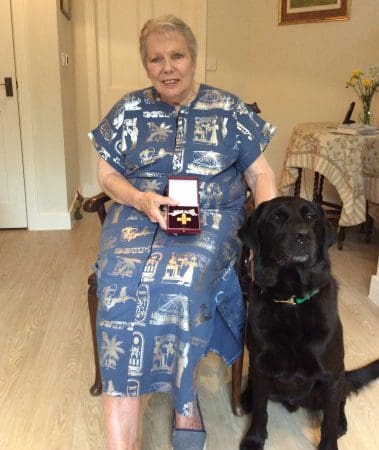 The League of Mercy award is a nationally recognised award and the foundation honours volunteers who give their time to help, among others, those who are sick, injured and disabled.
Over the years, Marie, who has Osteo Arthritis and is currently partnered with her third assistance dog, Smithy, has supported Dogs for Good in many different ways. She is a founder member of the Dogs for Good Cambridgeshire Supporter Group, a volunteer speaker of some 20 years standing, has served as one of the charity's Trustees from 2002 to 2012 and was awarded the honorary role of Vice President of Dogs for Good in 2013.
"I honestly thought that at first I'd been scammed!" laughs Marie. "Everything I do for Dogs for Good is to say thank you to the charity for all they've done for me.  My first Dogs for Good assistance dog, Venny, taught me to walk again after surgeons said that I wouldn't.  At that point, I started to live again and decided that I would devote the rest of my life to raising money for this incredible charity and thanking them for the life I have now.
"I'm thrilled to have received this award and said to the League's President, Lord Lingfield, at the awards ceremony in London that I was accepting it on behalf of everyone that Dogs for Good helps."
The League asks charities to nominate individuals, rather than groups or projects, who have given seven or more years of outstanding unpaid service. Up to 30 people are chosen annually to receive the League's Order of Mercy medal which is a prestigious award for distinguished voluntary service.
Get involved
Would you like to give your time to help us? View our volunteering opportunities.