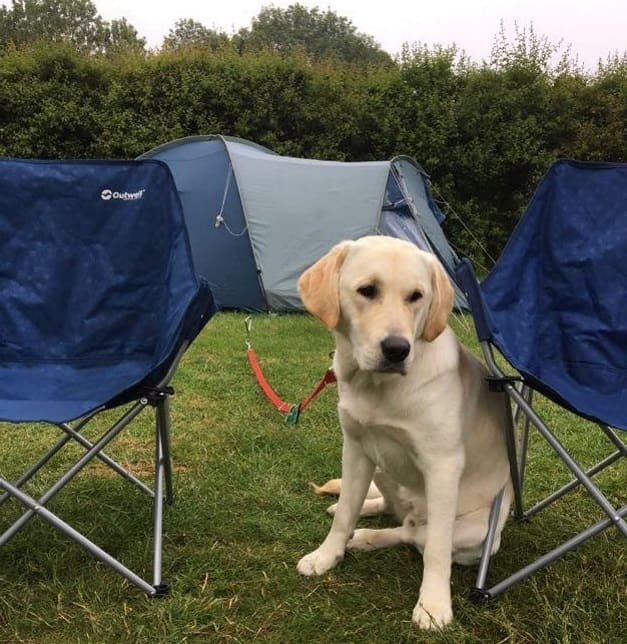 Are you thinking of going camping with your dog this summer? Puppy socialiser Helen and her family took Digby recently and they all had a great time. We asked Helen for her top tips for taking  your dog on a camping trip.
Top tips for going camping with your dog
If this will be your first time camping with your dog, have a practice run with the tent in the garden. Simply set it up ahead of going so your dog can explore it in their own time. You can throw treats in to make it as positive a place as you can for him
Take your time choosing your campsite – a good walking area is always a bonus and some even have special dog runs and baths! With some online research you can find the perfect dog-friendly campsite for your family and your four-legged friend. Search for dog-friendly campsites
Think about where your dog is going to sleep – I like a raised bed just to help keep him draught free. If your dog could escape, use a crate to keep him safe
Take some entertainment for your dog, such as kongs, puzzle toys or treat dispensing toys. These will also help him to settle in a strange environment. I generally take a few firm favourites from home, as well as couple of new chews or antlers for extra interest
Consider the weather forecast and pack for your dog. If it's due to be extremely hot or cold, then consider whether your dog will enjoy the trip and whether it's appropriate to take him along.
Dog packing checklist
Collar (with your mobile contact number) and leads
Food (and water) plus bowls – I always bag up my food into meals required as that way you only take the exact amount needed, plus some extra for treats
Poo bags
Towels
Crate and favourite blanket
Tick remover
Dog first-aid kit
Sturdy anchor to tether your dog and an appropriate benching line that doesn't get tangled
Contact details for a local vet
Crate for the car to make sure your dog is secure and comfortable for the journey.