The first day of autumn is just over a month away and for us at Dogs for Good that can only mean one thing – Dogtober is just around the corner! Find out how you can fundraise during October and help us train more life-changing dogs.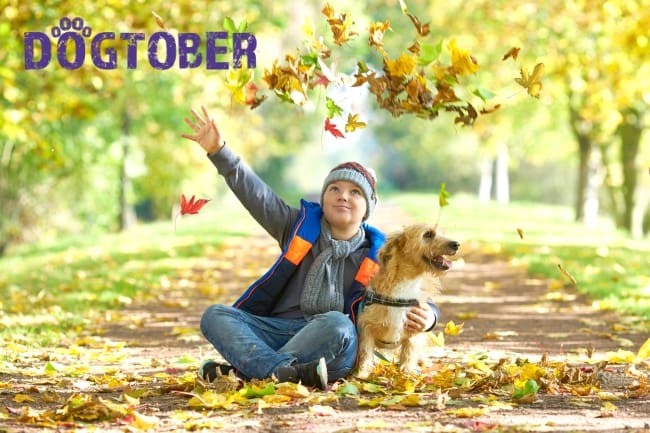 Last year, hundreds of you got involved to fundraise by holding one of our Dogtober events in your local community. There were dog walks and coffee mornings, dress-up days and Pupcake Sales – every event was unique from large-scale office events to small groups of friends getting together.
What they all shared was a love of dogs and the understanding of the positive impact that they make to our lives, and every pound raised during Dogtober will help us train more life-changing dogs for people with disabilities.
Because we're celebrating 30 years of Dogs for Good this year, we want to make Dogtober even bigger and better, so we'd love for you to join us to help raise vital funds and tell more people about just how good dogs are.
Why the need for your support during Dogtober?
Last year, we received our highest ever number of enquiries – over 4,000 – from people who wanted one of our amazing assistance dogs to support them. We rely entirely on donations so it's hugely important that we raise as much money as we can to train more four-legged life-changers. Simply put, there are thousands more people we could help, so by helping fundraise by getting involved in Dogtober this year, you can really make a difference.
How can I fundraise in Dogtober?
Dogtober fundraising can be as simple as you want to make it. You could sell 'Pupcakes' or maybe galvanise friends and family to take part in a sponsored autumn walk. How about creating a Dogtober-themed fun challenge for your workmates? Anything to put the fun firmly into fundraising and raise vital funds to help us continue making life-changing differences to people with disabilities.
Here's our top event ideas to help shape your thinking…
Pupcake Sale
If you're a brilliant baker or a canny cupcake creator, holding a Pupcake Sale is definitely the event for you!
Pupcake Sales were one of the most popular events for last year's Dogtober and the reason is easy to understand… well, who doesn't love a cupcake? You can sell them to friends, family, colleagues or anyone that just looks a bit peckish! We'll even give you the recipe and a step-by-step guide to help you decorate your Pupcakes. Yum!
Dogtober pupcakes decorations from Dogs for Good on Vimeo.
Dogtober Walk
Autumn is a beautiful season so why not make the most of it and organise a Dogtober walk? Invite family and friends along to a trip to the beach, a meander through beautiful woodland or to rustle the leaves around local footpaths – they don't even need to have a dog! Or you could make it more of a community event and get your neighbours and local clubs involved. Let your imagination off the lead because it's easy to make an autumnal walk more memorable and raise funds at the same time. Walkies!
Go Green for Dogs for Good
If your work colleagues or schoolmates are thrilled by a theme day, then 'Go Green for Dogs for Good' will be right up your street.
It's a ridiculously fun fundraiser which lends itself well to being as simple or creative as you like. You could draw up a rota to get colleagues to wear a green wig for an hour during the day – meetings or no meetings! – and get sponsorship for doing it. The resulting photos will be great fun to share with colleagues!
Get everyone involved to make a Dogtober donation and you can even ask customers and/or visitors to support the fundraising too.
Need more inspiration?
Looking for something different? Here are a few other suggestions:
Finish a sports practice with a Hot Dog stand– for every hot dog munched, a donation is made to Dogs for Good.
Hold a Really Good Coffee Morning and invite a few friends to come along. Drinks mean donations!
If you fancy doing something really wacky why not hold a Welly Wednesday and wear your wellies all day … in the office, at school, on the school run, at the gym – the more unusual the better!
How do you get involved in Dogtober?
Invite friends, family and work colleagues to be involved with whatever Dogtober event or events you decide to organise, but make sure that whatever you do, you have fun!
To find out more about all our events visit our Dogtober Fundraising Pages today and download our fantastic Dogtober fundraising pack which is packed full of ideas, posters and activities to help make your fundraising easy.