Come rain or shine, we dog-lovers are out walking our four-legged friends whatever the weather and most of us say that getting out with our dog is one of the great pleasures of dog ownership.  So it got us thinking about all the places we love to be with them and why certain places are so special. With this in mind, we asked a few of our staff "Where are your favourite places to take your dog?"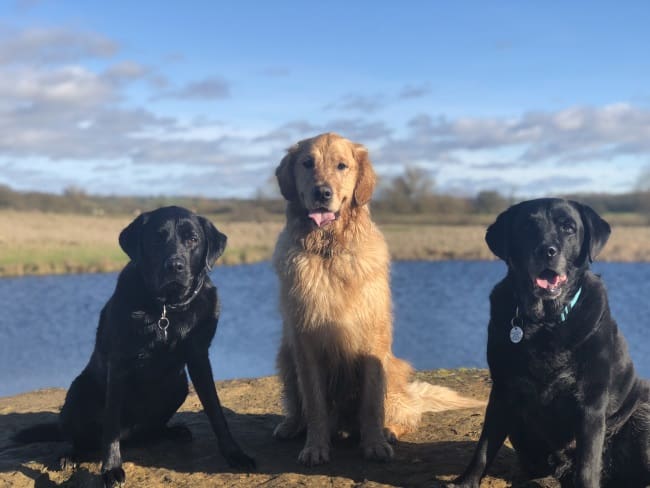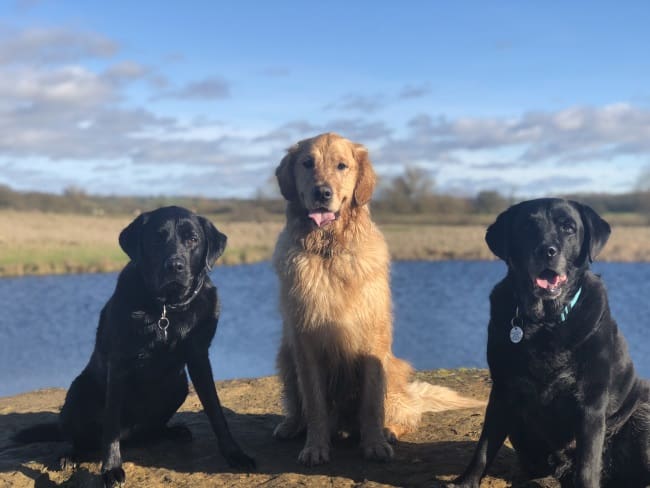 Flood defences in Banbury, Oxfordshire 
Vicky Mark, Puppy Co-Ordinator, says "We love to walk at the flood defences in Banbury and take Demo Dogs, Hinton, Thor and retired Demo Dog, Niko with us. We walk along the pathway and through the long grass and then around the lake – taking the opportunity to paddle our feet!"
New areas of the country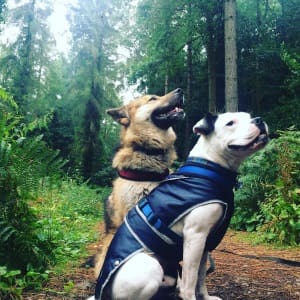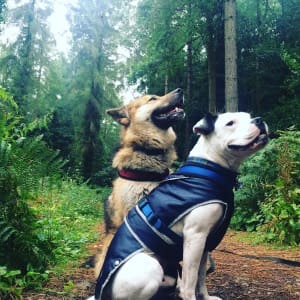 Sara Smith, Trainer, has two rescue dogs; Lyla, a Husky x German Shepherd x Alaska Malamute and Billy, an American Bulldog x Boxer. "Because they're both rescue dogs and have had difficult starts in life, I like taking them to places I know they've not experienced before so I can show them bits of the country they've missed out on in their previous homes. They just love running around together!"
Anywhere with water to splash in!
When we asked Ella McNulty, North West Regional Instructor, to tell us about her favourite places with her dog, Zip, her first response was, "Oh, I have so many!" Ella says that "as long as Zip has some water to splash about in, she's happy"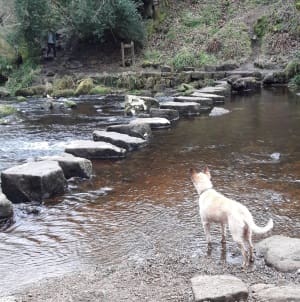 Hardcastle Crags in Hebden Bridge is a National Trust spot with beautiful woodland to explore and an old Mill which has a rather good coffee shop. "Zip particularly likes the river at the bottom of the valley and there are stepping stones which are a favourite with the humans!"
Hollingworth Lake in Littleborough is a Reservoir with swimming opportunities – something that Zip loves.  Ella says that "there's a very good fish and chip shop nearby, making it the perfect place for an evening walk… and a cone of chips!"
Walks along the canal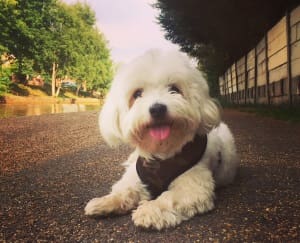 Alix Davies, North West Regional Fundraiser, loves to spend time with her dogs along the canal in Worsley, Manchester.
"It stretches from Liverpool to Leeds and you meet so many lovely people (and dogs) along the way. The stretch I live by is Bridgewater – a long straight path which is perfect when free-running a dog as you can see for ages". Pictured is Sparky, a dog that Alix looks after from time to time.
The beaches in Cornwall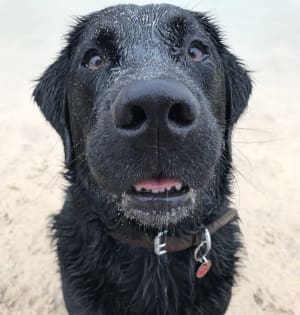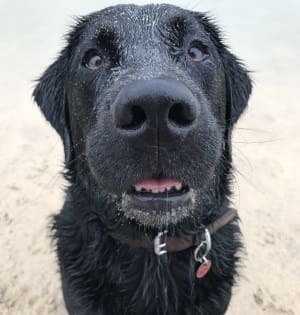 "We like taking our dog, Jaydee, to see family in Cornwall," says Katie Steel, Instructor. "We frequently visit Gwithian beach where Jaydee loves dipping into the rockpools and swimming in the sea. We love it there because there's so much open space for him to run around and swim – he's such a water baby!"
Even if you don't have a dog full-time, a walk enhanced by a dog's presence is also a wonderful thing…
West Coast of Scotland
Maddy Phelps, Press Officer, says "We go on holiday to an area called Knapdale in Argyll as often as we can and stay in a cottage on a 5,000-acre estate. It's our version of paradise.
There are many, many plus points for being there but one of the main highlights is that we're trusted to take one of the estate owners' dogs out for walks whenever we like.  He's a fox red Labrador called Hector, knows every inch of the estate like the back of his paw and is an utter joy to be around.  Truth be told, he takes us for walks! We see all his favourite places and two hours in his company is the best therapy we know".
Daventry Country Park
Michelle Roberts, Fundraising Administrator, says: "I don't have my own dog full time but volunteer as a Temporary Boarder at Dogs for Good so, every now and then, I have a four-legged friend to stay.  When I do, I like to go to Daventry Country Park; there's a lovely circular walk around the Reservoir which is enclosed so dogs are safe when they're off their leads.
There's also a small café serving tea, coffee, ice-creams etc. which also welcomes dogs on a lead, so that's a nice place to take a rest after walking".