Following the success of our debut Power of Dogs event earlier this year in Oxford, we're hard at work preparing for our next events taking place at the Royal College of Physicians in London on 31st October and then at Fitzwilliam College in Cambridge on the 15th November.
For 30 years, Dogs for Good has been training dogs to make life-changing differences to people with disabilities and the Power of Dogs events form part of our awareness-raising anniversary celebrations.
So what is the Power of Dogs?  Dogs for Good Chief Executive, Peter Gorbing explains: "I often hear the question; 'what exactly is the power of dogs?' and I've come to the conclusion that it rather depends on who you ask.  In my role, I'm privileged to be able to witness the power of dogs through the life-changing differences our dogs make to our incredible clients and the stories they share with our organisation. But because dogs mean different things to different people, we know there are many other stories out there and this is why we decided to give these differences a voice through our Power of Dogs speaker events."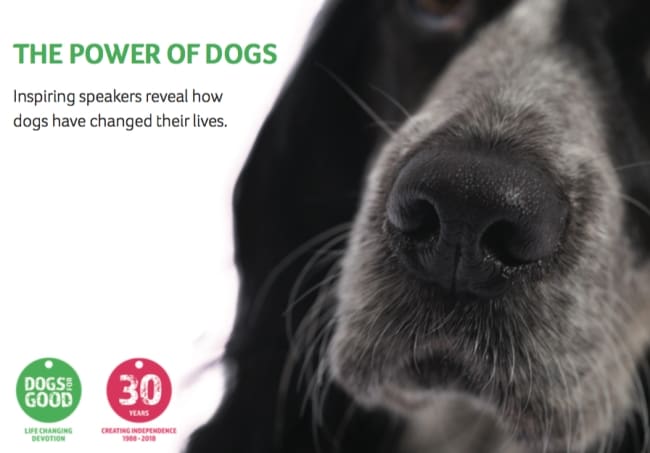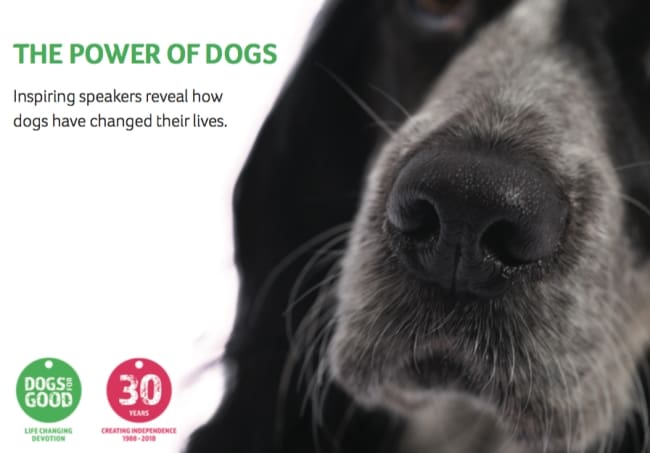 A celebration of all the good things dogs do
Each of our Power of Dogs events will have a unique group of speakers, talking about how dogs have inspired them and changed their lives.  At our Oxford event we were inspired to hear about the many ways dogs can benefit our health.  We were reminded by Jane Fossey, clinical psychologist at Oxford University of all the ways that dogs help to keep us healthy in body and mind – reducing social isolation, giving us a reason to get up in the morning, helping us take more exercise. All things that we recognise at Dogs for Good for the positive contribution our dogs are making to people with disabilities and other complex needs.
Christa Dyson and her Dogs for Good assistance dog Vann, certainly demonstrated the impact that an assistance dog could have on a person's life.  Christa explained how Vann is never far from her side and has enabled her to do things on her own for the first time in many years, simply because his extensive training gives Christa the confidence that she can call on his practical support should she need it.
Our vice patron, Roger Mugford reminded us that dogs are cleverer than we often think.  Studies show how dogs think like us and observe things in the same way we do.  Is it any wonder that they have been part of our lives and our communities for thousands of years?
Roger Mugford – "Your dog is a lot cleverer than most of us think they are" #CanineCognition #PowerofDogs @DogsForGoodUK #WolfsonCollege @UniofOxford pic.twitter.com/AbRi7uVHV6

— Prof Johanna Gibson (@ProfJohanna) May 24, 2018
Making the countryside accessible
Stephen Jenkinson, Access Advisor to the Kennel Club, told us about his work to encourage better access for people and their dogs to enjoy the countryside responsibly.  "Dog lovers instinctively know the positive part that dogs play in their lives, but sadly all too often dogs can be perceived much more negatively.  We are frequently bombarded with messages about 'no dogs allowed' or 'dogs must be kept on leads', but if we thought differently and considered the value that dogs bring to us, surely we could be creating and signposting areas as 'dog-friendly areas' and encouraging people to take advantage of these areas for both their benefit and their dogs.  After all, if dogs contribute so much to our health, surely we should be opening up the opportunities for people to go to places with their dog?"
An inspirational evening
The event was summed up by dog breeder, global champion show judge and regular columnist to several canine publications, Robert Greaves.  He attended our Oxford Power of Dogs event and was vociferous in his praise. "What a night!  The Power of Dogs event was a celebration of all the things that dogs bring to our lives.  It made me think about dogs, their role in our community and the huge benefits they bring not just to those of us lucky enough to have them in our lives all the time but also to people who may only have canine companionship occasionally."
Excellent seminar with a great charity @DogsForGoodUK this evening @WolfsonCollege with excellent speakers & proving just how much we don't know about their abilities #powerofdogs https://t.co/Kd9rRzyu7w

— Frank Webster (@frankcwebster) May 24, 2018
Passionate speakers, unique events – join our next Power of Dogs events 
Our next two events in London and Cambridge will have new speakers and no doubt more inspiration and thought provoking insight into how dogs have changed our lives.  Kicking off the proceedings at Power of Dogs London will be renowned dog-lover, actor and comedian, Brian Blessed who will be talking about his own personal connection with dogs and what they mean to him.  Also in London will be presenter and commentator John Inverdale, Daniel Mills, Professor of Veterinary Behaviour Medicine at University of Lincoln and Stephen Jenkinson.  In Cambridge, Peter Purves, Presenter and Dogs for Good Vice Patron will talk about his life with dogs in front of the TV cameras and assistance dog partnership Marie Carden will talk about the impact that three assistance dogs have made to her life.
Tickets for Power of Dogs cost £10 each 
Kindly Sponsored by Ceva 
All proceeds will go to support Dogs for Good's life-changing work.
For more information on the last 30 years of Dogs for Good, please log onto www.dogsforgood.org.